Coolest Candyland Party Ideas and Photos
For my oldest daughter's sixth birthday party we expanded on this concept which we had done on a much smaller scale in the past. She chose a Candyland party theme so we ran with that.
We try to limit the number of gifts our children get and focus more on teaching them the value of giving to others.
Charitable Presents
The beneficiary of the monies generated was a local charitable organization called the Miles Perret Center for Cancer Services. This organization was founded by a couple who lost a child to cancer and saw the toll fighting the disease takes on the entire family. So they started this organization to help families who may not have all of the resources necessary to wage such a fight and to help all those facing the fight.
Services provided include a program called "Smiles For Miles" which is geared towards children with cancer or with family members with it, resource library, spa night, exercise classes for patients, financial assistance, wigs, support programs, guest speakers, outreach to community areas, programs to promote survivorship and emotional guidance for caregivers plus many other programs. The organization is funded solely by donations and one large annual fundraiser open to the community free of charge.
Our family has utilized the resource library since my father's diagnosis and my husband's father died from cancer; therefore, our children are familiar with the Center since we do other things to support it as well.
Candyland Party
That being said, here goes our Candyland party information.
Borrowing from the actual story from the Candyland game, the invitation set the tone and gave guests the information they needed. I did the invitation on the computer using a candy cane font which I downloaded. The text of the invite is as follows:
Please Come to Candyland for Olivia's Sixth Birthday Party.
Candyland's King Kandy has disappeared! To everyone's surprise, the King and his fabulous castle are no longer where they should be. Mr. Mint and Queen Frostine know that the king will be found…but by whom? Gramma Nut and Princess Lolly think Olivia's friends can help her find the king and his castle. But don't bring birthday gifts for the king's ransom; bring instead a charitable contribution to the Miles Perret Center which will lead straight to the king and make Candyland sparkle again. So please… Help Olivia find the King!!! The search will begin at 11:00 on Saturday, October 21st, so hurry along the path to 123 CandyCane Drive. Surely the king will be found by 1:00. If you'll be stuck in the Molasses Swamp, please call Allyson at 555-1212.
Party Decorations
Decorations for the Candyland party included a Candyland. For the birthday parties, I typically do some sort of backdrop that goes along with theme. So my girls (6, 4 and 1 1/2) got to work. Using the Candyland game board and a coloring book along with a projector, I enlarged pictures of the King's castle, the King, Princess Lolly, Gramma Nut, Mr. Mint, Queen Frostine, Gingerbread men, and many candies. We painted them all according to the game board. They were placed accordingly on the backdrop along with a Candyland trail made out of construction paper. This trail was on the backdrop all well as on the ground and down the driveway.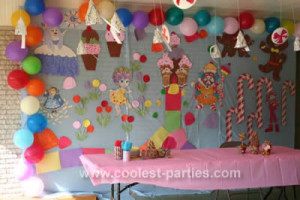 From the ceiling of the carport, we had an ice cream cone piñata as well as mints hanging and Hershey's kisses (party hats covered in foil with a strip of paper that said Hershey's…precious!).
The Candyland party tables were decorated with gingerbread men (Christmas decorations from Hobby Lobby), gumdrop trees and topiaries which we made. Other decorations places throughout included candy ornaments (Hobby Lobby) laying on the tables and also jars filled with gumballs.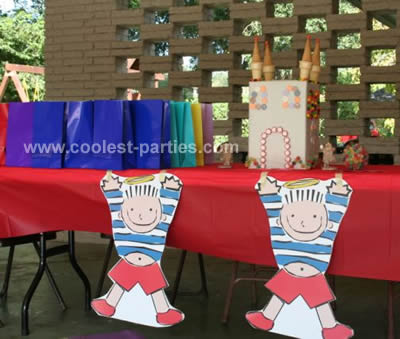 The Candyland party cake was a castle which I made and placed on the table in front of the backdrop. We also made a candy castle to serve as the drop off point for contributions.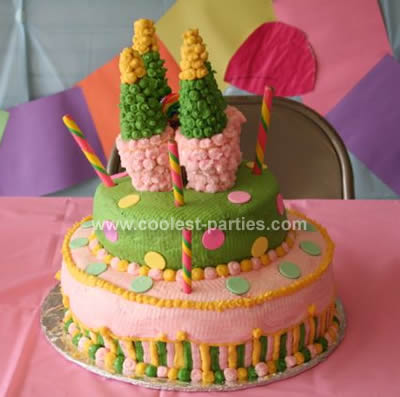 As guests arrived at our Candyland party, they were amazed at all of the decorations and how it was such a real Candyland. My daughter said prior to the party as we were finishing setting up that she "felt like the Queen of Candyland in the real Candyland world!" So, no matter what happened, with that comment, the party was already a success.
Candyland Party Games
Candyland games included the piñata and a lollipop drop where lollipops were tossed into plastic pumpkins. We also had a station set up where you could make your own candy necklaces.
Refreshments
For lunch we had hot dogs and homemade chili and chips. Also, goody bags were just multicolored (like the game board) paper bags filled with candies and Candyland stickers.
Candyland Party Conclusions
Many parents commented on how great the birthday party was and what a fantastic idea for the donation. Several parents wanted to know how we had convinced our daughter to go along with it but it really was not a problem.
At the end of the day, over $800 was collected which exceeded any expectation we might have had (in my mind, I would have been thrilled if we had gotten $100). We had just over 20 children show up plus parents gave us about 50-60 people for the party.
Olivia had the time of her life playing with classmates and friends… We couldn't have asked for more.
This story has deeply inspired us at coolest-parties.com, so we've also made a $100 donation to the Miles Perret Center for Cancer Services in the name of Olivia (Allyson's daughter) as a token of our appreciation to Allyson and her family for sharing such an inspiring story.
Candyland party ideas and photos by: Allyson from Lafayette, LA