Coolest Circus Theme Party Ideas and Photos
Circus theme party ideas and photos by: Allyson from Lafayette, LA
For my daughter Amelia's third birthday we had a circus birthday.
Amelia wanted a merry-go-round cake. The circus cake was Duncan Hines chocolate with Wilton Butter cream Frosting recipe. The party colors were red, blue and yellow. The bottom tier of the cake was 2 layers; I painted the Wilton carousel decoration to be the party colors. The top of the cake was also 2 layers. The elephants are from clip art that I enlarged onto cardstock and painted the party colors. The topper is a piece from a wooden birdhouse that I frosted. I used a variety of stencils and tips to decorate the circus cake.
For circus invitations we had clowns with balloons in the party colors at the bottom and said "To celebrate Amelia's Thrid Birthday the circus is in town, hip hip hooray. Join us under the big top for some clowning around on date/time/place. Ringmaster RSVP xxx-xxxx".
Circus decorations at the party included a circus tent made from party colored streamers in the carport; balloons in same colors everywhere. I got circus bulletin board pieces from an educational supply store and put those all over the walls in the carport as well. There were also stuffed monkeys hanging on trapeze from the 'tent top'.
We had a popcorn machine, hot dogs with chili and chips and cracker jacks for food.
Circus party goody bags were actual popcorn bags filled with a bag of cracker jacks, circus theme animal stickers and stamps, and a circus theme animal foam mask as well as cotton candy.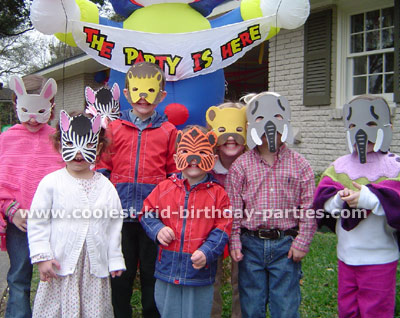 Circus party activities included face painting and pin the nose on the clown.
All had a great time at our circus party!