Kid party theme ideas and photos submitted by:
Jennifer from Rosepine, LA
My soon to by 5 year old wanted a party theme with butterflies. We were on a limited budget. I racked my brain to come up with a neat party theme that did not cost a lot.
I started with the centerpieces. I made 100 butterflies from pixie sticks (candy) and used florist picks to arrange them in metal buckets (which I already had) and on a long Styrofoam piece. I used tissue paper as fillers.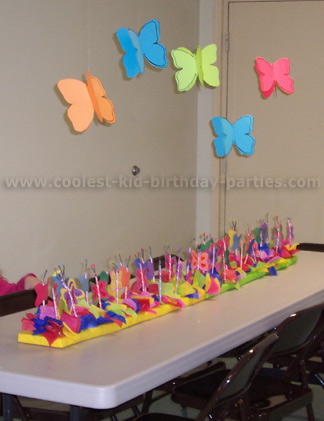 I hung paper butterflies from the ceiling over every table.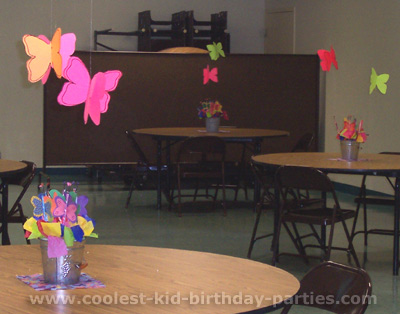 We read 2 butterfly books and made butterflies from a coffee filter and pipe cleaner.
The game we played was 'find the butterfly'. I put paper butterflies and caterpillars in white balloons (cocoons). The kids popped the balloons to release the butterflies.
I made 5 butterfly cakes. I used a round cake and cut it in half (turning the halves around and putting the outside together). A Twinkie was used for the body and licorice string was used for the antennas. I made coloring books and butterfly masks for each child.
---
The ideas and photos in this section have been graciously submitted by readers like yourself. If you've got some cool party ideas and photos to share, we'd love for you to send them over. You'll be taking part in creating the Web's ultimate kids birthday party ideas resource that's ALWAYS FREE for everyone to enjoy! Thanks!
Submit Your Own Kid Party Theme Ideas Here!