Make sure to visit the huge Veggie Tale cake section on coolest-birthday-cakes.com.
If you end up with a cool cake, or already have some cool cake photos and tips to share, send them over via this submission form. You can win a cool prize - but more importantly, you'll be taking part in creating the Web's ultimate kid birthday cake resource that's ALWAYS FREE for everyone to enjoy! Thanks.
---
Veggie Tale Cake picture submitted by:
Bruno C.
Niagara Falls, Ontario, Canada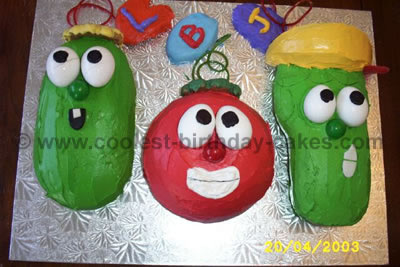 This Veggie Tale cake is, of course, based on the Christian cartoon series for pre-schoolers. My models for the cake were a ctual stuffed toy dolls that belonged to Christopher, the birthday boy.
The cakes were baked in bread pans and a circular bowl. The veggie tops were created from cookies, dipped in melted chocolate, c/w string candy. The eyes are simply hard-boiled eggs, each with a slice of black licorice to represent the pupils.
---
Submit Your Veggie Tale Cake Here!
---