Army birthday party ideas and photos by: Jeffere from Frisco, TX
The Army party was the best!
All three of my kids wanted one – obstacle course, tug-o-war, and rescue recon (we took the cheap parachute men, wrote a one word message in the parachute, and scattered them all over the three yards on our block. The kids had to find all of them, put them in order, and decipher the message!)
For my younger (turned 6) army party, we played "soldier stomp" – the balloon game described in the games section of this site with them balloons tied to everyone's ankle, "grenade toss", and "sergeant says". There was also time for free-play with all of the dress up stuff they were wearing.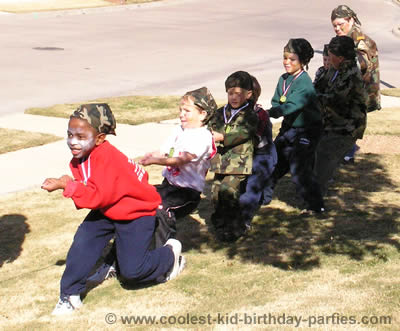 We provided their "goodie bags" at the beginning of the army birthday party: Camo face paint, Camo bandana, dog tag, and water pistol. Each kid had his picture taken in front of a large American flag and I sent those home later in an inexpensive paper frame that my boys had stamped on with camping-type stamps.
Moms are still telling me how much their son loved the army party and what great ideas I had! I direct them to THIS website and take no credit.
Thanks so much for helping make such fun for my boys (OK, and the parents too!!!)