Boot Camp party ideas and photos by: April from Lexington, KY
For my son Colby's 5th birthday party he wanted to have an Army themed party. We went all out by transforming our backyard into an Army Soldier Boot Camp to make his party unforgettable.
For the invitations of the boot camp party my husband created it to look like WWII draft notices. We found original draft notices online and used a typewriter font to fill in the information for the party. Kids were told to report to Deener Boot Camp (our last name) for training. The invitations were mailed out in plain white letter envelopes with "Top Secret" stamped in red ink in the corner. Recruits were encouraged to wear their best soldier outfits.
Setting the mood: We turned the house and yard into a Boot Camp. I created a sign that hung above the front door that said "Welcome to Deener Boot Camp Party".
We had several American Flags placed all around the house. The bathroom door had a sign on it labeled "Latrine" and the screened-in-porch had the sign "Mess Hall" hanging above the door. Balloons in gold, green and black hung everywhere. The yard was set up for the ultimate obstacle course and we put several tents out for the kids to play in.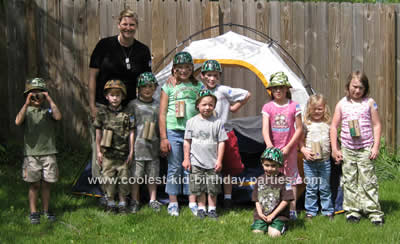 Upon arrival kids checked in at the registration/induction desk where they were provided with their military-issued equipment: helmet, American flag, and patch for their arm, camo face paint and binoculars.
I took a picture of each kid in front of the American flag in their gear to mail in the thank you cards later.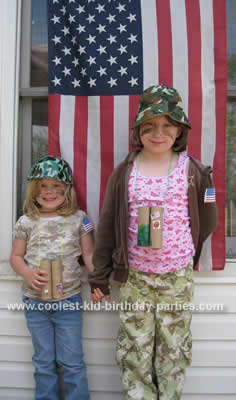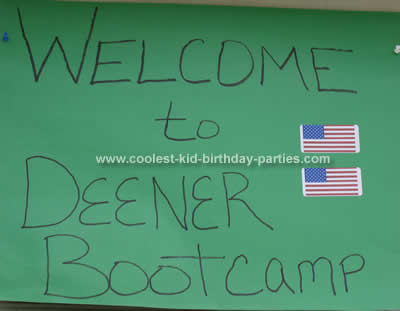 Recruits then reported to the craft table to decorate their binoculars while waiting on the full platoon to arrive. Markers, stickers, paint, glitter and camo fabric was provided to decorate binoculars made from toilet-paper rolls and string. Once everyone was outfitted the Drill Sergeant (me) led the group to the training grounds (our backyard) to begin training. I was dressed in my olive green pants, black t-shirt, dog tags, whistle and stop watch and my army helmet.
Activities for our boot camp party: First the recruits were led in basic command drills with 'Drill Sergeant Says'. Those who did not follow command had to drop and give me 5 push-ups. They were then divided into 2 teams for a friendly challenge of Tug-O-War. We had the rope over a baby-pool full of water which the loosing team ended up in. After a couple laps around the barracks (Follow the Drill Sergeant) the recruits were given some down time and drink rations (juice boxes in the tent). Then onto Target Practice where the kids threw water balloon, grenades at targets drawn on the driveway from the deck. My husband drew bull's-eyes tanks and airplanes with sidewalk chalk as the targets. Lastly was the Obstacle Course. The recruits were challenged to jump through hula-hoops, crawl through tunnels and under swings, balance on 2X4's and finished with a sprint up hill. Each recruit was timed and the best time was given a prize.
Then we finished with birthday rations of cake, ice cream and finger foods. The cake was decorated with plastic army men and tanks in a battle scene.
Colby enjoyed opening all his gifts and we took pictures of him with each guest to send in thank you cards. The recruits were then summoned to the fairgrounds for graduation ceremonies.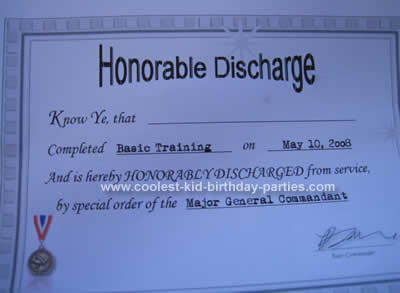 Drum rolls were played on loud speakers as each kid was rewarded with honorable discharge papers that we created on the computer medals for their hard work (stickers I found at a local party store), a goodie bag (filled with army men army tattoos and parachute soldiers) and a warm smore to take home to eat. It was a very successful day and one that no one will forget.