Circus party ideas and photos by: Courtney from Falkner, MS
We celebrated our little girl's 4th birthday "Circus" style! I like to do things big. So what better way to party than with a "Big Top" circus party theme? We held our "circus" in our church gym with over 50 people attending. To set the mood Circus music played for the entire time.
The round cake table was placed underneath the basketball goal with yellow and red streamers attached to it to look exactly like a big top tent.
Instead of cake we actually had solid red yellow and blue iced cupcakes. They each had a piece of ribbon attached to the bottom and were grouped to look like balloons being held by a laminated clown cut-out and attached to the table.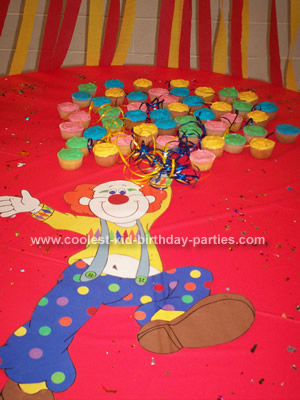 There were separate tables covered in red, yellow and blue to hold the circus food (hotdogs, a popcorn machine, nachos and homemade chili for the adults.)
At our circus party we also had 6 round tables for the guests to eat at. Each had a bouquet of yellow, red and blue balloons tied to shiny red and blue foil centerpieces.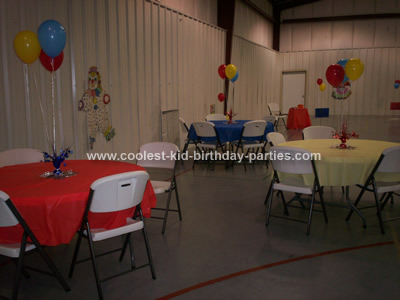 Because her birthday is so close to Halloween we actually enlarged a picture of her in her Halloween clown costume, framed it and attached balloons to it to use as a centerpiece on one of the food tables.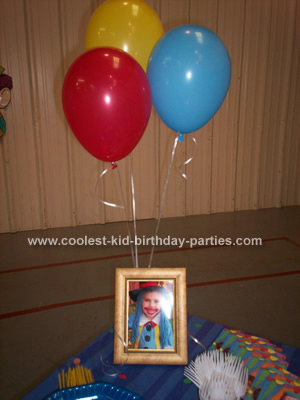 The kids' table was set up in the center of the gym and covered with a Jo Jo's Circus table cloth. A stuffed clown held a bouquet of balloons as the centerpiece.
Circus party color pages were used as placemats for the kid table. The back of the gym was set up with several different "carnival style" games with signs and balloons for each. After visiting the face painting station the kids had a picture taken of their face in a life size wooden clown with a hole cut out for the face.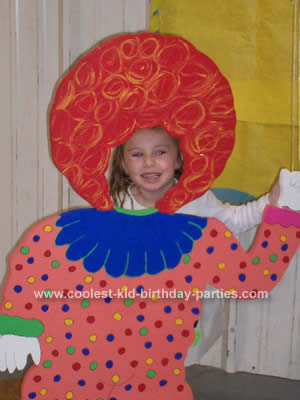 "Walk the Tightrope" was a large balance rope borrowed from my elementary school gym class. It was placed on the floor. "Bouncy Bounce" was a large inflatable jumpy rented from a party store. They just happened to have one with a clown face on the front!! Kids had fun being blindfolded and playing "Pin the Nose on the Clown." My dad dressed up as a clown and presented the birthday girl with all her gifts. He did a little show for the kids….attempting to juggle helium balloons…the kids thought it was great when everything went up in the air!
To finish off the decorations I placed many different laminated clown pictures all over the walls of the gym. I borrowed these from the school where I teach.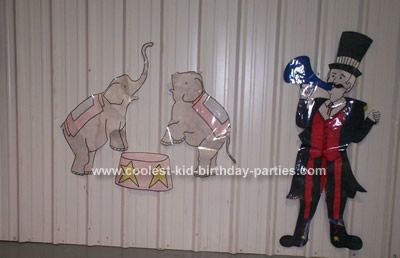 The birthday girl even dressed for the occasion in a white dress with a juggling clown on the front.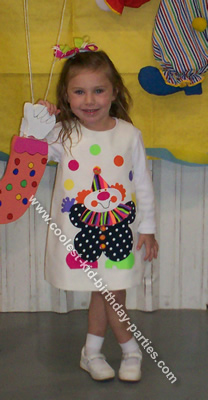 As the circus party ended all the kids received their favor bags (a solid red, blue or yellow) bag with curly ribbon and a tag stating "Thanks for clowning around me!" Each bag contained a "Circus Circus" book bought from the Dollar Store, play dough, circus stickers, whistle straw and animal cookies.) On the way out the guests stopped by a wooden scarecrow that we dressed up to look like a clown. He holds 2 buckets which we filled with bags of cotton candy.
The week after the circus party Thank you "clowns" were sent to everyone. I found a picture of a clown on clip art on the computer. I typed my thank you comments on his long body cut him out and attached him to a square of bright colored construction paper with a piece of yarn. I had a ball planning for this party. It turned out even better than I had planned. The kids had a blast and all the adults said it was the cutest party they'd ever been to!! I don't know how I'll top this one next year.