Because we call our youngest daughter our little Bea, we decided to throw her a bumblebee birthday party when she turned one.
My sister and I bought yellow card and the printed the invitations in black ink with a garden font from fonts.com.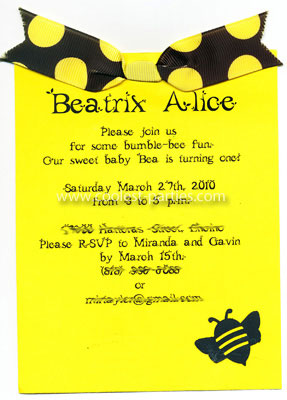 We punched holes in the top of the card and threaded polka dot grosgrain ribbon in the holes and tied it. I purchased a Martha Stewart paper punch in the shape of a bee and punched out bees from the black card and stuck them to the bottom of the invitation.
For the entertainment, in addition to a bouncy house, I purchased an adult Bumblebee costume and asked a family friend to wear it and do face painting and temporary tattoos for the kids, which they loved.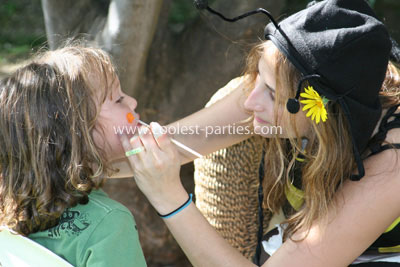 We scanned pictures of 10 different images and laminated them so the kids could look through and choose from all different designs.
I went to the Los Angeles flower mart downtown and bought Sunflowers, yellow roses and yellow daisies and filled the house with flowers.
I bought 5 mylar bumblebee balloons and put them around the house and outside. For the party favors, I found bumblebee chocolates in foil, put them in glycene bags tied with the same ribbon that we used on the invitations.
The birthday girl's outfit was handmade and purchased in pieces from one of my favorite sites, Etsy.
The dress is from IlliaKids and the Ruffled panties made by Maribabies and the headband was made by tosweetpeafrome.
The cake was probably my favorite part of the whole party. I used a medium sized Pyrex bowl for the head and an oval baking dish for the body. I made a white cake and sliced each cake piece in half, brushed the cake with warm raspberry preserves and frosted the middle with chocolate filling.
I iced the entire cake with an offset spatula with yellow butter cream frosting that I tinted with food coloring. For the bee's stripes, I used a piping bag with a flat tip with black icing that I purchased from a cake store. The wings are sugar cookies that I hand-cut and carefully slid into the top of the cake. The antennae, stinger and eyelashes are pieces of black licorice and I used Easter colored chocolate candies for the eyes and nose.
I used purple sugar to sprinkle around the board for presentation.
My sister, my eldest daughter and myself all wore black and yellow, which really added to the whole look of the party and to the pictures.