This year we finally agreed upon an Angry Birds birthday themed party…so much fun! I recreated the artwork from an Angry Birds "cake theme" game screen for the invitation which included a pop-up pig inside.
Next, the party favors and goodie bags. Okay, I'll admit…I went a little crazy! I purchased small black gift bags from Oriental Trading and spray mounted black angry bird faces on each one. I had read that another mom was allowed to take an empty Angry Bird display from a store for their goodie bags, but I decided to make my own display box by simply cutting and folding the sides over from a large box and printed facings which were glued on with spray mount. Each goodie bag included: Angry Bird eggs (Cadbury mini eggs), Angry bird bait (gummy worms), an Angry Bird ring, disc shooter, tattoos, fruit snacks, coloring sheet and "Color Me Angry" crayons. His school classmates were given Angry Birds on sticks and other non-food goodies.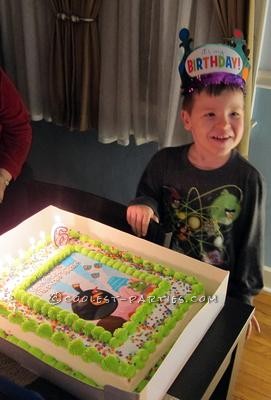 Angry Bird Birthday Boy with Cake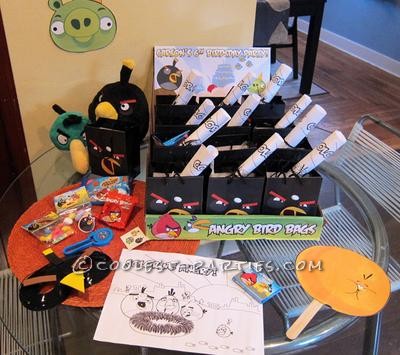 Angry Bird Party Favors
Angry Bird Mask Idea
Each birthday invitee was also given an Angry Bird Mask! I simply purchased black masks at the craft store and hot-glued trimmed pieces of foam.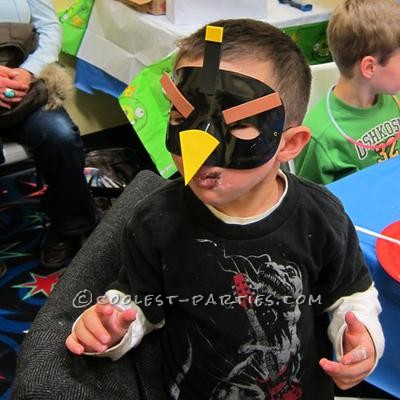 Angry Bird Party Masks
The artwork that I had created for the invitation was resized to a 5 x 7 photo and brought to our local bakery to have a photo cake made. Super easy!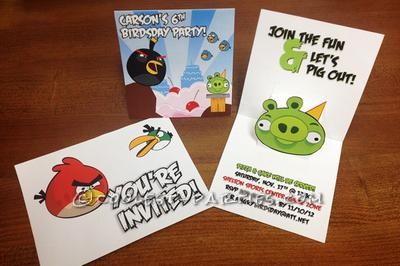 Angry Bird Birthday Invitation