My son just turned 3 and we did a toy story party for him which was a huge hit. We did the following:
Handmade Toy Story Invitations
I hand made all the invitations. The front of the invitation was done like the upcoming Toy story 3 movie poster with it saying my husband and my name presents: Rahee (my son's name) Story 3. This had pics of all the toy story gang as well as my son dressed up as Buzz Lightyear.
As the invitation was opened, the page on the left had a little story saying something like once upon a time, there was a little boy called Rahee who was very excited to be turning 3 and all he wanted was a Toy Story Party. So he made a wish to his fairy godmother (aka mummy) who consulted the wizard (aka Daddy) and together they conjured up the best TS party they could. And they will be delighted if you could join Rahee and his TS buddies to make some birthday magic).
The page on the right had the party details. The back of the invitation was another pic of the TS gang and my son in his Buzz costume with the words, "come and join the gang for a trip to infinity and beyond".
FOOD:
The birthday cake was an Andy's room cake. I made a bed cake which I decorated with fondant and I made the bed heads with gingerbread. I also made a toy box out of gingerbread and wrote "Rahee's toys" on it. I also cut up some cake in cubes and iced it to spell out "Rahee is 3″. It was all finished up with lots of TS toys (bought on ebay) scattered around.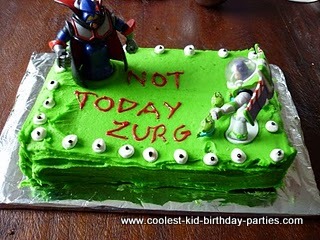 I also made another cake like the LGM planet with Buzz and Zurg having face-off and the words "not today Zurg" on the cake.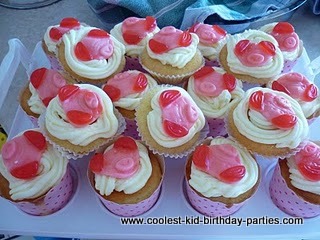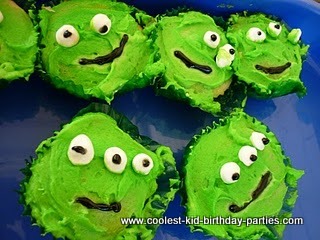 In addition, I made some Hamm the pig cupcakes and some LGM cupcakes. Along with the cakes, there was usual party food such as pastries, finger food, chips, jelly, fruits etc.
DECORATION:
I kept a theme of red, yellow and blue as with the invitation so I had plastic tablecloths in those colours as well as serviettes and paper plates. Also hung up a TS Happy birthday banner. I bought a discounted TS calendar and used the pages to hang as little posters. We also had helium balloons in red, yellow and blue and a Buzz Lightyear skywalker balloon and some TS helium balloons. As the party was in our backyard, I made posters of Buzz Lightyear directing people where to go which I hung on our front door and along the path to the party and they had to follow the posters around the side gate to the back.
ENTERTAINMENT: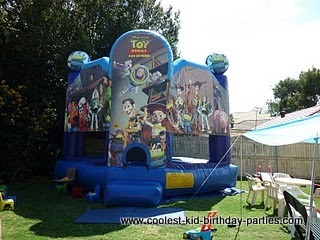 I hired a TS jumping castle which was a big hit with the kids.
COSTUMES:
my son wore his Buzz Lightyear outfit and my husband and I dressed up as Jessie and Woody. For our costumes, I bought some orange check material and some cow print material and got my mum to make a shirt and vest for us which was worn with denims. Bought toy guns, sheriff badge, cowboy hats etc cheaply at the discount store.
PARTY GAMES: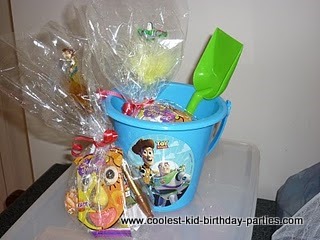 I bought some TS plastic pails and shovels on eBay which I gave out to each child. I had hidden heaps of TS type plastic soldiers, little LGM's and some woody and buzz figures around the garden and the kids did a toy hunt around the garden filling up their pails with the findings. We also did a pass the parcel and for each parcel opening, I had a bundle of TS markers (I bought a pack of 100 TS markers and separated them in bundles of 4 and the wrapped them in TS contact paper). The main prize was a TS activity book. I had bought my son a Buzz Lightyear automatic bubble blower for his birthday, so for a game, we switched that on and then gave each child, little bottles of bubbles (I had bought a box of plain bottle bubbles which I then stuck labels – the labels were like the front of the invite and said "Rahee story 3″ along with the pics. We also did TS tattoos on the kid (which I bought on eBay)
GOODY BAG:
in addition to the pails, I also made some goody bags which contained some lollies as well as a TS bouncing ball and a TS jiggly light up pen.