Dog birthday party ideas and photos by: Holly from Middleburg Hts., Ohio
Jaret was turning six and really wanted a "Dog Birthday Party". He chose "The Dog Collection".
I made the invitations myself by downloading some pictures off the internet of the dogs!
He chose his favorites and I incorporated them into the invitation.
I put "Jaret is turning 42. in dog years that is!" along with "Come join us for some puppy chow and a howlin' good time"! I also added "It's sure to be doggone fun!" I also substituted Where: to Dog House: (address) and I put "Woof your AFRSVP's"!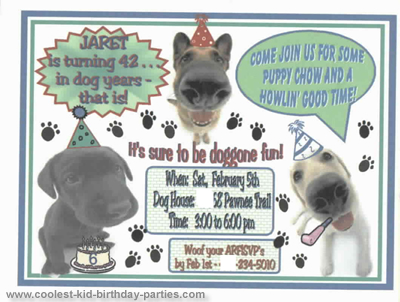 I purchased most of the dog birthday party supplies through Birthday Express. But to save on money I decided to give each child either a dog plate or a dog mat and then coordinated the colors with other party plates and mats.
The cake – I designed my own picture using the invitation idea and took it to a place to make a cake topping that was edible. I also got the Dog Cake Toppers from Birthday Express.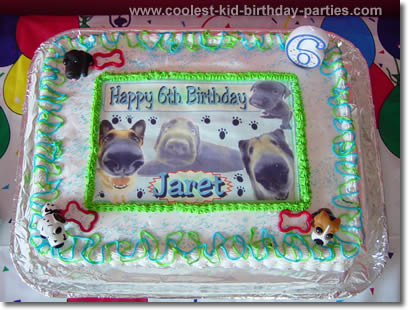 After singing, Happy Birthday, I had the kids singing Happy Birthday as if they were dogs. I was surprised to hear them bark the song so well.
I had Scooby Doo cinnamon snacks on the table in little dog dishes. They thought they were real doggie snacks.
We played the game "Doggie Doggie – where's your bone?" The kids really enjoyed this game. Although our dog, Dakota, kept snatching the bone from under the chair. but the kids got a kick out of that.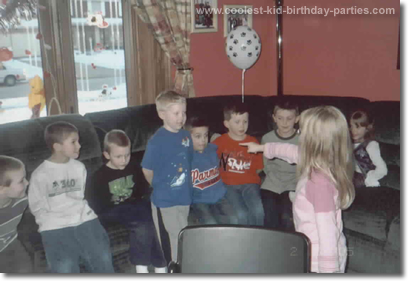 For favors – I purchased the "Dog Houses" from Birthday Express. Then I found at the dollar store these really cute bobble head dogs. I put black wave shredded paper on the bottom of each box along with a bobble dog. I purchased a dog bone cookie cutter and made blue and green sugar cookie dog bones to place in the Dog Houses.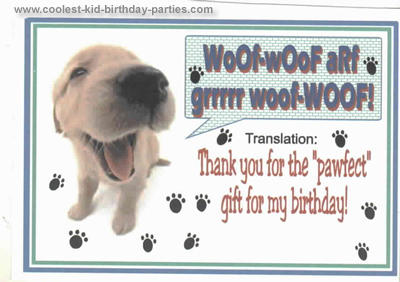 Thank you notes – I used the same concept as the invitations. I put one of the dogs from the Dog Collection on the thank you note. Then I added "WoOf-wOoF aRf grrrrr woof-WOOF! Translation: Thank you for the "Pawfect" gift for my birthday!" Then I had Jaret sign each one.