Dora the Explorer birthday party ideas and photos by: Christy from Lake Stevens, WA
My daughter is turning 2 years old and she loves Dora the Explorer. I didn't want to break the bank for her party but I did want to make her happy. So I devised the following scheme for a Dora the Explorer birthday party.
I splurged on a Dora table cloth and Dora themed cups but the rest was done with a lot of thriftiness and cool ideas. I wanted to make a Dora piñata so I took two balloons and papier mached the bottom half of one and 3/4 of the other one. I took the 3/4 one and used it for the bottom (face) and the 1/2 one for the top (head/hair). I proceeded to draw two eyes, a nose and a mouth and cut them out. Then I placed them on to the face.
For the hair I used 4 sheets of construction paper and cut and taped it to look like Dora's hair. Note: The back of the piñata does not look as good as the front. For favor bags I had a stroke of genius. I wanted to use my typical brown paper bag (which I usually decorate in some way). So I took a normal brown paper lunch bag and painted the front purple to look like Dora's backpack. Then I folded down the top and painted the top purple. Next I drew some eyes on white paper a mouth on red paper and an eyebrows on yellow paper. (Used a sharpie for that cool look). Once I pasted them on it actually looked like Backpack!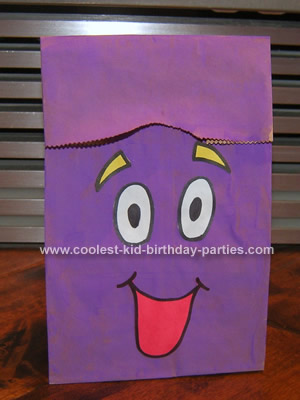 I put in star shaped Rice Krispies stickers, Dora bracelets, (dinosaurs for the boys), glow sticks, bubbles and some extra balloons.
For games at the Dora the Explorer birthday party I did three simple things. One was catching the stars. I just blew up a whole bunch of balloons, drew stars on them and had the kids grab as many balloons as they can and get them into the bucket. Next was a box that I cut out the bottom half to make a mouth. Then had the kids roll little balls into the mouth. Lastly the Piñata. Since the kids' ages ranged from 4 and under I made a cut out under Dora's head and tied ribbons to the opening so the kids could pull the string to get the candy to fall out. The kids had a blast and this was more of a hit than I imagined.