Ducky party ideas and photos by: Laura from Mobile, AL
We had a bubble maker going and had it outside on the back patio. So our guests would know we were back there we cut out duck feet prints out of orange poster board (mommy duck size and baby duck size) and taped them to the driveway from the front to the back yard.
I had a punch for the kids and bought a ducky shaped ice tray from Hobby Lobby. Too cute! I also happened upon small ducky pinatas and hung them in the trees in the back yard. Our center pieces were small bowls filled with water and floating duckies. We bought Styrofoam balls, cut them in half, glued them in clumps to look like bubbles and floated them in the bowl. We also used random clumps and set them on the tables. We also cut small duck bills and feet and glued them to yellow cups and filled them with "Duck Food" Chex Mix and blue jelly beans.
I used all the left over decorations (rubber duckies and styro bubbles) to decorate my son's bathroom. It was a great theme for a first birthday.
The cake for the ducky birthday was a buttercream icing/fondant combo.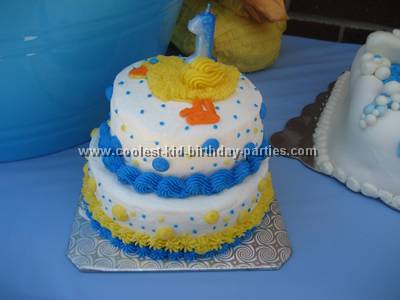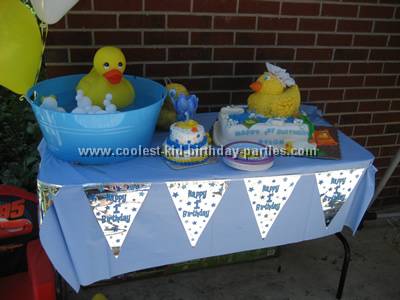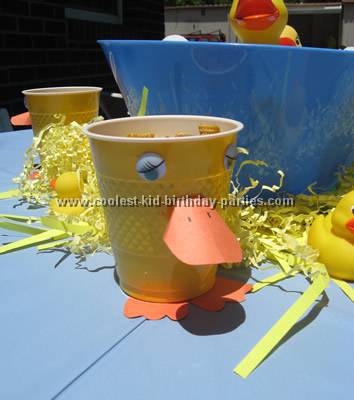 The Ducky birthday ideas and photos in this section have been graciously submitted by readers like yourself. If you've got some cool party ideas and photos to share, we'd love for you to send them over. You'll be taking part in creating the Web's ultimate kids birthday party ideas resource that's ALWAYS FREE for everyone to enjoy! Thanks!