Finding Nemo party ideas and photos by: Kelly from Saint Clair, PA
My daughter has a big fascination with the movie Finding Nemo. Seriously, we watch it at least twice a day. That's why with her 2nd birthday approaching I couldn't think of anything better than a Finding Nemo party! That's why with a little creative thinking and some help from the internet I was able to put on an underwater shindig that was fun for everyone!
First of I started with lists. I made lists for everything, people that I wanted to invite, food I wanted to serve, games I wanted to play etc; The best list was the finalized list of food I wanted to serve at my party. I saved a copy on my computer and sent a copy to all my family members asking if anyone was interested in making something (I know so tactless but they're my family and we all do this to each other). Everyone sends me back a reply with their names next to the foods that they will make for the party and I can revise my list on my computer.
Just for something fun for my daughter's Finding Nemo party invitations I made little aquariums in a bag. A sandwich bag, play sand, small shells, glass rocks and Spanish moss made a perfect setting for my orange paper cut out fish with the all the party info on the back. A lot of people agreed that this was a neat invite just because they displayed it in their homes and it was a constant reminder that they had a birthday party coming up. We decided to throw the bash in my parent's backyard, that way the kids could play in the sand and play with bubbles and things like that.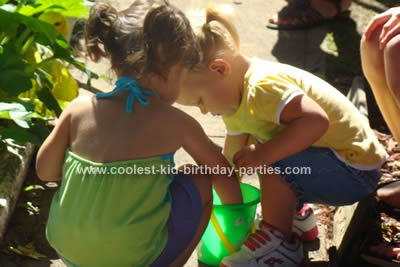 The decorations at the Finding Nemo party were just as fun to make. I did buy a few items from Party City (but that can get a bit pricey). Here are a few decorations that I opted to make myself. Jellyfish: I know on any website you read it tells you to make your jellyfish body out of paper plates. Well I tried one and it didn't really resemble a jellyfish to me. Instead I used a Styrofoam soup bowl. I painted it pink with metallic purple squiggles and 2 big google eyes. I taped 3 pieces of dark pink curling ribbon to the middle of the inside of the bowl and taped 4 pieces of light pink crepe paper to the inside edges. They hung from the canopy and umbrellas and looked like they were swimming when the wind blew.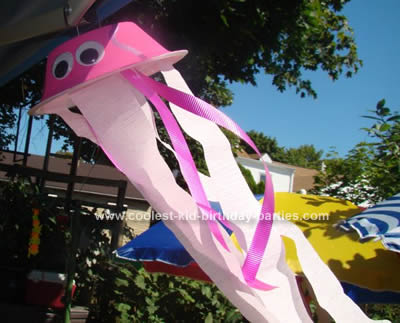 Fish Mobile: You need 4 different colors of any type of paper a paper, clip small shells, scissors and some fishing line. I used fluorescent pink, purple, orange and green paper and cut them into fish shapes. Use the paper clip to poke small holes in the top and bottom of the fish and string those alternating colors on the fishing line. I tied a small shell to the bottom and top of the mobile just to keep them straighter and used 12 fish cut outs to a mobile. This also looked neat when the wind blew.

Nemo Luminaries: Now I know what you're thinking, this Finding Nemo party was during the day what's the point? But this decoration served 2 purposes. During the day it made a very cute centerpiece for all the tables.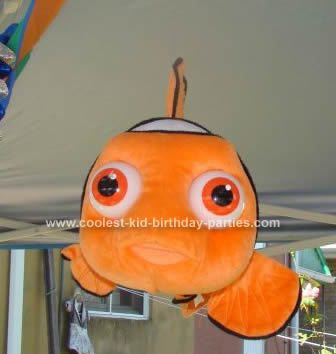 The few family members that were still there when it was dark liked the glowing affect of the luminaries. I used a white gift bag and drew pictures of Nemo and his friends. I filled the bottom of the bag with a cup of sand and put a votive candle in the sand. I placed the bags in the middle of the table and surrounded the bags with Spanish moss seashells and glass rocks (all left over from the invitations). We also hung my daughter's plush Nemo doll and her sea turtle dolls from the canopy. The party started off with a sit down dinner (which is very traditional in our family) which included Riley's favorites: roast beef, mashed potatoes, corn on the cob, broccoli, gravy and buns. Then we let the kids play in the sand and with bubbles while everyone let their tummies settle. People watched while the kids hit the Nemo pinata (from Party City) and then collected their "candy". We filled the pinata with 100% real fruit snacks. (Nemo and SpongeBob themed).
We finally put out our pick food which included a cookie tray and fruit tray, chips, dips, pretzels, the usual. We then brought out the cake and the girls sat and ate their cake with a bowl of fruit on the side.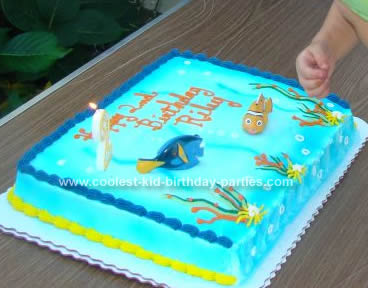 We finished up by helping them make little oceans in a bottle. By that time both 2 yr olds where ready for a good nap and the party dwindled down. I must say the party went very smoothly with only minimal snags here and there.
The goodie bags for the Finding Nemo party included Nemo collectible figurines, bubbles, fish shaped crazy straws, big seashells, activity books and crayons. I originally wanted to put them in sand buckets but being September I was unable to find any. I used Nemo party bags from a party store. All the favors I was able to find at a Dollar Tree (check out www.dollartree.com for a store near you). Now I can focus on next years party (I just learned a great way for kids to make homemade butter!) I hope this helps everyone with your child's underwater adventures!