Fire Truck birthday party ideas and photos by: Sandra from Berryville, VA
My son's 3rd birthday theme was a firefighter's party. We started with specialty themed firefighter invitations that I bought off eBay. I printed them at home. Next I purchased a bunch of firefighter themed goodies from eBay and Oriental trading. I also ordered specialty goody boxes off eBay. I also ordered specialty items on the internet.
When each child arrived at the Fire Truck birthday party I dubbed them an official firefighter by giving them each a plastic fire hat. Then the kids immediately went downstairs and started working on a picture frame that they could decorate. Next we had a fire truck come to the house.
The kids went outside and went for a ride on top of the fire truck. This was an older truck that a citizen purchased and now uses it to come out to parties etc. That was the highlight of the party! The kids went for a ride around the neighborhood with the siren on! When they came back I took pictures of each child and printed it with my camera and put it in each of their picture frames.
Next we ate. We served bbq brisket, Mac-n-cheese baked beans and Cole slaw. Then we opened presents and next was the grand finale, the cake!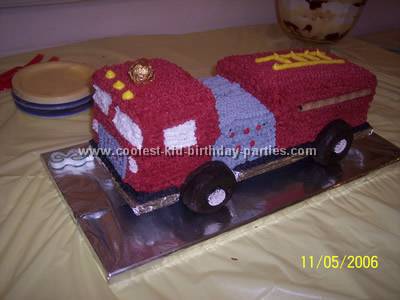 The cake instructions were purchased off of eBay. I was not comfortable using royal icing as the directions stated so I decided to use the regular star tip and did the cake that way along with chocolate donuts for the wheels, candy embellishments for the fire gauges and more edible embellishments. My husband was a huge help by measuring everything that needed to be cut as well as logistically helping with the cutting of the cake to build it to look like a fire truck. I made devil's food cakes from scratch and layered it with raspberry jam and made an almond flavored butter cream icing. The cake tasted great!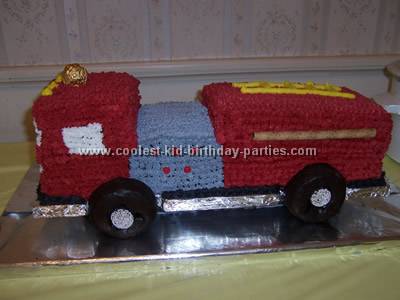 The kids each took home a goody box with consisted of fire truck stickers, fire truck pencils, a miniature coloring book with crayons and a special fire truck sugar cookie that I had made specially for each child with their names on them.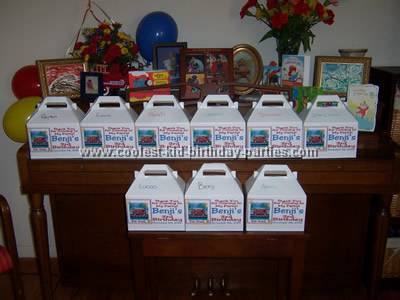 The party was for 2 hours so we really didn't plan any activities except for the frames. Party started at 4 and the truck to arrive at 4:30pm so it worked out perfectly for time!
This fire truck party was the best party! Everyone had a great time