Football birthday party ideas and photos by: Jeffere from Frisco, TX
Here's another idea from this cool website – a flag football party!
(If you want to see the same children a year earlier, here's my army birthday party write-up.)
The boys arrived and all tossed the football in the front yard together. Then, I gave them all white t-shirts and they designed and decorated their own jersey to wear in the game! (The t-shirts are reusable! We used washable markers so each child could redecorate or use his shirt for something else!!)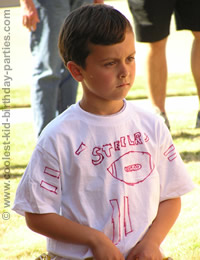 As soon as they strapped on the flags, they became very competitive players!!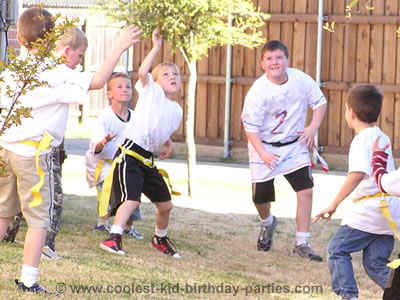 We played, had a break for snacks and gifts, and then returned to play until the party was over.
Parents had a difficult time coaxing their child to the car!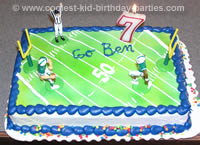 Goody bags contained Nerf footballs, a football pencil, and candy. Another awesome day.
Thanks to this site for making me look so creative!