Hawaiian theme party ideas and photos by: Sheryl from Evanston, WY
For Shateal's 13th birthday party we had a Hawaiian themed party. We hand made palm trees out of dowels then put freezer paper around three dowels then added brown paper in squares and taped them on to the freezer paper, cut out leaves of palm trees and painted them green then attached them by taping wire hanger to the tree.
The tikki bar was made from dowels and cardboard and the bottom was done out of raffia and flowers.
This party took us a week to get ready for. We made cupcake and bought little flowers for top ones and umbrellas for the bottom ones.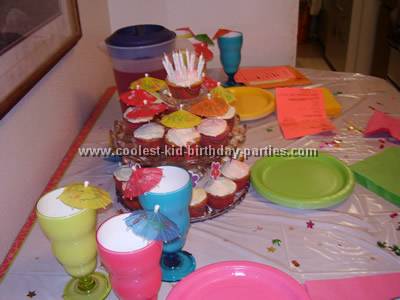 The glasses we bought at Wal-Mart after their summer sale.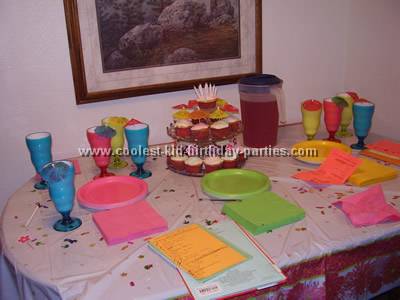 Being older we did not play games but the older kids went on a scavenger hunt then they had a slumber party.
I really enjoyed planning this Hawaiian party with my daughter and it gave us some special time together. The hair things we did with barrettes and hot glued flowers to them. the Leigh's we hand made with flowers and beads and the skirts we bought some flower looking material cut into rectangles and used the no sew tape to seam the ends.
This was a very long week but was worth, it even the boys got into it and was good troops and wore the skirts too.