Kids birthday party theme ideas and photos by: April from Cypress
I threw this party together at the last minute so bare with me but I must say it went great! The kids birthday party theme was monster trucks so I made a monster truck cake to slightly resemble the obstacle course we did.
It was all so easy and inexpensive! For the cake I used two boxes of plain white cake, regular store-bought icing, small chocolate doughnuts and large ones too, brownie mix, a metal little box I got at Target at the $1 spot (looks like diamond plate on a truck), left over checkered material and toothpicks.
I made a rectangular cake (one layer thick) for the truck to "drive onto". Then I made another rectangular cake and cut it into smaller squares and stacked them onto each other until it resembled a truck. Seriously- it is a breeze! This cake works really well even if you are a bit messy about it. I made cupcakes with extra batter and then made a small square pan of brownies. I cut the brownies up to resemble mud piles and/or logs. I made the "finish line" out of paper and toothpicks and adhered little strips of checkered material. I could've probably gone a little farther by adding other items to make it look like an obstacle course- but again- I did this at the last minute because of unrelated circumstances.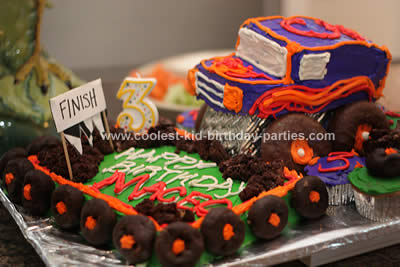 To go with the kids birthday party theme we did an obstacle course using borrowed old tires from a shop, yellow police tape, stakes boxes to make a tunnel, a slide and balloons and my son's big trucks which were scattered through the course to make it harder (older kids had to carry bigger trucks and smaller kids only had to carry small hot wheels or none at all).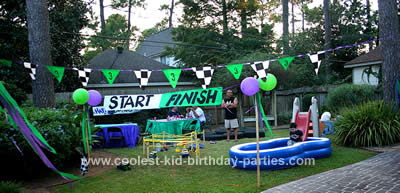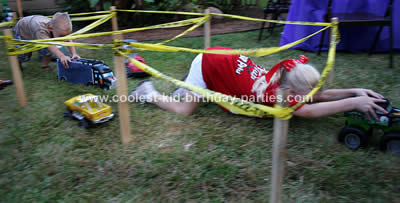 The beauty of this obstacle course is that you can have several races and kids are drawn to playing at it while you are busy doing other things or getting the grub together. Just make sure it's safe before you let kids on it.
I got big wooden stakes from hardware store – they were like $2 each and made the sign out of left over banner paper to say start and finish and also another one to say "happy birthday Maceo"(one roll of that stuff has gotten us through three birthdays!) I used orange spray paint to mark up the grass with arrows of where to go (also cheap). I bought two yards of check fabric at Wal-Mart to make flags (that was a little time consuming but I couldn't' find check flags anywhere!). Then I used leftover sparklers when the kids came through the finish line.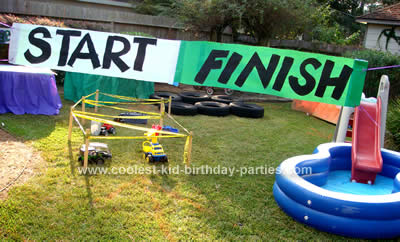 We also did a "pin the license plate on the truck" game. I made the "license plates" using stamps on index cards. I made them to coordinate with each kid's name and birthday (example: MHP928). I drew the truck myself and painted it with regular craft paint. Making all the stuff yourself not only saves you money but also allows you to customize your party. I made my cake and other decorations similar colors.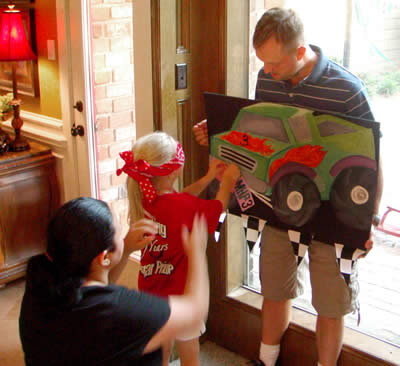 Seriously I put this whole kids birthday party theme together in just days and it was a total hit! Good luck on your party!