Knight party ideas and photos by: Caryn from Mackay, Australia
We had a Knight birthday party for my son's 9th birthday. On the invitations we wrote: "Calling all Knights & Wizards, a day of fun awaits you! Sir Troy is celebrating his 9th Birthday. Please join us at Spence Castle."
We had moved house a couple of months before so we still had a lot of packing boxes around to make cool things out of. First thing was some shields – half with an "x" on them and the other half with "+" on them. The kids were told to take a shield and once all Knight party guests were there we split them into two teams according to the shield. They were then sent off on two separate quests with the end being a treasure chest to share filled with gold chocolate coins.
Then we had a battle with two forts being made out of a few spare packing boxes. We had filled up lots of water balloons and conducted the battle with three waves of attack with about one-third of the balloons for each wave. At the end, both teams were declared winners and a streamer popper was set off over each fort.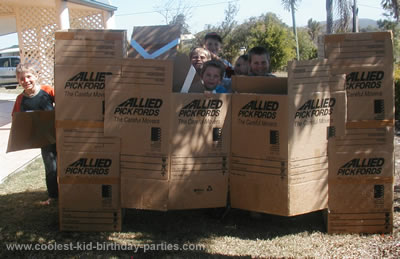 After that, the boys had a fantastic time "storming the forts" and both were totally destroyed. No injuries to people, just to cardboard!