Zaden had a great shark party for his 5th birthday celebration. I made the invitations using a shark photo I found on the internet. I printed out the 4 inch square shark pictures on cardstock then pasted them to a 6 inch square card. On the outside it read "Splish! Splash! It's a birthday bash!" I then used pinking (zig zag) shears to cut a shark bite out of one of the corners of the card. The inside of the card read "Sharks are fun and the water is cool join us for a party by the pool, hot dogs and cake and lots to bite Zaden's fifth birthday: a really fun night!"
Shark Party Favors
I used Martha Stewart's cellophane bags which I found at Michael's and which included a template for printing your own inserts. I used the same picture from the invitations on my computer to make the inserts and put each guest's name on it as well. In the bags I put Shark fruit snacks (Publix brand), a stuffed shark, a shark pen, a shark lollipop and a bottle of bubbles. I made labels to stick on the outside of the bubbles using the same shark picture from the invitations. Most of the novelties I found at Oriental trading.com
Awesome Homemade Cake
Closer to the shark party I made the cake.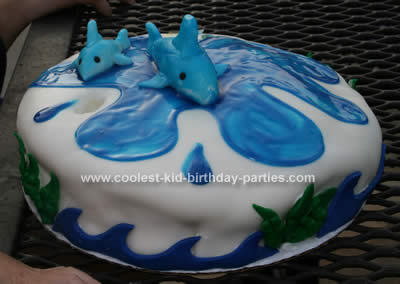 I used a box of chocolate cake mix to make two round cake layers. I made vanilla buttercream to ice it and then covered the whole thing with Wilton rolled fondant which I found at Wal-Mart. Also, I made two sharks from the fondant as well as a wave border and sea weed accents to go around the side of the cake. I used spray on food coloring to color the fondant sharks blue. Then I used mini chocolate chips for the shark eyes. I bought Wilton glitter gel for the water on the top of the cake.
Watermelon Shark
In addition, I also made a shark from a watermelon. I used the Pampered Chef V-Shaped cutter to form the shark teeth/mouth. I carved gills into the sides of the watermelon and took a slice of the watermelon to form a dorsal fin. Then, I made the eyes out of cardstock. I put him in a large flat bottomed bowl and put fruit salad around him to give the illusion that he was poking up from the fruit.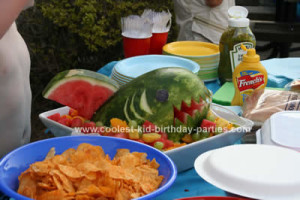 We had a pool party so the pool took care of any activities for the kids. We were able to rent a local pool for a reasonable rate and that was so fun! It was a super shark party and Zaden was thrilled.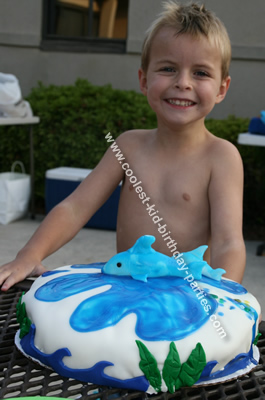 Shark party ideas and photos by: Heidi from Valdosta, GA