My son Reese loves Buzz Light-year and Toy Story so we ordered all the party supplies online for his Toy Story birthday party.
Party Games
Then I created some games including a Buzz Light-year Bean Bag toss game with 8 blue star bean bags, easy to make with fabric and beans or rice to stuff them. I bought a large piece of canvas fabric for $11 and borrowed an overhead projector from Preschool to draw a huge Buzz Light-year found on the internet coloring pages.
I then painted him with inexpensive acrylics and cut out holes for the bean bags. We hung it from the bottom of our deck and the kids had a blast playing it. Everyone won a lollipop.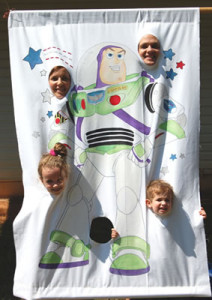 We also made a pin the sheriff's badge on Woody that I freehanded on poster board and made similar stars on the computer. We had 15 players and the winner won a Buzz light-year spaceship party pack. It was also a big hit.
We had a piñata, great weather in September so the kids played on the swing set in between games, snacks etc. We also rented a jumping castle that had Buzz Woody and Mr. Potato head that velcroed onto it! It was so much fun for everyone who came. Goody bags were a Buzz souvenir cup with only a few goodies and a bag of Piñata candy too!
Toy Story Birthday Party Success
There was no time for coloring pictures or much food eating either at the Toy Story birthday party. Luckily we kept the food light and focused more on fun! My kids never want to eat at parties because they are too busy so I am done preparing or spending money on a ton of food. Enjoy the pictures – Have fun creating a great birthday party!
Toy Story birthday party ideas and photos by: Sara from Newnan, GA