For my daughter Savannah Rose's 9th Birthday we wanted to have an under the sea birthday party. I tried to make it as much under the sea as I could without getting mixed up with Nemo or Little Mermaid. Savannah Rose loves to dress up so we always have pictures taken to the theme of the upcoming party. We use the pictures for the cake and invitations, thank you notes and hand made coloring books to go in the goody bags.
Invitations
The invitations were rolled up and placed inside a plastic bottle with a couple of pieces of candy and some sea shells.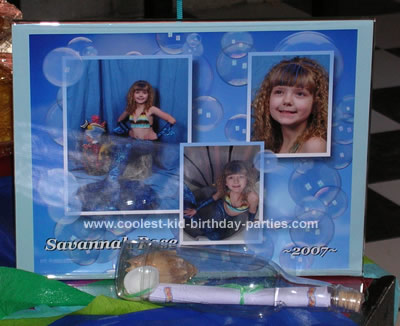 The kids all met at the pool and had an hour swim. Part of the decorations were Octopus goodie bags. I took regular gift bags, cut out paper shape and glued it to the side with goggle eyes and streamers off the bottom (very cute).
At each place setting was a scuba mask for the kids to wear and I had Fish Mylar balloons at different levels so it appeared we were under water. We all sang happy birthday by holding our noses and taking our finger and moving it across our mouths. Each kid got to take a fish balloon home and a goodie bag.
Everyone had a "whale" of a time at our birthday party.
Under the Sea birthday ideas and photos by: Gena from Kawkawlin, MI