Under the sea party ideas and photos by: Kristie from Fort Gaines, GA
We had an Under the Sea birthday party for my son's 2nd birthday. I purchased blank invitations online and printed them myself. I ordered most of the party decorations from Oriental Trading (blow up fish, lobsters, paper fish etc.). I also ordered the party favors from there too (bubbles, fish game and a squirt fish).
I also added picture frames to the party favor bags. I purchased foam picture frames and hot glued foam fish to them. I painted a picture stand out of plywood in the shape of an octopus and had all the kids take their pictures before leaving the Under the Sea birthday party. I put the pictures in the frames. It was very cute.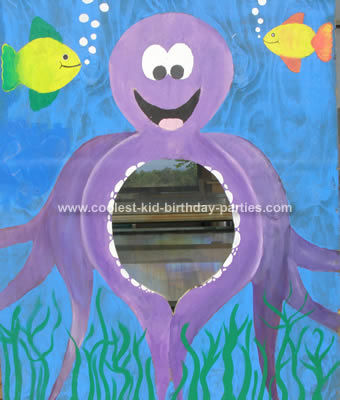 I also used chalk and created a SpongeBob and Patrick drawing on our concrete car port. We had one large blow up pool and one small pool.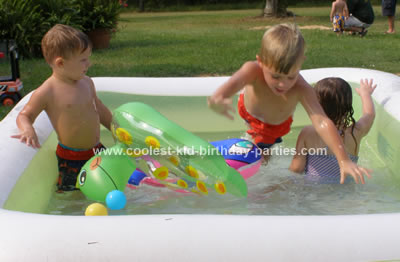 We also had a sprinkler. For the food we tried to keep with the Under the Sea theme. We had Goldfish crackers and blue Jello with the "Goldfish" swimming in it. We had BBQ sandwiches too (not very Under the Sea but very good.). My mother-in-law made an Under the Sea cake with a large octopus on top. It was amazing.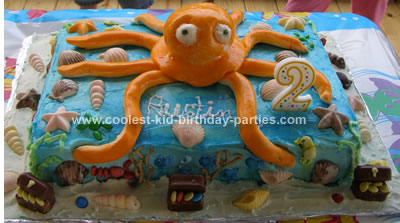 The Under the Sea birthday party was a hit and everyone had a great time.