So, for our son, Fergus', fourth birthday, and first real party, we decided to have an Under the Sea party.
Party Decorations
We have a very high ceiling and beams so we hung cutouts of under the sea creatures. They included fish, seahorses, etc. from the ceiling and also stuck some on the walls. We cut out 'bubbles' of different sizes from clear plastic and put coloured glitter glue around the edges. These were strung together in lots of four or more with clear thread and suspended from the beams also.
Our large ranch sliders were made into an ocean scene with cutouts from blue cellophane (waves/current), and green crepe paper (seaweed) and of course seahorses and other fishy creatures.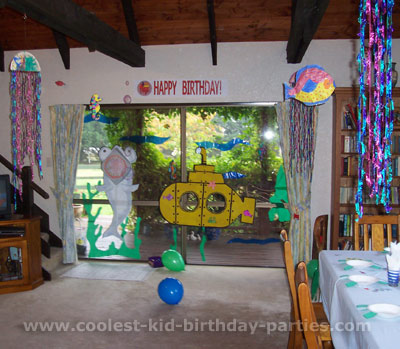 We all Live in a Yellow Submarine
We made a yellow submarine. Then we hung it a wee way out and cut two head holes so we could take the kids pictures.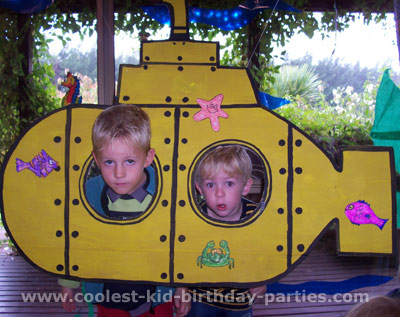 Fun Under the Sea Games
Using an old shoebox, we made a large toothed 'jaws' mouth, for them to throw balls into, and stuck this onto a big shark shape. Magnetic 'fishing' in blue-coloured bath water. Also, eating chocolate fish off a string without using your hands. In addition, there was giant-bubble blowing, water balloons thrown at a giant octopus (outside of course!), a treasure hunt with a pirate's chest full of gold coins as the prize and a fish pinata. These were the ocean entertainment/games.
Delicious Fish Cake
The birthday cake was a fish with a big cookie covered with chocolate as a bubble. Also, we turned the paper bowls into turtles by stapling cutout heads, tails, and legs to the edges.


For food we had fish fingers shaped like fish and 'oysters' (made by slicing the top of little cup cakes and putting pale pink cream with a lolly 'pearl'inside). We also had sea-slugs (little sausages), blue jelly in clear plastic glasses set with a fishing rod (plastic straw that had black licorice stuck in the end and a worm lolly tied on the end) and fish, shark and shell lollies.
The goodie bags were fish shapes stapled together and filled with fish stickers, small plastic creatures and a chocolate bar.
Under the Sea Party Success
The really cool thing about doing this party was that Fergus got to help paint, create and cook along with me. He stuck round sticker dots on the goody bags, painted fish shapes, stapled, glued, made jelly. He had almost as much fun getting ready for his under the sea party as the actual day.
My other son has now got some of the jellyfish hanging above his bed, as he liked them so much. These were made by painting paper plates, threading some pretty feathery-type wool through across the middle and then folding the plates in half and stapling them together. We used lots of glitter on all the sea creatures.
For a tablecloth we got a pale blue sheet and stenciled under the sea creatures all over it. Then, we tied it at the corners with green crepe paper 'seaweed' to hold it firm, and placed seashells over the top amongst the food. This party was a lot of fun to prepare and put into gear.
Under the sea party ideas and photos by: Gabrielle from Christchurch, New Zealand