My daughter has grown fond of unicorns lately so it was a natural choice of theme for her 6th birthday party. She is terribly creative so she helped come up with many of the ideas we implemented at her unicorn birthday. It was a lot of fun to work together with her to create a truly memorable birthday party.
Homemade Invitations
Here's what we did. It all starts with the invitation right? I created my own invitations using unicorn stickers I had purchased from a party store. On the front I first sprinkled a light coat of glitter for a truly mystical feel. Then I fringed green paper to create grass and cut a tree out of brown with green hearts as leaves. I stuck the unicorn sticker in the middle of the "glade" I had created. The inside of the invitation read "You are invited to a mystical birthday party in the enchanted glade of Unicornia in honor of the fair lady Abigail."
Decorations
Next we had to transform the house into the enchanted glade of Unicornia. So, we hung fake birds, butterflies and dragonflies (the kind used in floral wreaths) from the ceiling using fishing line and thumb tacks.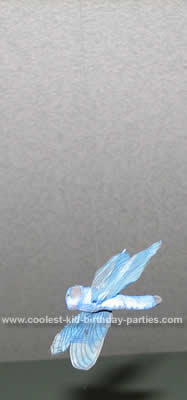 We had fake flowers virtually carpeting the walls. For many of them we cut the blooms off the stems and hung them on the walls with poster putty.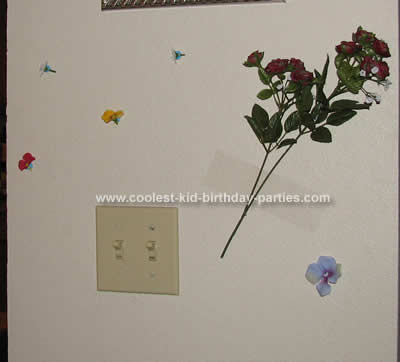 The pink balloons scattered on the floor were meant to be pink flowers in the field. We strung green streamers over just about everything to look like the trees.
I transformed some stick horses into unicorns. In order to do this, I created cones out of craft foam and sewed them onto the horse's foreheads. We also used some of my daughter's toy unicorns to populate our glade. Lastly we added another one to the herd by transforming a card table into a unicorn. But this was partly for a game so I'll give more details later. We placed fake flower buds and gold sparkly confetti on the table tops for that extra magical feel.
Outdoor Decor
Outside the house we placed a cluster of balloons and a butcher paper banner announcing "Happy Birthday Abigail" with unicorns stamped all around. (Actually, I used a horse stamp and added gold glitter glue horns.)
Games and Activities
As our guests arrived I had unicorn coloring packets (pictures found on the internet) and crayons set out for them on the table.
Pencil Topper Craft
Once everyone had arrived we began our unicorn pencil topper craft. I set out pre-cut craft foam horse heads pipe-cleaners wound into little horns in a variety of colors wiggly eyes. Also, I pre-made bunches of sparkly yarn to act as the mane. All the children needed to do was glue it all together taking care not to glue the bottom shut as they placed two horse heads together. (Make sure to use foam glue or tacky glue with craft foam… regular school glue won't stick). Once everyone's unicorn head was assembled they got to slide it atop the sparkly pencil they chose. (Parent's help was greatly appreciated during this craft).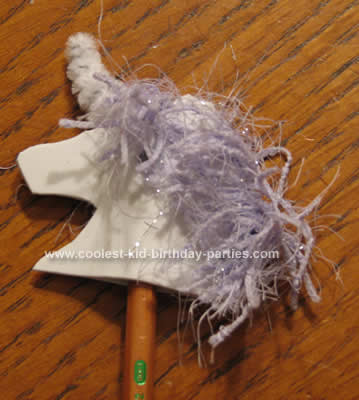 Story Time
After allowing for some free play we moved on to the next unicorn birthday activity. We had the children sit around a beautiful picture book by Shirley Barber while we listened to the story of "The Golden Flute" on CD. The story recounts the process by which the fairy children choose a unicorn pet for the year. The fairies play a golden flute to call the unicorns to them. So when the story was done we played the Golden Flute game which is suspiciously like duck-duck-goose. I purchased a flute from the dollar store, spray painted it gold and added golden glitter glue embellishments. The child that was "it" had to carry the golden flute and play it behind the person they were choosing (instead of calling "goose").
Once every child had a turn to be the fairy with the golden flute we played Unicorn Ring Toss. One of the stick horses that I had transformed into a unicorn was attached to the underside of a card table. I covered the table with a white sheet to be the unicorn's body and bunched a number of long strands of pastel yarn to be a tail. Then I formed three gold pipe-cleaners into rings. The kids were to stand back from the card table unicorn and toss the pipe-cleaner rings in hopes of ringing the unicorn's horn. We kept score and after each round the child with the most points won a felt color-in unicorn craft. The kids really enjoyed this activity!
Refreshments
Next during the unicorn birthday was some more free time while we set up for cake and ice cream. We gathered the children around the table again for cake and ice cream. Although, of course, they had been munching on the other snacks we offered. We placed out Bugles (because they look like unicorn horns), maple cookies in the shape of leaves, apples slices and carrots (because I figured that's what unicorns eat) and Jell-O unicorn horns (use the Jell-O jigglers and pour them into wax paper cones to set then add sprinkles and candy stars to the finished cones). Also, we offered the typical punch – fruit punch and sprite with scoops of sherbet – but we also added star shaped ice cubes to the punch. This was served in pink cups that I placed unicorn stickers onto.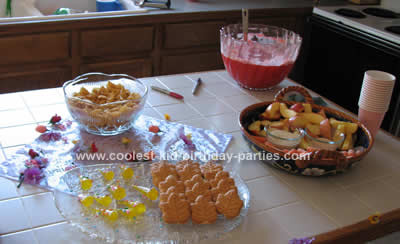 Beautiful Unicorn Shaped Cake
The cake for the unicorn birthday was a 9×13 carved slightly to be in the shape of a horse head. In order to make the horn, I dipped an ice cream cone in white chocolate and sprinkled colored sugar over it.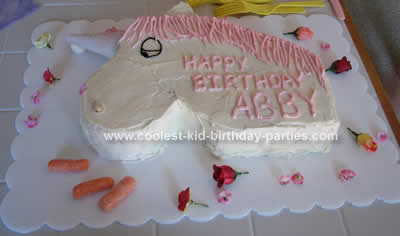 The birthday girl got her unicorn birthday cake served on a special unicorn plate.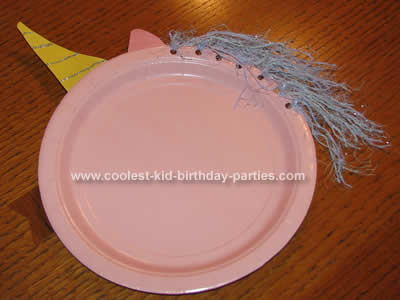 I took a pink paper plate glued a pink ear to the top a gold horn slightly in front of the ear and tied sparkly yarn through a number of holes punched along the side. It was VERY cute!
Even the ice cream was unicorn themed – create-your-own unicorn sundae! So, we gave each child a scoop of vanilla ice cream, a chocolate-dipped and sugar sprinkled cone, some string licorice (for hair), some smarties (for eyes) and some chocolate chips (for nostrils).
Unicorn Birthday Party Favors
Lastly we opened gifts and allowed for free play while we waited for parents to pick up their children. As the kids left they each received a personalized stuffed unicorn in a purse (found very cheap online). Their names were even embroidered on the purses!
In conclusion, this unicorn birthday was an amazing event and one that I am sure will live on in my daughter's memory. I got to exercise my creative muscles and best-of-all my daughter knows I did it all out of love for her little life!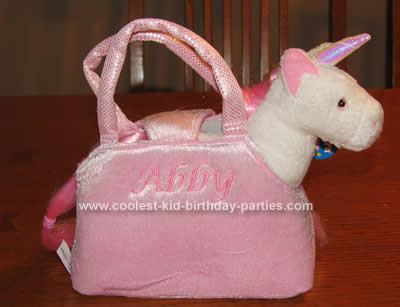 Unicorn birthday ideas and photos by: kelly from Loveland, CO