My daughter loves unicorns and castles and princesses so she came up with a Magical Castle Unicorn party theme herself! Luckily, I was able to find corresponding party plates and napkins online!
I picked up the color from the napkins and decorated the dining room with pink, purple, yellow and turquoise streamers and balloons.I also found a huge Unicorn Mylar balloon.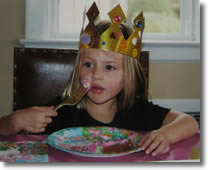 The party was sooo easy and fun. The biggest part is really the planning. Having the appropriate amount of time for each activity and not to make it too long.
We had a total of ten 4 year olds (and one 18 month old brother!).
Magical Castle Unicorn Party
10:00 – Arrival/Craft. Each child had a gold crown to decorate. I had loads of sparkles, gems, stickers for children to glue on. These crowns were used as the party hats for the cake.
10:20 – Freeze Dance. In the end, the kids were just happy to dance!
10:30 – Pass the parcel game. When the music stopped, a child would open one layer of the wrapping and find a gift. The last person to open got one of everything. Of course, because everyone played so well – everyone got one of everything in the end. Prizes were rings, notepads, bracelets, etc.
10:45 Unicorn Pinata – Each child was given a bag after the pass the parcel activity with their name on it to use to collect their loot.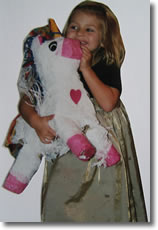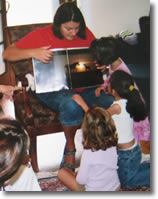 11:05 Story Time (to quiet down and to make time for pizza to be set up)
In the library I found a picture book called "Unicorns I Have Known". It's about Real horses made to look as unicorns in the wild. Very beautiful.
I then read, I Wished For A Unicorn.
11:15 – Pizza/pink lemonade/Bugles (I called them Unicorn Horns and they were a HIT!!!!)
11:30 Castle cake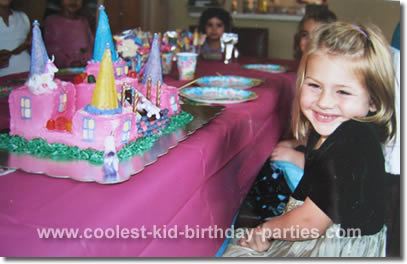 11:45 – Play with toys in the playroom (kids loved the "free time" while we waited for parents to pick up at 12:00
Unicorn Party Favors
Loot bags included – a homemade white chocolate lollipop (they could choose between castle or unicorn), a stuffed unicorn plush doll, unicorn stickers, unicorn pencils and notepad, unicorn erasers, choice of balloon from the decorations.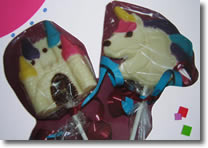 I also ordered custom-made candy wrappers, and, of course, the kids got to keep their loot bag from earlier activities.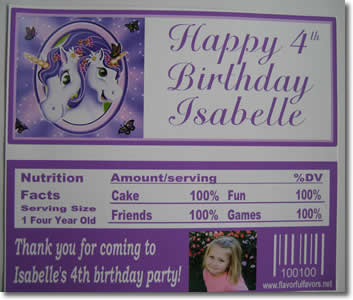 Fabulous and easy day!
Unicorn party ideas and photos by: Caroline from Scarsdale, NY