I have a son who has a birthday around Halloween so we always like to have party themes that are spooky and fun. Here's our Mad Scientist Party themes and ideas.
This was a party for nine 9 year olds.
Invitations
I took the labels off of plastic water bottles. I cut a small slit in the back and filled it with green metallic shred and chocolate eyeballs, a pair of metallic sunglasses (I found a package of 8 at Target) and the invitation. Then I sealed the slit with tape and put a new paper label addressed to Dr._______. The invitation was printed on graph paper and said: " Eureka ! We've got it! Dr. (Child's Name) has just discovered the formula for a perfect party – you. Please join us at the Brande Lab for further research on (Date) and (Time). Please inform the lab administrator at (RSVP number) if you can participate in this important experiment in fun. P.S. please wear the enclosed glasses and your most wild mad scientist hair. The invitation also had formulas printed randomly over the paper such as U+m3 = F.U.N.
Decorations
I decorated with green and purple crepe paper from the ceiling and metallic green shred curtains. I had beakers filled with chocolate eyeballs and some had colored water in them. Also, I blew up a whole bunch of surgical gloves and hung them from streamers and attached them to the wall.
Games/Activities
As the boys arrived they each received a lab coat (I purchased large white undershirts and cut them down the center and put Dr.____ on it).
Lab Experiments
We began by experimenting in the lab. We made our own gak – a slimy rubbery putty made with white glue – we did an experiment with cornstarch where you add equal parts cornstarch and water in a bowl if you put your hand in slow it just goes through it and if you put your hand in fast it gets hard. The kids thought that was very cool.
I found all the experiments on kid science websites.
Story Time
I told them a scary story and had them feel "body parts" as told in the story such as peeled grapes for eyeballs, wilted carrot for a finger.
Pass the Eyeball
We played pass the eyeball – I wrapped white crepe paper around a prize until it was large and round. I then used a marker to draw an eyeball on it. It was played like hot potato.
Bobbing for Eyeballs
We then went bobbing for eyeballs – I used ping-pong balls that I drew on with a permanent marker to look like eyeballs. I made rice krispie treats and cut them into large rectangles. I gave the boys each a thing of green frosting, chocolate sprinkles, M and M's and black licorice and told them to create their own monsters – these turned out so good and the boys were so proud that they didn't want to eat them.
Scar Tag
We played scar tag. I drew Frankenstein-looking scars on labels. I gave each boy a sheet of labels. They had to try and stick the scars on the other boys without getting a scar on themselves. The boy with the least labels won.
Party Themes Food
I used a refrigerated pizza crust in the form of a rectangle and covered it with sauce and cheese (I used food coloring spray to color green) and then using veggies made it look like Frankenstein. We had rotten apple punch, which was apple cider with ice cubes that I had frozen gummy worms in. This was topped with Mad Scientist fizz (pop rocks).
Cake
An eyeball. I just baked a cake mix in a greased 2 qt. glass-mixing bowl. Then frosted it white and decorated with blue, black and red frosting to look like an eyeball.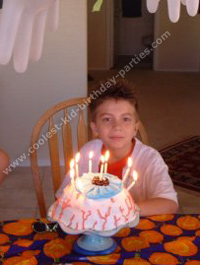 Favors
Chocolate eyeballs and ears, Frankenstein pen, mini mead scientific notebook, pop rocks.
Party themes like this are so much fun!! I hope you succeed in finding ideas for your own party themes.
Mad Scientist Party themes, ideas and photos by: Rikelle from Chandler, AZ
The Party themes ideas and photos in this section have been graciously submitted by readers like yourself. If you've got some cool party ideas and photos to share, we'd love for you to send them over. You'll be taking part in creating the Web's ultimate kids birthday party ideas resource that's ALWAYS FREE for everyone to enjoy! Thanks!