Excuse me… Would you like a biscuit and a spot of really cool tea birthday party ideas for your kid's next party?
Coming right up!
Before we start boiling the Earl Grey, check out:
Tea Party Invitations
Here's a free printable Tea party invitation you can print out for free use:
If you're making your own invitations, you can write something like:
"I'm having a tea birthday party, it's just for fun! So, Dahling, if you can make it … I would love for you to come. Just throw on that frilly dress and gobs of jewelry galore (if there are boys coming just change this part)… We'll have snacks, play games and there's so much more! I'd like to know you better, and for you to know me… tea party place (address), tea party time (time). So, have your Mom call my Mom and we'll do tea! Here's the number so you can R S V P (phone #)", Ta-Ta!!" You can also ask the ladies and gents to come in fancy play clothes or Sunday's best.
Here's another small little poem you use: "Tasty cakes, pretty clothes, dresses tied with ribbon. Lovely hats trimmed with bows, little dainty dishes. Cups completely filled with tea, Come and celebrate with me!!"
Make sure to also check out Marissa's lovely homemade Teapot Invitations:
Tea Party Decorations
It's lots of fun for the entire family to make your own tea birthday theme party decorations. Let's get some crea"tea"ing done!
Decorate the walls, dressers and shelves with teapots, teacups or spoons on dressers and shelves.
Hang pastel-colored streamers and balloons from the ceiling and walls. Set the tables with a floral pattern tablecloth, linen tablecloth, or lace tablecloth. Spread sprigs of ivy and holly-berries, and decorate the tables, and if outside, any posts and fences with flowers (roses add an elegant feel).
If the party is in the evening (and the kids are old enough), sprinkle a few candles on the tables and around the yard and also light up the pathway (by filling up brown lunch bags with sand and sticking a candle inside). And top it off with a red carpet leading to the entrance.
If your backyard is big enough, an outdoor tea birthday party is lots of fun. Set up the tables under a tree or in a shady place (preferably next to a flowering garden). A big patio umbrella and background classical music is excellent for the overall "tea"mosphere.
Glue real flowers to a barrette to serve as napkin holders and place a few bells on the tables for the kids to ring whenever they'd like to call for their servers, a.k.a… YOU! ;-) Get dressed up (together with a few other brave parents or siblings) as waitresses and waiters with aprons and don't forget to have a butler in a suit or tuxedo greeting the kids at the door. Make sure to call the girls "Madame", "My Lady" and the boys "Sir" etc. while escorting each one personally to their place by the table (if you can speak in a British accent-all the better!!).
Once the children arrive, you can send them to the "dressing room" to get ready. The children can dress in Victorian Style clothes, they can dress in formal attire, or they can simple wear their Sunday Bests (you can try shopping for cheap clothes at thrift shops and put all kinds of dress-up clothes in a dress-up box). The point is to dress up in something that isn't ordinary every-day attire. The kids can put their hair up in fancy hairstyles using ribbons, bows and curls. If you feel that they are old enough, let the girls put makeup and lipstick on for that lady-like feel.
Tea Party Icebreaker Activities
As the kids arrive to the tea birthday party, it's always great to warm them up with a few fun activities that'll also serve as part of the decorations. You can prepare these decorations ahead of time and enjoy a few fun-filled moments with your kids.
Handmade Jewelry
The kids'll love to make their own jewelry. There a lots of necklace and bracelet activity sets, and you can also buy Fruit Loops and some string and have the kids adorn their necks with fruit loop necklaces.
Tea Party Coloring Pages
A great ice-breaker for all parties are Tea Party coloring pages! You set a table with markers, crayons, or anything else the kids can paint with and let everyone color in Tea Party coloring pages until all the guests arrive.
We've created a whole page full of free and original printable Tea Party coloring pages, check them out!
Decorative Fans
This activity will make a great party favor, and kids'll have fun creating their own fancy fans! You'll need crayons, markers, colored paper, glitter, possibly stickers and tape. Let the kids draw pretty pictures on one or both sides of the paper and then have them fold the paper accordion style and fasten one end with tape to create the handle. Gently spread out the other end for a beautiful personalized fan!
Cake Quilt
Bake a rectangular cake and cut it into many squares. Have each kid decorate their square with icing, sugar decorations etc. and then put all the squares back together to form a cake quilt (you'll be surprised how nice these come out).
Makeover
Give the kids some lipstick, perfume, fingernail polish and other non-toxic makeup and let them go wild (even the boys will love this…). You can also let them soak cloths in hot water and lay them on their faces for a soothing experience before the makeovers. A digital camera is an absolute must for this one…
Paper Flowers Tea Party Activity
This is a really fun activity! As the kids arrive they can start making paper flowers for empty vases on the table (they are actually making the centerpieces for the party!). You can find directions for making origami flowers on the internet. You can use this cool origami-fun website, which has lots of great instructions and all kinds of different flowers to make.
Homemade Tea Party Cakes
Take a look at all the coolest homemade Tea birthday cakes.
Teapot-shaped cake: Use two 9″ round cakes and one round dome-shaped cake. Put the two 9″ cakes on top of each other (you can cut in a diagonal around the bottom to make it look like the teapot is slimmer around the bottom). Place the dome cake upside down on top of the lower two cakes so it serves as the lid (sounds confusing, but I'm sure you get the picture…). The spout and handle can be cut from foam core board (marzipan would also work). Then top off everything with vanilla frosting. Put icing swirls, frills, sugar roses, gumdrops etc. for the teapot decorations.
Table cake: Bake a cake in a 9×13 pan, and frost it to look like a long table with a tablecloth; you can also decorate this tablecloth with all kinds of little icing designs etc. Then set the "table" with little cups and saucers.
But still, my favorite is the cake quilt (as described above in the first-course activities…)
Tea Party Food and Drink
Tea Birthday Party Food:
Here are some ideas for tea birthday party food:
Finger sandwiches (watercress, cucumber, cream cheese, Peanut Butter and Jelly-practically anything-but they should be petite and delicate and can be cut into different shapes with cookie cutters.)
All kinds of breads and a platter of meats
Pizza bagels
Bagels with cream cheese
Cheese and crackers
Fruits out of wine glasses
Tip: Serve these foods on silver trays.
Tea Birthday Party Drinks:
How about some… Tea :-)… Put out many kinds of tea, such as herbal and Earl Gray, with milk, cream, lemon, and cubed sugar to make them feel like ladies and gents)
Iced Tea
Hot Chocolate
Hot cider
Apple Juice (tea-substitute for those who don't like tea)
A punch bowl
Pink lemonade
Ice Cream Punch (with sherbet ice cream and Sprite or 7up)
Tea Birthday Party Treats: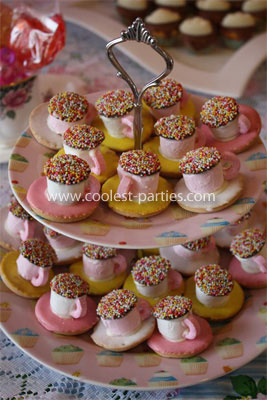 Tea crackers
Biscuits (you can have several jams as well)
Scones
Assorted pastries
Meringues
Chocolate-covered strawberries (melt chocolate chips in a mug in the microwave and stir, then let the kids do the dipping and afterwards dry on wax paper)
Dinner mints
A bowl of pastel-colored jelly beans
Tea Party Favors
A nice idea is to put all of the tea birthday party favors in little wooden or ceramic tea pots like the ones the kids prepared during the icebreaker activities.
You can also create your own jumbo-sized tea bags. Just staple together two pieces of paper (or – if you're up to it – sow together two pieces of white fabric, or hot glue corrugated paper, etc). Leave one side open and place the favors inside, close it up and add a string with a little square thank you note at its end. The perfect tea (favor) bag…
You can place inside all kinds of cool trinkets such as stickers, stationary, beads, stamps, lipstick, costume jewelry, hair accessories, compact mirrors, ring pops, candy bracelets, an lots of other tea-rrific stuff.
Tea Party Games and Activities
Here's a whole page with the coolest Tea child birthday party games, such as:
Fashion Show
Tea Spoon Race
World's Best Butler
and many more (including visitor-submitted game ideas)…
You should also read these VERY important tips to help you survive (and enjoy) birthday games time!
Your Tea Parties and Ideas
Some of our visitors have gone the extra mile and written up their complete Tea birthday party story with photos and everything they did. We call these stories "Party Tales" and they serve as a great inspiration! Take a peek at other people's Tea birthday Party Tales and you're sure to find lots more outstanding Tea party ideas:
Share your kid birthday party ideas here…
---
Kid Birthday Parties › Kid Birthday Party Ideas › Tea Birthday Party