Once upon a time…
A little fairy dreamt up the most enchanting child birthday party idea ever seen in Neverland. Her name was Tinkerbell, and here's her very own child birthday 'fairybration'…
First off, here are the coolest Fairy party packs and party supply items available today:
Fairy Invitations
A cool child birthday party idea for fairy invitations is to take a rectangular piece of paper (so that the long side is horizontal to you) and fold in both of the sides to the middle so it looks like a gate. On the outside write something like: "Take a peek through the garden gate" or "I believe in fairies". Then on the inside put lots of fairy and butterfly stickers peeking out through holes you've cut in the gate itself.
Inside you can write: "The garden fairies have gathered to celebrate a special day for a great little fairy" (name of birthday child and age). "Please come join the fairybration".
Using a silver gel pen, or any other nice pen, you can write this poem on the rectangular paper before rolling it up:
"Far, far away, in a magical place, sits a small little fairy, with her soft smiling face. She waits for her friends, in the warm summer sun; won't you come on (date of the party) to join the fun? With fun foods to eat, and fun games to play, your arrival at (time of the party) will make (kid's name's) day. She anxiously waits, as each day passes by, while her fairy parents await your reply" (and then write RSVP and your phone #).
Also add Magical Fairy dust to the invitations (could be glitter and sparkles in a small bottle).
Anne from Australia added to her daughter's invitation the following:
"Come as a fairy, come as an elf
Come as your favourite dress up
Or come as yourself
If you'd like to bring a present (which we don't expect)
Bring something small
To fit on a fairy's shelf"
You can also write that all the fairies come dressed in their "fairy best" – and boys in their pixie best. Don't forget to add a lot of fairy dust (glitter and confetti), and possibly fairy stickers and/or tattoos to the invitation (it's also a special touch to add dried flowers in the invitation and envelope).
Another fairy child birthday party idea for an invitation is to cut out magical wands (a long rectangle for the stick and a star for the top of the wand).
Here are some free printable Fairy invitations, a butterfly, fairy, flower and star-shaped invitations:
The flower invitation folds in a specific way (all petals are folded at the dotted line). Here's how the flower invitation looks like when folded (click on image to see a larger picture):
Here are more things that can be written in the Fairy birthday party invitations:
"Do you believe in Fairies? (birthday child's name) made a birthday wish. Please help it come true. She wants to be a Fairy Princess and celebrate turning (child's age) with you!"
A great child birthday party idea is to write "We waved our wands, but we need you to make a birthday wish come true! Please join us for a fairy good time!"
"Fairy dust and princess crowns, magic wands and pretty gowns, please join us for an enchanted party celebrating (birthday child's name) birthday!"
"Fairies, fairies, did you hear? (Birthday child's name's) birthday is this year! You'll dance, you'll eat, and you'll have sweet fun – you'll be a fairy before it's all done! Wear you fairy best, a tutu will do, your wings and accessories await you. The party is on (date) at (time), please say you'll fly by, (birthday child's name) god-mother awaits your reply!"
"Fairies and Pixies, we need you to fly, get your wands and your wings and take to the sky, fly to (birthday child's name's) birthday, there will be plenty of fun, with lots of games, cake and pixie dust for everyone!"
A cool child birthday party idea is to write on the outside of the invitation "Do you believe in fairies?", and on the inside: "All you need is faith and trust, and a little bit of Pixie Dust!"
"Calling all fairies near and far… We need you to celebrate the birthday of a star! It's (birthday child's name's) fairy birthday party, I'm happy to say, it's going to be fun with lots of games to play!"
"Calling all fairies it's a party galore… for our fairy princess who is turning 4!"
"Come to where the fairies roam, a beautiful forest they call their home. The happy fairies will dance and play to celebrate (birthday child's name) birthday!"
"Peek into the garden, and what will you see? A beautiful fairy, sitting under a tree. Her name is (birthday child's name), and she's turning (age of birthday child). Won't you join her for a party, full of dancing and tricks? The good fairies there will help you earn your wings, and we'll play games together, with pretty fairy rings."
Another cool child birthday party idea is to write "Fairy dust and sparkly wings… A land of fairies and magical things. Fly on over to celebrate (birthday child's name's) birthday!"
"Fairy princesses from across the land are gathering for an event that is truly grand! So mark the date and make your way, Pixie (birthday child's name) Fairy birthday! Please say you'll join her for food, games and fun… with fairy wings, fairy dust and flowers galore….butterflies, toadstools and so much more!"
The invitations can also have a Tinkerbell twist to them, for example: "TINK of the happiest things, it's the same as having wings! You are invited to a Tinkerbell birthday party! The magic starts at (time) on (date), gateway to Neverland (address). You provide the faith and trust, we'll provide the pixie dust!".
If you're having a 'Fairytopia' twist to the party, here's something you can write in the invitations: "Peek into the land of Fairytopia, and what will you see? A sparkly little fairy, flying amongst the trees. Her name is (birthday child's name) and she is turning (age of birthday child). Please join us for a party, where there will be lots of food and tricks. The good fairies there will help you earn your wings, and we'll play games together, and make pretty fairy things".
Another great idea for invitation wording, submitted by Kim B. from Blackpool, England:
"In the land of the fairies where pixies fly and roam,
Sits a little fairy friend who calls this garden home.
Her birthday is near and she wants you to say
That you will share in the magic on her very special day.
Have your fairy godmother drop you off at 10.
You'll transform into a fairy before she picks you up again.
We'll drink crystal bubbles from raspberry fountains,
With pink fairy cakes of frosted mountains
So come to the garden and sit with your friend,
You'll laugh and have fun, on this you can depend!"
Just remember to add all the details of the party, when, where, RSVP, etc.
Fairy Decorations
For a generic Fairy party – the colors to choose would be a combination of lavender, pink, purple, blue, cream and silver (and more pastel-like colors). If you want it to be a Tinkerbell party, it's very suitable to use green and yellow (or more accurately said "chartreuse" – the specific Tinkerbell color) with purples and pinks for the color scheme.
A cool child birthday party idea is to have a sign at the entrance of the party area saying "Welcome to the Fairy Garden", "Welcome to the Enchanted Pixie Kingdom", "Welcome to Neverland", etc. You can also have a nice Tinkerbell Fairy Banner to hang at the entrance. Before the party entrance, it could be nice to put up little signs with a big arrow on each sign and a small sentence saying "Fairies and Elves This Way!" or anything similar.
If you have trees to the entrance of your house or in/around the party area, it could be nice to hang little bags of colorful gumdrops all over the trees with string or hooks, this adds a lot of color and adds that sweet touch! (Also, you can take each bag of gumdrops down from the tree and give to each child at the end of the party).
A fun child birthday party idea is to throw some sparkle glitter on the guests as they arrive and get them into the fairy mood right when they come. Hang these Metallic Foil Curtains
in the doorway so the kids will feel like they are entering a magical place.
Print out these Fairy placecards and napkin holders and put on your party tables:
An excellent Fairy child birthday party idea is to write on the placecards each guest's name by adding "Fairy" and/or "Pixie" before or after their name (for example: "Fairy Jenny", "Pixie Alice").
It's a very nice touch to create a canopy over the food table (or in another location like above the gift table, hanging from a tree, or in the middle of a room or party area where the fairies can play). Just take yards of tulle netting from the ceiling (attached at a few places) and let it hang down. You can also hang and attach little butterflies and/or flowers to the netting. If you don't know how to make your own, an optional child birthday party idea is to use mosquito netting.
A really cool child birthday party idea is to create small little wings out of bent coat hangers and netting, and then with Velcro attach these wings to the back of each chair; that way whenever someone sits in a chair it looks like they have wings!
Another nice child birthday party idea is to take flowers (even real ones) and tie their stems to clear fishing line and hang them from the ceiling. For a different effect hang them from colored yarn. You can also place them in vases around the house and disperse them on tables and shelves (you can also use plastic and/or tissue paper flowers at the dollar store if you don't want real ones). It's also nice to disperse confetti and glitter (pixie dust) on tables as well.
Disperse any Fairy-related toys or dolls your child might have all around the party area. You can tie a helium balloon to each or tie around with ribbon and they can serve as table centerpieces. Baskets and flower pots are also nice for decoration, either put real or fake flowers in each pot or even use small flower pots to hold candies.
To make your fairy party look more "in the woods" decorate with wood branches, twigs, special flowers, clip-on fireflies, old-fashioned lanterns or any other decoration that has more of a 'Fairy in the woods' type look.
Spread balloons all over your floor and if you use helium then have them decorate the ceiling. Put jewelry, earrings, bracelets, necklaces and all sorts of other pixie fairy gifts inside the balloons so that later when the kids pop them they'll find lots of surprises.
Print out and tape these Fairy decorations around your party area, on chairs, tables, doors, etc.:
See All Printable Fairy Decorations
You can take these decorations, cut them out (it's not a must to cut them out), tie string to the top of them and hang around the party area. Hang with string or curling ribbon from ceiling fans, railways, etc. It's also a nice child birthday party idea to cut stars out of cardboard and cover each star with aluminum foil for the silver-looking touch. If you have older kids they can help you by coloring these decorations and cutting them out.
If the party is at night, a cool Tinkerbell child birthday party idea is to line the pathway to your house with different colored lunch bags half filled with sand and with a candle inside. The bags glow magnificently once you light the candles (you can also punch holes in the top part of the bag to create twinkling stars). Make sure you put the candle in the middle of the sand so that it doesn't get close to burning the paper.
A nice child birthday party idea is to create a pretty fairy backdrop, for example hang a blue sheet with cotton clouds, tissue paper flowers, butterflies, stars, etc. on a fence or wall. This backdrop is perfect for the little fairies to stand in front and get their pictures taken (you can send these pictures out with your thank-you notes).
Costumes
A great child birthday party idea is to dress up your little girl as a fairy with ballet clothes and a garland. If you have some spare time on your hands, you can make your own fairy costume, here are a bunch of homemade fairy costumes submitted to us by visitors:
Take a look at all the coolest homemade Fairy costumes.
On your invitations you can ask the guest to "come dressed in their fairy best". If they don't come dressed up enough, have a little suitcase ready with pretty skirts and leotards. If you don't have any, you can also check out a children's ballet studio to see if you can loan or rent leotards and tutus.
If you've made or purchased fairy wings, have each guest earn them as they arrive by going outside and looking for a little fairy hidden in the yard. Once a guest finds a fairy, they are qualified to receive their fairy wings.
Then have "Fairy Godmother" (one of the adults) introduce herself and her elf helpers, and taking turns blindfold each girl, spin her around three times, ask her if she believes in fairies, and to clap three times.
Then take off blindfold and Fairy Godmother says as she taps the girls' head with a wand "bippity-boppity-boo" (or anything else that sounds fairy-like).
Then the elf helpers put on her wings, blows bubbles and throws pixie dust (confetti and/or glitter). What a fun child birthday party idea!
Another fairy child birthday party idea is to make flower-encrusted headbands (you can make simple ones by hot gluing silk flowers onto plastic headbands or to simple hair clips) and for the boys you can make green felt pixie hats (also handmade).
And what's a little Fairy without a wand? You can make wands from skewer sticks with the tips cut off and cutout stars glued to one end. Here are free printable stars you can cut out and glue on to the sticks:
A great child birthday party idea is to get a hold of some face paints and draw a little fairy shape on each of the fairies' cheeks (a small heart, a butterfly, a little star, a swirly symbol, etc.).
You can also print out these Fairy hats (all you have to do with the printable cone hats below, is print them out, cut around the half circle, roll each of them up and staple!):
Fairy Icebreaker Activities
You can start your party by hiding miniature fairies (or butterflies, or anything else similar) around the party area (enough for each child in the party to find at least one). Once the child has "rescued" the fairy then they can earn fairy wings of their own. Each child only needs to find one fairy, so everybody wins this game!
Fairy Snow Globes
Each guest gets a baby food jar (or any other little jar or clear water bottle for that matter). They then add star-shaped and heart-shaped sequins, glitter, water, baby oil and blue food coloring – and VOILA – a beautiful Fairy setting in their hands!! (just to make sure, have an adult secure the tops of the Fairy snow globes with hot glue so that the fluid doesn't drain out.). The kids love this child birthday party idea.
Pixie Dust Bottles
For this child birthday party idea you'll need little clear bottles (either plastic or glass), colored sand and glitter. This may be a messy craft, so beforehand assign a table that will be used for this activity and cover it with a protecting tablecover. On the table have all kinds of bowls, each bowl with different colored sand in it. Also have smaller bowls with different colors of glitter. Give each guest a bottle and small spoon to start filling their bottles with colorful 'pixie dust'. Show them that it's possible to create layers of colored sand that come out really beautiful at the end when looking at the bottle (it's best if you create one of these before the party so that they can be inspired from and know how it looks like at the end). This is a really cool child birthday party idea and a great keepsake from the party!
Makeover Stations
With a little help from Tinkerbell, you can make your guests feel like dainty little fairies with a sparkly makeover. For example, at the fingernail painting station you can offer a couple of different non-toxic nail polish in bright sparkling colors (use a blow dryer to dry them quickly or ask each little fairy to flick her fingers in the air for about sixty seconds). You'll need your choice of lip gloss that sparkles, glitter blush or eye shadow, and tiny prismatic stickers to jazz up the activity. This is a really fun child birthday party idea.
Fairy Necklaces
A fun fairy child birthday idea for an icebreaker is to have the kids make tasty edible necklaces out of licorice string, fruit loops, cheerios, and gummy lifesavers.
Fairy Coloring Pages
A great ice-breaker for all parties and an excellent child birthday party idea is to print out some fairy coloring pages! You can put out a few tables with markers, crayons, or anything else the kids can paint with and let everyone color in fairy coloring pages until all the guests arrive.
We've created a whole page full of free and original printable Fairy coloring pages, check them out!
Fairy Flower Crown Making
For this child birthday party idea you will need green pipe cleaners, glue or string, real and/or fake flowers, and ribbon. For each crown take at least two green pipe cleaners and twist together around each guest's head (around the upper part of their forehead), this makes the base of each crown. Gently cut the flowers from the main stem (but if you can, still leave an inch or two of each stem on the flowers). Let the guests glue or tie the flowers to and around the pipe cleaner. Once they are done with adding the amount of flowers they want, let them add ribbon. Have lots of long pieces of ribbon cut beforehand (between one and two feet long), let every guest take atleast a few pieces of ribbon, bunch together, and tie at a certain point of the crown. The little fairies can then put these flower crowns on their head, wear little fairy wings and jump around flying like fairies!
Plastic Champagne Glasses
Another cool child birthday party idea is to get a bunch of plastic champagne glasses and have the kids decorate them with fairy stickers, markers, stick-on jewels, glitter, etc. Later on, the kids'll love using these glasses as their drinking glasses.
Beaded Wand Activity
Have the kids make wands out of wooden steak skewers. Prepare star shapes out of any thick paper. Have the kids glue on a star to the tip of the wooden skewer, and then glue another one, to the back of the first star, so that the wooden skewer isn't seen (so for each wand, 2 stars are needed). Once the glue is dry, either spray paint the whole thing silver, having the kids decorate it, or let them color their stars with markers, stickers, etc. And, of course, have them sprinkle different color fairy dust (glitter) over their wands to make them truly magical. The kids love this child birthday party idea. You can print out and use these free printable stars.
Homemade Fairy Cakes
Take a look at all the coolest homemade Fairy birthday cakes.
A cute child birthday party idea is to make simple cupcakes (have them frosted before the party), give each guest a cupcake, and let them sprinkle fairy dust (colored sugar sprinkles) on to their own cupcake. It's also nice to have a plate out with all kinds of tiny fairy cupcake decorations such as small gumdrops, mini M&M's, tiny marshmallows, etc.
Fairy Party Food and Drink
Fairy Child Birthday Party Idea for Foods:
Here are some ideas for your fairy birthday party foods (don't forget to put small decorated signs on each dish just to make sure everyone understands that they're eating real fairy food…):
Pixie Dust Fairy Bread – Lightly toast bread, spread Nuttella, melted butter or anything else that might fit the sweet tooth… and to finish it off sprinkle each toast with colorful sparkly sugars (tiny round candies that are usually sprinkled on cakes). You can use regular bread, mini muffins, scones, etc.
A yummy child birthday party idea for food is these Fairy Burgers: Cut the hamburgers into star shapes with star cookie cutters.
Hot-dog wands (little paper stars, each fastened to a toothpick, and each toothpick put inside the top of a hot-dog, you can use string cheese or mozzarella bread sticks for those who don't eat meat).
Cream cheese and strawberry jam sandwiches (you can cut these with star, heart, diamond, butterfly, flower etc. shaped cookie cutters).
Heart and Star Pizza: If you have patience, you can make or order pizza, and then cut out the pepperoni into star and heart shapes (you can stack the pepperoni's on top of eachother and cut with a cookie cutter, or with a knife). If your making homemade pizzas, you can cut the dough into these shapes!
Fairy pixie Yogurt and Granola – In a plastic champagne glass put a layer of yogurt, granola, and fresh fruit. Repeat layers once or twice in each cup. You can then top with crushed biscuits and fresh-cut strawberries.
Jewel Salad (a salad with dried cranberries, golden raisins, cherries etc.)
Peter Panwiches (any type of sandwich).
A really fun child birthday party idea for food is to make Little Toadstools – this is an adorable yummy treat! Take peeled hard-boiled eggs, cut a little bit off of each of the bottoms of each egg (so that the egg can stand up with tip to the ceiling without falling). Group up all of the eggs together on a few plates. Then, cut cherry tomatoes in half and put a half on each tip of each egg (for the top of the toadstool). Then take feta cheese sprinkles and sprinkle on the top of each half tomato (to get the white circles that are usually on each toadstool top). It's also nice to decorate the plate with little sprouts or any kind of green vegetable to look like the mushrooms are in grass.
Fruits out of wine glasses (or in a watermelon basket where you can cut the watermelon with heart, star, diamond etc. shaped cookie cutters)
All kinds of breads and a platter of meats or cheeses.
Tink's Garden – Hollow out a a purple cabbage and fill with vegetable dip. Put on a plate with lots of different cut up vegetables for dipping.
Tip: A cool Tinkerbell child birthday party idea is to sprinkle fairy dust onto the food (it could practically be anything, such as salt, pepper, parsley dust, etc.) and just put in little containers. With puffy paint write on them "fairy dust".
Fairy Child Birthday Party Idea for Drinks:
Fairy Fizz – Place a full glass of red punch in front of each guest and add some fairy dust (a few Pop Rocks candies) to each cup. The kids just love it when the candy crackles, pops, and splits when it comes into contact with the liquid.
Tinkerbell's Morning Nectar – Sparkling apple cider (you can pour it into disposable plastic wine glasses and let the kids decorate the glasses with jewels, sequins, glitter etc. beforehand).
Berry Fairy Drink (raspberry sherbet and Sprite).
Pink Lemonade
An enchanted child birthday party idea for drinks is this Enchanted Fairy Punch – freeze pink, purple, and/or red juice in ice cube trays (grape, strawberry, cranberry juice can all fit for this drink). Then, on the party day serve lemonade and then let each fairy drop in an enchanted fairy ice cube into the drink, they will magically see how the drink becomes colorful (pink, purple, or red), fit for a fairy! (an extra touch is to make ice cubes in a star, butterfly, heart (etc.) shaped ice cube trays).
Strawberry Tea (If you want to add more of that strawberry taste to your strawberry tea, do the following: make half a pot of strawberry tea with three bags, let it steep a bit and then add a few drops of strawberry extract and three or four drops of red coloring. Then add milk and sugar to taste).
Fairy Child Birthday Party Idea for Treats:
Magic wands (pretzel rods dipped in white chocolate and sprinkled with star-shaped decorations or just plain sprinkles)
Fresh-fruit wands (take wooden steak skewers and put grapes, strawberries, and other cut fruit on them and at the top put a melon cut into the shape of a star using a star-shaped cookie cutter).
Chocolate-covered Fruit (melt good-quality white, milk or dark chocolate in the microwave until you can stir it smooth. Dip strawberries, grapes, and orange slices halfway into the melted chocolate. Lay them on wax paper and let them cool a couple of hours. Once cool, gently peel off the wax paper and serve on a fancy plate.)
Heart-shaped or star-shaped rice crispy treat wands (you can add a stick in them to look like wands; also you can dip in melted chocolate or white chocolate and add sprinkles for more of the wand effect)
Red rubies (strawberries, cranberries and cherries)
Magic fairy gems (A bowl of pastel colored jelly beans, skittles, etc.)
Cotton candy wands
Marshmallow wands
Fairy dust (pixie sticks)
Fairy Lollipops: fill a bowl with strawberry and cherry lollipops
Golden popcorn (caramel popcorn)
Fairy Jello Shapes: You can get pink or red-colored Jello, follow the recipe on the box, and once it's ready – use a star, heart, butterfly, flower and/or diamond-shaped cookie cutter to cut out fairy Jello shapes
White and Pink marshmallows are also a great child birthday party idea for treats
Fairy Party Favors
We have created these printable and foldable Fairy favor bags and favor boxes. They are blank and so the kids can decorate and fold them themselves. You can also print them out on different-colored paper, possibly the color/s of your child's Fairy birthday party colors. If you don't want this to be an activity for the kids, create them before the party.
We've created these printable and foldable fairy-themed favor bags and favor boxes. They are blank and so the kids can decorate and fold them themselves. You can also print them out on different-colored paper.
See All Printable Fairy Favor Bags and Boxes
For the favor box and medium favor bags – print, color if needed (or print on colored paper) and cut out. Before you start gluing the favor box, fold along the dotted lines and assemble so that all the sides connect. Only then add glue and secure the folded flaps.
To create the large favor bags you'll need to print out TWO designs for one favor bag. First, cut along the lines and fold along the dotted lines. Then, connect the two so that the left side of one is glued to the right side of the other.
In the favor pack you can put fairy dust (pixie sticks), fairy stickers and tattoos, wands, fairy bubbles, stick on earrings, plastic jewelry, all kinds of bracelets, jewels, hair accessories, a small pretty mirror, little combs, a tiara, little fairy bells, fairy magnets, ring-pops, magical wands, body glitter, lip gloss, stick-on earrings, pop rocks, heart candies, tiny little notebooks, fairy stamps, and a whole lot of other beautiful fairy trinkets.
If your throwing a Tinkerbell party, a great child birthday party idea is to give out little Tinkerbell accessories. For boys give out things that fit the Peter Pan theme, pirate ship stickers, pirate flags, pirate pencils, etc.
For Fairy thank-you notes print out our printable Fairy thank-yous:
See All Printable Fairy Thank You Cards
During the party you can take a picture of each guest in their pixie attire with the birthday girl and then send these pics out with the thank-you notes. On each thank-you note you can write something witty like "Thank you Fairy Much". This is a great child birthday party idea!
Fairy Games and Activities
Here's an entire page with the coolest ideas for Fairy party game ideas, such as: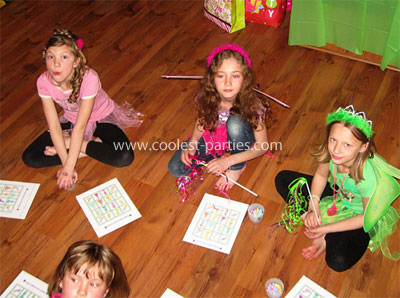 Fairy Tag
Fairy Hunt
Tinkerbell Dress Up Relay
Panning for Gems
and many more (including visitor-submitted game ideas)…
You should also read these VERY important tips to help you survive (and enjoy) birthday games!
Your Fairy Parties and Ideas
Some of our visitors have gone the extra mile and written up their complete Fairy party story with photos and everything they did. We call these stories "Party Tales" and they serve as a great inspiration! Take a peek at other people's Fairy theme Party Tales and you're sure to find lots more child birthday party ideas:
Share your kid birthday party ideas here…
If you're throwing a Tinkerbell party, you should also check out our Pirate Birthday Party to get loads of more ideas, printables, and much more.
And all that's left is to wish you a FAIRY fun party!
---
Kid Birthday Parties › Kid Birthday Party Ideas › Fairy Child Birthday Party Idea