Fairy birthday party ideas and photos by: Ginger from South Prairie, WA
I get to plan two parties a year for each of my children, so I like to go all out and have a great time doing it, while hopefully making the party of their dreams. This year for my daughters 7th birthday she wanted a fairy birthday party. It was easy enough as there were a lot of resources on the internet to find things for that.
I started out by buying some blank cards that opened in the middle and did some die cuts of fencing, then glued them on the bottom half of the invite. I wrote on it: "come and peek through the garden gate…". I also glued on the front some foam butterflies and various bugs.
On the inside of the fairy birthday party invites, I printed out a poem that I found and changed it to my daughters name and put lots of glitter in it. The kids loved it, I'm sure the parents didn't care much for that!
Her birthday is in April, and the weather has usually always been nice enough to be outside, but with all the rain the week prior, I purchased a large tent from Ikea to have outside of my French doors, like a secret room all decorated in the fairy birthday party theme. Lots of pink and purple balloons, and hanging tulle and such.
I put our patio table in there and decorated it up with lace and tulle for the presents to sit on, then decorated a chair with balloons for my daughter to sit on to open them (her fairy throne).
The fairy birthday party was going to be from 2-4 and five of her classmates showed up; First thing was a make-up station, lots of glitter body gel, leftover Halloween makeup, fingernail polish, and flower headbands…just to get them into the party mood.
Next we did a fairy walk; I had printed out pictures of toadstools and flower fairies and taped them to the ground and played music, just like a cake walk, called a number and the girls got to go out and pick out their fairy skirts. The fairy skirts probably took the longest to make of all the projects, being slippery netting and ribbon, they were a little tough to sew.
Once they were in their skirts and glitter, it was time to go on a magic fairy treasure hunt. I printed up the first clue to hand to the birthday girl, then they had to find the next clue from the first clue, and so on, until they found a magical basket filled with fairy dust. I had printed out on card stock some pretty graphics and "Magical Fairy Dust" at the top, then with little plastic containers I filled them with glitter. These were put aside into their take home bags.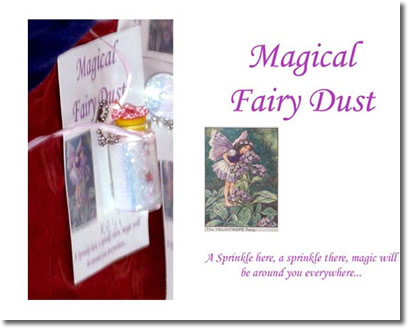 I got all the girls together to take a picture of them all dressed up at this point, so hubby had time to print them all out.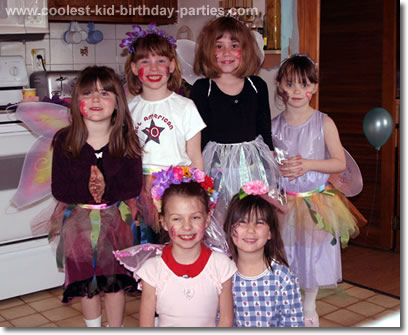 We then gathered around the fairy flower cupcakes (chocolate with frosting roses on top) to sing "Happy Birthday"; these were on paper plate stands I made following the directions in Martha Stewart Kids Magazine, really easy and I put lots of silk flowers around it.
The girls ate little fairy-sized sandwiches (peanut butter and jelly cut into 1 inch pieces) and gelatin jigglers cut into star shapes. I originally put them on skewers, like wands, but after seeing the first girl pick one up and there was the pointy end near her face, it scared me and the skewers disappeared!
There was fairy punch too, regular fruit punch but when served you sprinkle pop rocks on top and the bubbling and crackling sound really made the girls giggle. They couldn't get enough of that. I also had pixie sticks for them.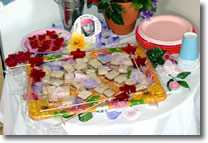 We then moved on to opening presents, but had moved inside since the rain had picked up a bit and the tent leaked! She got lots of fairy gifts too that they all played with; they did quite a bit of playing in between all of this too.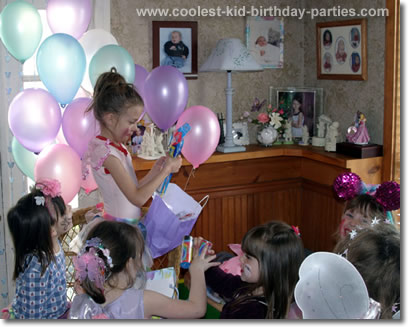 I cleared off the kitchen table and got out some canvas photo frames and let the girls decorate them with glue and glitter and the foam bugs, then we put in the picture of them all together and they could take that home with them too. Lots of free play until they were picked up.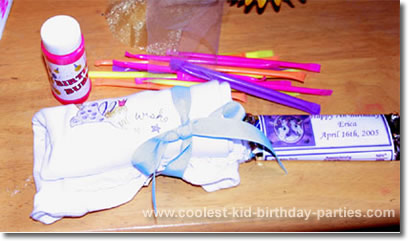 The gift bags were paper sack backpacks with fairy wings attached to them. I found the directions on the internet for the backpack then glued on the netting wings and flowers. I filled them with more pixie sticks, birthday bubbles, some hair bands, a candy bar with special fairy birthday party wrapper (easy on the computer to make), little clay butterflies that I had cut out, baked and painted, then strung on stretchy cording to make a necklace (on the back it said "wish"), and a t-shirt that I had hot pressed with a fairy transfer.
I found a fairy picture I liked (again on the internet) and printed it out (really small) then I drew it larger and colored it in with the colors of the party. All in all it was a great fairy birthday party and my daughter had so much fun!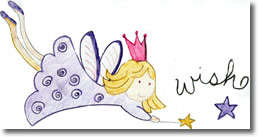 I started planning this about 4 months in advance; enough time that I could make most everything for the fairy birthday party.
Fairy birthday party supplies were bought at Wal-Mart and online. We were having a family party right after, so that's why there was a bigger cake on a toadstool!