Who doesn't adore Pooh and his loveable friends?! Below you'll find the coolest Winnie the Pooh birthday ideas to help you throw a picture Poohfect birthday!
First off, there's an overwhelming selection of Winnie the Pooh party supplies and party packs. But don't worry. You won't need to browse around forever trying to find the best deal. Just compare between the packs below which cover pretty much all the Winnie the Pooh birthday items in the market:
Winnie the Pooh Invitations
One of the coolest Winnie the Pooh birthday ideas for invitations is to shape them like honey pots (or like Pooh would say "HUNNY" pots). It would be cute to write "It would be so sweet if you came to my birthday!" on the honey pot invitations. For the Tigger invitations to really be "Tigger-y", you'll need to print on orange paper, and for the Piglet invitations to be "Piglet-y", you'll need to print on pink paper. Then cut out each invitation and put each in a separate envelope.
Here are some Winnie the Pooh birthday ideas to word your invitations (some are directly quoted from the Pooh book itself):
Pooh and Tigger both agree, a birthday party is a grand place to be! Come and be part of the splendiferous fun at Matt's 3rd birthday party!
Our little HUNNY is turning 2 years old! Join us in the Hundred Acre Woods for a fun Winnie the Pooh birthday!
Winnie the Pooh and friends are here to say "Please join us for Mark's first birthday!"
"Hurray", shouted Piglet. "Hurray", shouted Pooh. "We're inviting you to welcome someone small and new! Join us for some birthday fun!"
Deep in the Hundred Acre Wood where Winnie and his friends play, you'll find the enchanted forest where we will celebrate Kevin's first birthday! Join Tigger, Eeyore, Kanga and Roo, Rabbit, Owl and Piglet too! On (date) at (time), address, RSVP to Christopher Robin at (rsvp number). Come and fill your rumbly tummy!
Wherever they go, and whatever happens to them on the way, in that enchanted place on the top of the forest, a little boy and his Bear will always be playing. You're invited to Noah's 4th birthday party with Pooh and friends.
Deep in the hundred acre wood where Christopher Robin plays, you will find the enchanted neighborhood of Christopher's childhood days. A donkey named Eeyore is his friend and Kanga and little Roo. There's Rabbit and Piglet, and there's Owl… But most of all Winnie the Pooh!
"Winnie the Pooh. Winnie the Pooh, Tubby little cubby all stuffed with fluff! He's, Winnie the Pooh. Winnie the Pooh. Willy nilly silly old bear!"
"It is more fun to talk with someone who doesn't use long, difficult words but rather short, easy words like "What about lunch?" – Pooh", "Come for a tasty lunch to Tina's 2nd birthday party with Winnie the Pooh!"
"Piglet: "How do you spell love?", Pooh: "You don't spell it, you feel it" We'd LOVE for you to come to Nathan's 1st birthday party! Come and celebrate with Pooh and the gang!"
[picture of Pooh holding a birthday cake and Piglet by his side] "Everyday is somebody's birthday", said Pooh. "That's a lot of cake!" said Piglet. Join us as we Celebrate Stephanie's Birthday in the Hundred Acre woods. Come with a rumbly in your tumbly and we will be sure you leave stuffed with fluff!
If you are writing the Winnie the Pooh birthday invitations in your own writing, try flipping a few letters (like little kids writing and more of a Poohish-Style). The best letters to flip are s, c, e, k, r, and y.
Remember to include all the important information as in: date, time, location of the party, and an RSVP number. For a nice touch, add a Pooh sticker on the back of the envelopes.
Winnie the Pooh Decorations
For the Winnie the Pooh birthday you can choose a few color schemes, depends on the type of party you are having. If you're going for the Classic Pooh, the most suitable colors would be pale yellow, lavender, pale blue, pale pink, soft green, etc. If you're going for the modern Pooh, vibrant colors would work well (red, yellow, green and blue). Finally, if you want the feel of the Hundred Acre Woods, try using a light greenish-yellow and light blue combination (green for the trees/greenery and light blue for the sky).
Check out this nice free Hunny Pot decoration printable, you can tape it on walls, doors, signs, etc. (also would be nice to print it out on colorful paper or have your kids color it in):
If there is a character that you want to focus on, use their colors. Red and yellow (or gold) for Pooh, for Eeyore use grayish blues, purples and a dash of fuchsia (the color of Eeyore's tail ribbon), for Piglet, use a pastel pink, fuchsia and purples, for Tigger use orange and blacks, etc.
On orange balloons you can draw Tigger stripes with a black marker. You can also inflate long orange balloons and draw black Tigger stripes for Tigger's tail. On Fuchsia and pink balloons you can draw dark purple or black lines for Piglet. On purplish-bluish-greyish (in other words – Eeyore-colored…) balloons, tie a strip of fabric (the color of Eeyore) with a pink ribbon on the end and black yarn for the tail of Eeyore, then draw Eeyore eyes on the balloon with a permanent marker.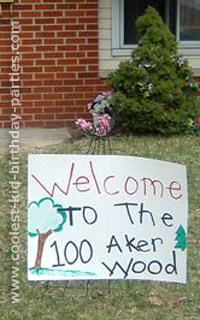 You can also tie together balloons to look like flowers. Use long green balloons for stems, a balloon tied to the top of the long green balloon as the middle circle of the flower (can be any color you choose) and then attach five balloons (all the same color) around the middle balloon to represent petals.
For your Winnie the Pooh birthday, you can make large signs saying "Hundred Acre Woods", "Welcome to the most POOH-rrific Party!", "Poohs Thotful Spot", "Think, Think, Think", etc. The signs can have backward letters or misspelled words (for example "Welkom to the 100 Akre Wuds").
You can cut out paw prints of Winnie the Pooh characters – yellow bear prints (which are literally orangish-yellow oval circles) for Pooh, orange cat paw prints for Tigger, etc. and spread them on your driveway. Have the prints lead to the Winnie the Pooh birthday area, so the guests know where to go. We've created these free printable Pooh and Tigger footprints:
For the above footprints just print out as many as you need, cut out and then glue or tape them to the floor as if they are walking footprints (one after the other, right then left, etc.). To save on precious color ink, print the shapes onto colorful construction/bristol paper. For Pooh's footprints print on yellow construction paper and then fill in the bear foot marks (inside the ovals) with a light orange marker (as shown in the picture on the left below). For Tigger's footprints, print on light orange paper and fill in the foot marks inside the oval with vibrant orange (shown in the picture on the right below).
To get a Hundred Acre Woods feel, use light greenish-yellow tablecloths and add your additional chosen colors with balloons, streamers and centerpieces. Decorate with pictures of trees, sun, clouds, etc. You can use fishing line to hang leaves from the ceiling (as if they are blowing in the wind), as well as a few kites as well.
If you want your Winnie the Pooh birthday theme to be more of a 'Picnic in the Hundred Acre Woods', then consider using a red and white checkered tablecloth. For more of a picnic-feel, decorate with lots of wicker picnic baskets, sunflowers, and even artificial grass.
For more Winnie the Pooh birthday table decorations print these free placecards and napkin holders, fold and put on the party table/s:
With the Tigger and Piglet placecards and napkin holders, remember to print on colorful paper (orange for Tigger and pink for Piglet).
If you're having a few tables, how about making each table coincide with a different character? A table with a pink tablecloth, purple balloons and a Piglet doll as a centerpiece, a table with an orange tablecloth, black balloons and a Tigger doll as a centerpiece, a grayish-blue tablecloth with black and fuchsia balloons and an Eeyore doll as a centerpiece, a red or yellow tablecloth with red and yellow balloons and a Pooh doll as a centerpiece, etc.
A nice centerpiece that can really fit the Winnie the Pooh birthday theme is creating beehives. You can take terra cotta pots that have circular grooves in them and when you turn them upside down they look like beehives. You can paint the beehives a yellowish-orange color and accentuate the grooves with a brown color (if you don't have a pot with grooves, you can paint dark brown lines around the pot as well). What else does a beehive need? Bees, of course! You can find little fake bees at a craft or fabric store and hot glue them to the beehive.
Another idea for a Winnie the Pooh birthday centerpiece is to put honey pots. For this you will need small and/or medium sized terra cotta pots (you can buy simple ones or plastic ones at craft and gardening stores). With hot glue you can create drips (to look like honey drips) on the rim of the pots.
Once the hot glue gun is really hot, have hot glue drip all around the rim and gravity will pull it down to resemble the dripping of honey. Once the glue is dry, paint the hot glue drips with yellowish-orange paint to look like honey (you can also make the drips with just dripping yellow paint, without hot glue as well). Then with a small brush, paint the word "HUNNY" (as Pooh spells it) onto the pot with black or dark brown writing. Once the pots dry, you can clean them and put candies, lollipops or any other party item that suites to be in a pot.
It would also be very nice to have flowers as centerpieces, these can be fake and/or real flowers in pots (how about a Hunny flower pot?), or even just separate flowers floating in a bowl of water.
You can run a fishing line across the room at several points and use it to hang bees. You can make the bees by gluing two halves of egg carton cups together, paint them yellow and black, add googly eyes, and attach black pipe cleaners for the antennae and stinger. Make wings from white plastic bag pieces attached to wire (it's easiest to use hot glue to attach all these pieces).
You can put party hats on the stuffed animals. If you don't have any Pooh stuffed animals you can buy Pooh costume masks and put them on other stuffed animals and/or around the party area. You can put these stuffed animals as centerpieces and tie helium balloons around them.
Collect and borrow all Pooh, Tigger, Piglet, Eeyore, Rabbit, Kanga, Roo, Owl, Christopher Robin memorabilia, stuffed animals, collectibles, books etc. and disperse them all around.  You can also print out pictures and tape them all around the Winnie the Pooh birthday area.
Another really cute idea is to put up a sign on your bathroom door saying "The Pooh Room" just like in this picture.
If the Winnie the Pooh birthday will be taking place outside, you can also make 'Rabbit's Garden'. Put a small plastic white picket fence around a green patch of grass, add little signs (with different vegetables printed on them) to different rows of grass, and a larger sign saying "Rabbit's Garden".
Even if the Winnie the Pooh birthday is taking place indoors you can create your own 'Rabbit's Garden'. You can cut out strips from white cardboard to resemble a picket fence, attach them to a very shallow cardboard box, put a black plastic bag in the cardboard box, add some artificial grass, spread a little soil and put signs with different vegetables (or even use plastic vegetables to disperse in the soil). Don't forget the larger sign saying "Rabbit's Garden".
As a finishing touch, music can add a whole lot of atmosphere and mood to your child's Winnie the Pooh birthday party. There are TONS of Winnie the Pooh music CDs you can buy, from favorite song CDs to songs from a particular movie or episode, etc.
Pooh Costumes and Accessories
Take a look at all the coolest homemade Winnie the Pooh costumes.
Instead of paying someone to come as one of the Winnie the Pooh characters, it's much cheaper to rent out costumes for a few hours and have friends or older kids from the family dress up as a few of the Winnie the Pooh characters, this could bring a lot of joy to the kids!
Here are some free Winnie the Pooh cone hats to print out:
All you have to do with the above printable hats, is print them out, cut around the half circle, roll each of them up and staple! Also, make sure you print Tigger and Piglet hats on colorful paper (orange for Tigger and pink for Piglet).
Winnie the Pooh Icebreaker Activities
How many Bees in the Hunny Jar?
If you have a clear jar that is in the shape of a hunny pot, fill it up with lots of yellow and black jelly beans (as if bees are in it). You can also use red and yellow gummy bears for Pooh colors (or orange and black jelly beans for Tigger, light pink and purple jelly beans for Piglet, etc.) All the guests need to guess how many jelly beans or gummy bears are in the jar. The closest guess wins the jar full of candy!
Winnie the Pooh Quiz
If you'll be having adults coming with their small children to the Winnie the Pooh birthday party, why not create a fun activity for the adults as well! We've created a printable Winnie the Pooh Quiz (and another page filled with all the answers), have fun!:
Just print out and give to each guest. Whoever answers the most correctly wins a small prize! (can be a nice honey jar or bear shaped honey bottle, movie tickets, coupons, a nice music CD, a Pooh dvd, etc.).
Edible Honeynut Necklaces and Bracelets
This is a fun and yummy Winnie the Pooh birthday activity! You'll need thin licorice and honey nut cheerios cereal. Before the party cut the thin licorice in lengths of necklaces and bracelets. At the party, kids and adults can make their own honey nut necklaces and bracelets by threading the thin licorice into the honey nut cheerios. Then have them put around their neck and/or wrist and tie at the end. Yummy!
Homemade Winnie the Pooh Birthday Cakes
Take a look at all the coolest homemade Winnie the Pooh cakes.
Other than the above Winnie the Pooh birthday cake ideas, how about creating "Cub" Cakes? Decorate each cupcake with a little Pooh bear face.
Another great dessert can be "Rabbit Ice Cream Balls". You make large ice cream balls for each of your guests. Roll vanilla ice cream balls in coconut flakes and set them on flattened cupcake wrappers. Decorate the ice-cream balls using black jelly beans – for rabbit's eyes, a red jelly bean – for the nose, and halved sugar cookies – for Rabbit's ears. You can create these before the party and store the ice cream balls in the freezer until ready to serve.
You can also make little Piglet ice cream balls. Use a big round strawberry ice-cream ball for Piglet's face, a pink marshmallow for the nose, two little black jelly beans for the eyes, a piece of thin black licorice for the mouth, and pink triangular cookies for the ears.
Winnie the Pooh Party Food and Drink
Usually the Winnie the Pooh birthday theme is used for first, second, third and fourth birthdays, that's why it's important to make food that the youngsters will eat but also the parents can benefit from as well. Here are some Winnie the Pooh birthday ideas for birthday party food:
Winnie the Pooh Birthday Food Ideas
'Rabbit's garden' – this is a healthy treat. Cut various vegetables arranged in long straight rows with a hand-drawn sign attached to a toothpick explaining what's in Rabbit's garden. Don't forget the dip!
Poohfect macaroni and cheese
You can make all kinds of little sandwiches and cut them in the shape of a teddy bear (with a Teddy Bear cookie cutter). Take the pieces of bread and cut them each with the teddy bear cookie cutter, then add the sandwich ingredients (you can add a decorative toothpick to hold the sandwich together).
Tigger Tails – spiral spaghetti with tangy meatballs
Another great idea is to make little pizzas in the shape of teddy bears. Make the pizza dough and cut into teddy bear shapes with a teddy bear cookie cutter. Put tomato sauce, cheese and pop into the oven.
Owlive cheese dip
'Piglet in a Blanket' (sleeping of course…) – Slice hot dogs lengthwise about halfway through, making sure not to cut apart. Unroll crescent rolls (refrigerated crescent rolls from a tube) into individual triangles. Place a hotdog onto a roll, roll-up crescent and bake as directed (usually until golden brown).
Kanga's Kabob's (can be meat kabobs or just fruit-kabobs)
"Pooh-Nut Butter Sandwiches" made with peanut-butter? Or "Honey Pot Sandwiches" made with honey.
'Roo's Pockets' – you can create little pita pockets with all kinds of fillings the guests can choose from.
Honey Nut Buns – create little round buns with a dash of honey and nuts.
Honey Chicken
Tips: It can be nice serving the Winnie the Pooh birthday food in honey (hunny!) pots. Also, don't forget to make little signs that show the titles of each dish. The signs can be cut out from cardstock with a Pooh character sticker. On each sign write the special names (using "Pooh"-type misspelled words and backwards letters). A nice idea is to put a sign leading to the food table saying "This way to fill your rumbly tumbly".
Winnie the Pooh Birthday Drink Ideas
Winnie the Pooh Bearry Juice (you can serve a combination of strawberry, blueberry, and raspberry flavored juice).
Sweet Honey Bee Tea – it could be nice to make honey tea a day before the party, then chill and serve cold.
Piglet's Pink Lemonade – Pink Lemonade from concentrate.
Honey Banana Milkshake (yummy in my tummy!)
Winnie the Pooh Birthday Treat Ideas
Teddy Grahams
Gummy Bears
Honey Nut Cheerios
Owl faces made out of a pineapple!  Cut the pineapple in circles, put each circle (an owl's face) on a large plate, add two raisins for eyes and candy-corn for Owl's nose.
'Eeyore's Blue Rainclouds' – Blue Jell-O and cool whip added in fluffs to resemble clouds.
Honey-Flavored Candy
Honey Roasted Peanuts
Honey with apples (yummy dipping the apples in the honey, great healthy treat!)
TIGGERS-tigg Tails – make rice krispie treats and roll them into long shapes resembling tales. Then frost with orange and black to resemble Tigger's tail.
Bearilicious chocolate-dipped Winnie the Pooh 'Bear'ies – have a pot of all kinds of berries – strawberries, raspberries, blueberries, etc. (wash them and let them dry very well or else the chocolate won't stick). Microwave a pack of semi-sweet chocolate in a bowl for something like 30 seconds (this may vary from microwave to microwave, so monitor the chocolate). Once the chocolate is done, stir very well to make sure all the lumps have melted. Then let your guests dip the berries in the melted chocolate!
Gopher's Dirt Pile – any dessert that can look like a dirt pile: crushed chocolate cookies, chocolate mouse, or chocolate cake, etc.
Tigger's Tail Mix – can be a variety of nuts, raisins, granola, etc.
Tip: If you're planning on serving honey as part of the party treats, how about buying honey in the bear-shaped container and putting on tables not only for eating but as a nice decoration.
Winnie the Pooh Party Favors
We've created these printable and foldable Winnie the Pooh favor bags and favor boxes. They are blank and so the kids can decorate and fold them themselves. You can also print them out on different-colored paper, possibly the color/s of your child's Winnie the Pooh birthday colors. You can also create them before the party.
We have large favor-bags, medium favor-bags, and favor-boxes for you to print out. For all of the Tigger and Piglet favor-boxes and bags print on colorful paper (orange for Tigger and pink for Piglet).
For the favorbox and the medium favorbag – print out, color if needed (or print on colored paper) and cut out. Before you start gluing the favorbox, fold along the dotted lines and assemble so that all the sides connect. Only then add glue and secure the folded flaps.
To create the large Sesame Street / Elmo birthday party favorbags you'll need to print out TWO designs for one favorbag. First, cut along the lines and fold along the dotted lines. Then, connect the two so that the left side of one is glued to the right side of the other.
Here are Winnie the Pooh birthday ideas of things you can put in the favor pack: Pooh themed stickers, finger puppets, activity books and coloring pages, bubbles, punch balloons, small cans of play-dough, Pooh music CD's, Pooh stationary, Pooh socks, small Winnie the Pooh photo holders, little honey pots, Winnie the Pooh key chains, little jars full of honey, gummy bears, small slinkies (on them you can attach a note saying "Remember to keep bouncin' because that's what tiggers do best"), Pooh band-aids, Pooh candles, Honey-scented candles, etc.
You can also create little thank you notes and glue a magnet to the back (this way the guest can put the magnet on their refrigerator and remember and cherish the party). You can print out a picture of each guest from the party, laminate the picture, and glue a magnet on the back.
The thank-you note can say something like "Thank you for making my party Tigger-iffic!", "It was a very Pooh kind of day! Thanks for celebrating with our little 'Hunny!' ", "Thank you for making my birthday Pooh-fect!", "Thanks a whole lot for your Tiggerific gift!", etc
Winnie the Pooh Printable Thank You Cards
Make sure the above Tigger and Piglet thank-yous are printed on colorful paper (orange paper for the Tigger thank-yous and pink paper for the Piglet thank-yous).
Winnie the Pooh Games and Activities
Here's an entire page with the coolest Winnie the Pooh birthday ideas for Winnie the Pooh games, such as:
Pin the Tail on Eeyore
Musical Pooh Bear
Hidden Honey Treats
Tigger Bounce on Rabbit's Garden
and many more (including visitor-submitted game ideas)…
You should also read these VERY important tips to help you survive (and enjoy) birthday games time!
Pinatas are a great addition to the party and a wonderful activity for the kids. Pinatas are always a "hit" ;).
Your Winnie the Pooh Party Ideas
Some of our visitors have gone the extra mile and written up a complete Winnie the Pooh birthday story with photos and everything they did for their party. We call these stories "Party Tales" and they serve as a great inspiration! Take a peek at other people's Winnie the Pooh Party Tales and you're sure to find more ideas:
Share your kid birthday party ideas here…
---
Kid Birthday Parties › Kid Birthday Party Ideas › Winnie the Pooh Birthday Party