A dinosaur birthday party is such a roaring success, it's popular with kids and so much fun to prepare! No wonder Dinosaurs are one of the most exciting topics taught at school!
First off, check out these great Dinosaur birthday party packs and decorations with some really great items, including everything you'll need to set the prehistoric scene and keep the kids from eating like barbaric cavemen.
Dinosaur Invitations
Here are some great ideas you can mix-and-match to create your own unique Dinosaur birthday party invitation wording: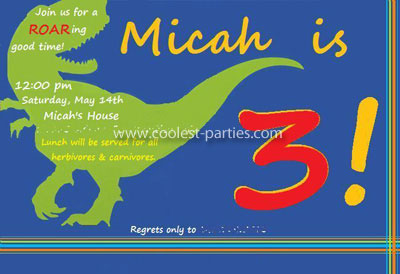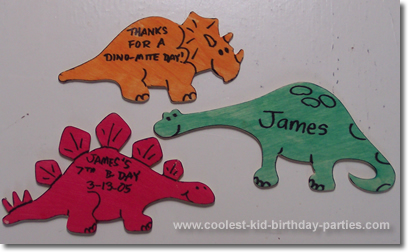 BREAKING NEWS! Dinosaurs discovered in (your hometown)!! Come and join in on the new discovery at our cave (address) – at (time). Please don't be extinct!! RSVP to prehistoric parents (phone #).
Join us for a DINO-MITE time!
Dinosaur hunters and explorers, we need you! We'll be diggin' for dinosaur bones and having a great adventure!
Come roar with the dinosaurs!
Darren invites you for his 9th birthday and other expert paleontologists for a Dinosaur Dig Birthday Party on (date), at (time). You'll be sure to uncover a dino-mite time of fun, food, games, (and dinosaurs too)!
We're gonna have a Dino-riffic time! The archeological dig will take place from 10 to 12:30.
You're about to go on an incredible adventure back to the time of T-Rex! Be prepared to meet some scaly new friends!
Give us a ROOOAAAR and let us know if you can attend, RSVP to…
Join us on an expedition to the Jurassic Jungle in honor of Jordan's 6th birthday!
All the dinosaurs are here to say… David's having his 5th birthday!
We'll have a Roaring good time at Stephanie's 7th Dinosaur birthday party!
Milton-osaurus is turning 5! Come to the dinosaur nesting grounds at (address, date, time).
We will be having food for the herbivore and carnivore!
Join us for a prehistoric time!
Dig dinosaurs?! Then join us at Matt's Dino party!
Have you heard the Dino-mite news?! Bob is turning 6 and you're invited for a WILD time!
Consider writing the Dinosaur birthday party information using a dinosaur font, here are some free dinosaur fonts.
Also, on each of the invitations add an "-osaurus" to each kid's name, for example "Jenny-osaurus", or "Ben-osaurus", to make the invitations more dino-rrific!
Check out our free printable Dinosaur invitations:
If you'll be hand-delivering the invitations, a nice idea is to put each invitation in a fake easter egg (you can find plastic eggs that open up at dollar, hobby, and/or toy stores). Then decorate the eggs with dinosaur stickers, or if you're crafty, you can paint them to look like dinosaur eggs.
If you find plastic halloween bones, you could also write the party information on each bone. Write the party information on with a permanent marker and then roll each of them up in dirt (as if they were digged up by paleontologists ;-).
Another cool idea is to write all the Dinosaur birthday party information in these Free Printable Dinosaur Footprints.
The invitations can be printed on a long bone (cut out from ivory-colored card-stock). On the invitations you can write: "Come roar with the dinosaurs, Harryosaurus is turning 5!" (for the "Harryosaurus" part – write the name of your child and add the "osaurus"). Then tie a piece of camouflage ribbon around the middle of the bone invitation, fold and put into greenish-grayish (dinosaur-colored) envelopes.
Dinosaur Decorations
Dinosaurs may be extinct… but you can still recreate a fascinating prehistoric atmosphere!
An excellent way to start your Dinosaur birthday party decorating is by finding some pictures and clipart that'll give your imagination an artistic boost. Check out these free printable Dinosaur birthday party decorations that are great for decorating your party area:
See All Printable Dinosaur Decorations
Use balloons and streamers in dino colors, for example all kinds of greens, browns, and tan colors. A cool Dinosaur birthday party idea is to hang long green streamers in doorways to create that jungle-foliage feeling. If you have blow-up palm trees they could also add to the atmosphere. This idea is not only good for your garden :-), it will make your dinosaur party area look great! Trim all your trees and plants right before the party and use the cuttings for decorations! You can tape them to walls, tables, chairs, etc.
Create all kinds of Dinosaur birthday party signs to decorate the area, for example "Jurassic Park", "Dinosaur Dig", "Roarrrrr!!", "Excavation in Progress", "Have a Dino-Mite Time!", "T-Rex Adventures", "Ice Age", "Enter at Your Own Risk", "The Land Before Time", etc. Also print out Dinosaur XING signs close to where the dino footprints will be (print the signs on yellow-colored paper).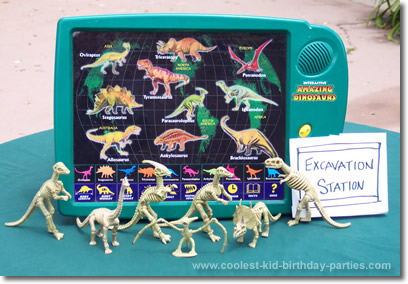 You can create your own cool dinosaur balloon faces. Just take quality large round latex balloons (best if they are inflated with helium in them), turn each of them over (so that the knot is on top), then connect a string to the knot and pull it down along the back of the balloon, taping it to the bottom of the inverted balloon (that way the balloons will float upside-down and create a dinosaur-shaped face). Then, using a permanent marker draw two large eyes, circular nostrils and a zigzagged smile to finish off each dinosaur face.
A really cool idea is to decorate your Dinosaur birthday party area with dinosaur footprints, placing them all over the house and/or yard. You can also have them lead up to your doorstep, or even use colored chalk to draw monster-size footprints. Here are a few types of cool dinosaur footprints you can print out on colored paper and put around the party area:
For the above footprints just print out as many as you need, cut out and then glue or tape them to the floor as if they are walking footprints (one after the other, right then left, etc.).
You can create a large Dinosaur birthday party cave decoration by using a minimum of three refrigerator boxes, cutting them and situating them together. Have dinosaur pictures hanging inside. Add real and/or fake plants around the cave to give that jungle-feel – fake ivy, bushy wreaths, green curling ribbon, any type of foliage, etc. You can use wide green crepe paper cut to strips to use as foliage around doorways, on chairs, etc.
Decorate the Dinosaur birthday party tables with plastic dinosaurs, small rocks, little plants, all kinds of miniature dinosaur paraphernalia, little baskets with green shrubbery and plastic eggs (dino-eggs), etc. You can also use our free printable Dinosaur footprints as placemats, or decorate your table with them.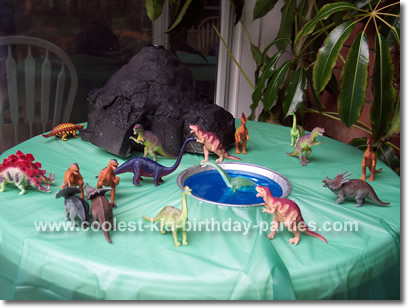 For that extra touch use dry ice for that misty fog experience, here's a great link to find out where dry ice is sold nearest you. Make sure you know how to use dry ice before handling it, and don't let the kids touch it in any way, you will need to take the right precautions before using dry ice (it shouldn't be touched with bare hands, only when wearing heavy gloves).
Also, check out these printable dinosaur napkin holders and placecards (your kids could color them in, or you can print them on colorful paper):
For the napkin holders, just cut each of them out, then round each out around a napkin and glue both edges to each other. For the placecards, write the name of a guest and then fold in the middle, then put on or by each plate.
To top off the prehistoric effect, cut out a dinosaur standee and photograph the kids with them for cool thank you cards to send off after the Dinosaur birthday party. It's also a great idea to sprinkle a bunch of miniature dinosaurs in every corner of the house or yard and hang dinosaur gliders from the ceiling.
Music and sound will almost always add to an experience! Create a CD with jungle/rainforest ambience and dinosaur sounds, or play dinosaur-themed music that's geared for kids (look for free jungle and/or rainforest ambience sound on the web, there's a whole lot of free sound effects you can download and create your own CD with).
Costumes
Take a look at all the coolest homemade Dinosaur costumes.
You can simply make inexpensive caveman costumes just by cutting strips of animal print fabric and tying around each guest's head as well as a rope or piece of fabric around the waist. Another idea is to give out paleontologist hats (an explorer hat, indiana jones-type hat, etc.) out to everyone.
Here are some cool printable dinosaur feet you can print and then cut out (best if on cardboard paper, and even better if you trace this shape on foam sheets, that way they are more durable). Then give each guests two dino feet to put on top of their feet/shoes (they need to slide their foot into the space in the middle and put the flap up).
Also check out the following printable Dinosaur birthday party cone hats you can print out and wear:
All you have to do with the above printable hats, is print them out, cut around the half circle, roll each of them up, staple, and staple on flexible string to both sides of the cone so that guests can secure the hats around their chin.
Dinosaur Icebreaker Activities
Cave Painting
Create a cave out of refrigerator or furniture boxes! Just open up the boxes and stand them up so that you are actually making a closed space. In the cave, place all sorts of markers, crayons and other art supplies so that when the kids come they can decorate the cave (this'll help with the decorating and add prehistoric ambience to the room!).
You can also have the kids mark their handprints on pieces of paper and pin them up all around your cave and house. If you don't want to use boxes you can tape brown shipping paper on one wall of the room where the party will be taking place. Kids just LOVE to draw on walls and this is one of the most fun dinosaur birthday party activities!
Dinosaur Egg Hatching Craft
We've created the following dinosaur egg hatching craft the kids can create themselves.
Designate a table for this craft activity and give each kid a printed dinosaur hatch pattern.
They will then need to cut out the pattern, decorate with crayons, colored pencils, and/or markers, then make a hole with a hole punch, use brass paper fasteners to fasten the top broken egg to the bottom, and to glue or tape the dinosaur shape in the egg (it's best to have an adult helping out with this craft activity).
Hand and Footprints
Just like archaeologists have found all kinds of dinosaur prints in the layers of the earth, the kids can make their own prints! You'll need Plaster of Paris for this (quite easy to work with). Mix the Plaster of Paris according to the directions and then pour in small pie pans (one for each kid). While the Plaster of Paris is still wet, let the dino guests make hand and footprints in the plaster. Another cute idea is to let them decorate around the hand/footprint with leaves, twigs, jewels, glitter and other embellishments. Let them all dry and at the end of the Dinosaur birthday party the guests can take them home as a party favor.
Homemade Dinosaur Cakes
Take a look at all the coolest homemade Dinosaur birthday cakes.
You can make a dinosaur-egg cake by baking a round cake and then cutting it so that it becomes an oval (or even better if you have an oval cake pan). Then frost it in light green/brown frosting with darker circles/stains. It would also be really cool to then cut it in the middle in a zigzag pattern (as if it's a cracked egg), and then pull it apart a little to show the crack. Then add a few small cracking lines using a small frosting tip. You can also find 3D egg shaped cake pans (used for example as Easter cakes) and create a 3-Dimensional dinosaur egg cake.
A really cool Dinosaur birthday party idea is to create a volcano cake! Just bake a chocolate cake in a glass Pyrex bowl (which is then inverted) or in a bundt pan. Then pour on strawberry sauce (lava) and possibly some red frosting to get that strong lava color. You can then add plastic trees and dinosaurs around the cake to create a prehistoric scene (wash the plastic trees/dinosaurs before you put on cake).
A simple idea is to create little cupcakes, frost each with a light/dark green frosting, sprinkle some green coconut flakes as grass (dyed with green food coloring), and then take a little plastic dinosaur and put on each cupcake.
Another simple idea is creating a dirt cake – chocolate cake covered in smashed Oreo cookies (for dirt), some blue frosting for a swamp, and some plastic dinosaurs in the 'dirt'. Add gummy dinosaurs and worms inside the cake.
Dinosaur Party Food and Drink
Dinosaur Birthday Party Food
Here are some ideas for your dinosaur birthday party "carnivore and herbivore cuisine". Put small signs on each just to make sure everyone understands that they are munching on real Jurassic foods… you can even mark a 'Carnivore' section (with any meats that might be served) and a 'Herbivore' section with all the non-meat items.
Brown spotted Dino eggs: hard-boil eggs in water with onion peels and tea-bags for atleast half an hour to an hour.
Cracked Dino eggs: Another idea is to create cracked dino eggs. Hard-boil some eggs. After they cool, gently crack the shell all over, but don't remove it. Place the cracked eggs in a small bowl containing 3 cups of cool water and kool-aid mix (this is what gives the color). Then cover the bowl and place in the refrigerator overnight. On the day of the party, remove the eggshells and lo and behold, the egg looks like they have cracks all over them!
PB&J-asaurus sandwiches (peanut butter and jelly sandwiches cut into the shape of dinosaurs using dinosaur cookie cutters)
Dinosaur-shaped chicken nuggets (available at the frozen food section of some of the large supermarkets)
Brontosaurus Burgers
Dinosaur Bones (pretzel sticks)
Herbivore Salad (mixed greens)
Dinosaur eggs in a nest (cherry tomatoes in shredded lettuce)
Pasta-Raptor Salad (pasta salad)
Tyrannosaurus Tacos
T-Rex Tators (french fries)
Dino Dip (Guacamole Dip)
Chicken wings for the meat eaters and a vegetable tray for the plant eaters.
Bronto bites (BBQ meatballs)
Pentaceratops Pizza
Dino Dogs with Lava (hot dogs with ketchup)
Tyrannosaurus Mex-Dip with Fossil Fries (potato chips)
Hot lava (chili) and rocks (cornbread)
Dinosaur Birthday Party Drinks:
Red punch as Volcano Lava Juice (you can also swirl in some orange sherbet into the punch for a thicker effect)
Green soda pop (or 7up with green food coloring) as "Swamp water"
Gummy dinosaurs drink… this is really cool, take gummy dinosaurs and put them in ice cube trays, add water or even green punch. Then once ice cubes are frozen, pop in these special gummy dinosaur ice cubes into red Lava punch, or even just a clear Sprite or 7-up drink.
Tip: Add pop-rocks to the "Swamp Water" just as you serve to create an awesome bubbling effect!
Dinosaur Birthday Party Treats: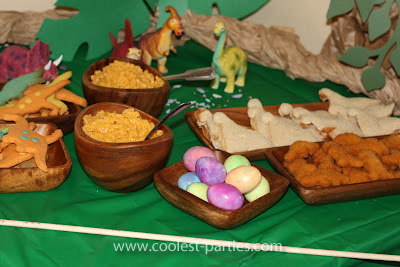 Dinosaur Eggs (jelly beans)
Fruit-a-saurus salad (fruit salad)
Dinosaur Crackers (Ritz has come out with dinosaur-shaped crackers)
Boulders (doughnut holes)
Dinosaur Bones (pretzel sticks)
Homemade dinosaur cookies (use dinosaur-shaped, egg-shaped, and bone-shaped cookie cutters)
Dinosaur digging pudding! Hide gummy dinosaurs and/or bone-shapes in plastic cups filled with chocolate pudding and crushed Oreos, the kids get to dig in!
Lava Jell-O (red jell-o) and Swamp water Jell-o (green jell-o) Tip: You can place one well-washed plastic dinosaur into the Jell-o mix before letting it set (one that's small enough to fit into a dessert bowl, but large enough not to be a choking hazard). Let the kids know there are little dinosaurs in the Jell-O that they need to dig out before eating.
Dinosaur-shaped fruit snacks (Sunkist and General Mills create these, you might be able to find them at a local super market… if not you can find them on amazon and/or other place on the net)
Ice Age popsicles: Purchase popsicle molds where you buy the sticks separately (you can also use small paper cups in which you pour in the juice, cover with plastic wrap, poke craft wooden sticks through the plastic for popsicle handles, then when the popsicles are frozen peel of the paper). Fill the molds with any kind of juice (preferably something light colored like lemonade) and add a few dinosaur gummys or candies to each popsicle and freeze overnight.
Dinosaur Party Favor Bags and Boxes
We've created these printable and foldable dinosaur-themed favor bags and favor boxes. They are blank and so the kids can decorate and fold them themselves. You can also print them out on different-colored paper.
See All Printable Dinosaur Favor Bags and Boxes
For the favor box and medium favor bags – print, color if needed (or print on colored paper) and cut out. Before you start gluing the favor box, fold along the dotted lines and assemble so that all the sides connect. Only then add glue and secure the folded flaps.
To create the large favor bags you'll need to print out TWO designs for one favor bag. First, cut along the lines and fold along the dotted lines. Then, connect the two so that the left side of one is glued to the right side of the other.
Here's a Dinosaur certificate you can print out as a favor.
You can make your own favor packs with inexpensive items such as:
Growing dinosaurs, dinosaur tattoos, dinosaur gliders, mini dinosaurs, rock candy, pop rocks, small binoculars, dinosaur stickers, gummy and/or bone-shaped gummies, dino eggs (Malt balls), magnifying glasses, plastic dinosaurs, dinosaur erasers, dinosaur magnets, neon dinosaurs, pith helmets, binoculars, dinosaur wood craft kit, dinosaur key chains and every other imaginable dinosaur favor item.
You can put all of the favors inside decorated Dino-eggs.
Here are lots of printable Dinosaur birthday party thank-you's to send out after the party:
See All Dinosaur Thank-You Printables
Dinosaur Games and Activities
The dinosaur birthday party is filled with T-Rexiffic fun!!
Take a look at this complete page filled with the coolest Dinosaur party games, such as: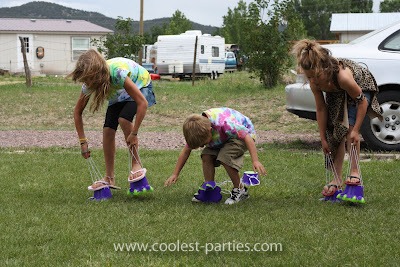 Erupting Volcano
Hot Dinosaur Egg
Dino Egg Hunt
Ice Age
Lava Tug-a-war
Extinct Dinosaurs
and many more (including visitor-submitted game ideas)…
You should also read these VERY important tips to help you survive (and enjoy) game time!
Your Dinosaur Parties and Ideas
Some of our visitors have gone the extra mile and written up their complete Dinosaur birthday party story with photos and everything they did. We call these stories "Party Tales" and they serve as a great inspiration! Take a peek at other people's Dinosaur theme Party Tales and you're sure to find lots more outstanding Dinosaur party ideas:
Share your kid birthday party ideas here…
I'm sure you'll have a dino-mite dinosaur birthday party!!!
---
Kid Birthday Parties › Kid Birthday Party Ideas › Dinosaur Birthday Party