For my only child Elijah's first birthday I decided fairly early on that I wanted to have a theme party. I was unsure what exactly until we went on a holiday to the Gold Coast in Queensland and visited Sea World. They also have a Sesame Street Beach show and a Sesame Street themed amusement area. For the whole show, Elijah was clapping, bouncing up and down on my lap and waving at the characters as they danced around the stage. He had photos with Elmo and Grover and couldn't get the cheeky grin off his face. Then we bought a DVD and took it back to the hotel. Then Elijah played Peek-a-boo with Big Bird on the screen. Thus, it was decided, Elijah's first birthday party would have to have a Sesame Street first birthday theme.
Sesame Street First Birthday Invitations
Upon returning home, I began organizing the Sesame Street first birthday party three months prior to the event. So, first I went searching around on the internet for invitations with Sesame Street characters that could include a photo of Elijah. Then I decided to make my own Sesame Street first birthday party invitations. Using Adobe Photoshop, I scanned images of the baby Sesame Street characters from Elijah's storybooks. Then I took a photo of Elijah in just his nappy to suit the theme. I included most of the basic party details on a Sesame Street sign. In addition, "brought to you by the letter E and the number 1" was written at the bottom of the invitation.
Costume Ideas
Since we had a dress up Sesame Street first birthday party, with the invitation I also included an A4 page of additional information that people would find useful. It included costume ideas and information about foods provided for the babies. It also included a request to fill out special message cards. (Small cards with photos of Elijah and the Sesame Street characters that I made up.) In order to be used for an album with photos from the Sesame Street first birthday party.
Birthday Wishes
All Guests were asked to write Elijah a special birthday wish or something special about Elijah on the cards (e.g. The first time I saw you I thought… You make me smile when you… You remind me of your Mum / Dad when you… ) This way, guests that lived far away and were unlikely to be able to attend our Sesame Street first birthday party (mostly family) would be able to participate in the celebrations in a small, yet memorable way. The idea for the album is when Elijah is older, he will be able to look through and read the messages his guests wrote just for him. I also made these cards available on the day of the Sesame Street first birthday party. So guests could write their special message then if they preferred.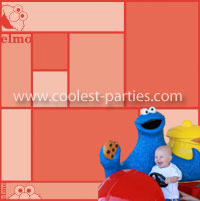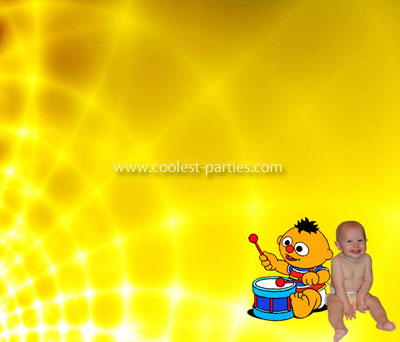 Sesame Street First Birthday Preparations
The Sesame Street first birthday party was held in our backyard. And, all food, games, activities and decorations all tied in to the Sesame Street theme. We set up a marquee as it was the middle of winter and had patio heaters. (Which we didn't end up needing because the weather was beautiful!) We placed fake lawn on the ground to ensure a safe, soft play area for babies that were still crawling. Making sure it was free of choking hazards. So, party guests included family with kids aged 3 – 17.  Friends with young children and babies and parents we had met through Playgroup with Elijah.
Research
After a small amount of research for our Sesame Street first birthday party (and watching a lot of Sesame Street including the 40th Anniversary DVDs) I was bursting with ideas. I worked on making Invitations, CDs, Party Loot Bags, games, Cardboard Displays, signs for food and activities, party hats, decorated cups, keepsakes, colouring books and craft activities just about every night for three months often until 1 or 2 o'clock in the morning.
Recipe Testing
Also, I tested new recipes to ensure they would be perfect for the Sesame Street first birthday party and hunted down as many Sesame Street toys, games, stickers, etc. that I could online and in all the shops around the rural town in which we live. I even made a practice birthday cake. Every moment Elijah was sleeping, I was working on something for the Sesame Street first birthday party. I was so excited to be organizing something so special for my one and only precious baby boy.
Come Dressed as a Sesame Street Character!
Almost all children came dressed as a Sesame Street Character. Elijah was dressed as Elmo in a one piece furry suit with an Elmo face on the hood. (Purchased from costumeexpress.com) We also found him red Elmo boots to match (locally at Target).
I dressed as Abby Cadabby (I've never seen an episode with Elmo's Mum so decided one of Elmo's closest friends would be appropriate.) I wore fairy wings and made a fairy skirt using the method of tying strips of chiffon onto a waist band. Then I wore a pink skirt underneath to give the skirt a more 'full' appearance. I bought pink tights and pink and purple hair ties covered in stars and light silky material. I wore a t-shirt to go with the outfit that I decorated myself.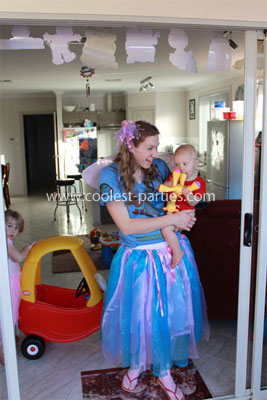 Using the images from the invitation of Elijah sitting with the Sesame Street Characters, I made t-shirt transfers that said "Elijah's first birthday". The sleeves had Elijah written in the Sesame Street sign with a 1 on the top (a decoration theme used right throughout the party) and more pictures of the characters.  Elijah's Dad wore a bright green Oscar the Grouch T-shirt which I also decorated with transfers like the ones I used for my shirt.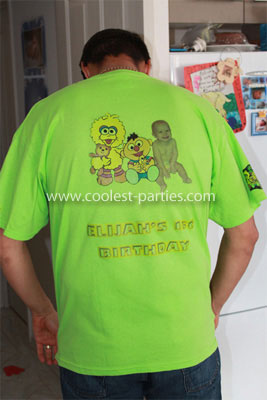 His costume was simple, as he later dressed up as Elmo! Guests looked absolutely gorgeous with babies/toddlers dressed in Cookie Monster and Elmo furry grow suits and we even had this little 15 month old Super Grover (so cute and home-made by his clever mum):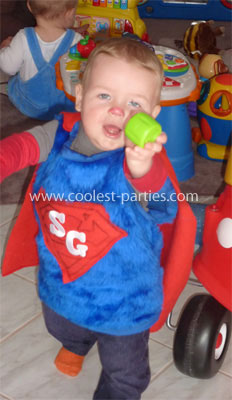 Here's Super Grover and Forgetful Jones: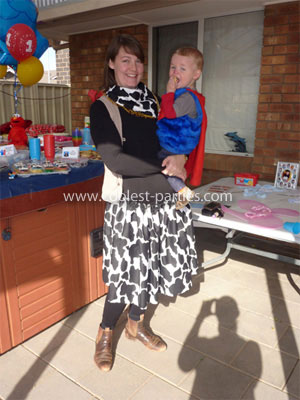 And here's one of the kids in a homemade Cookie Monster outfit: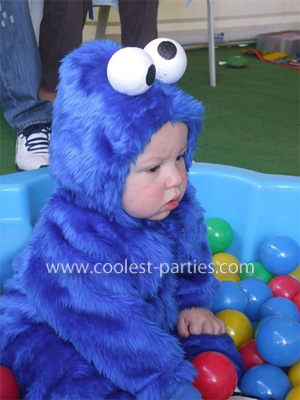 Here are two beautiful Abby Cadabbys: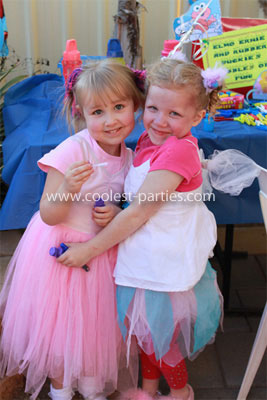 More Costume Ideas
Older kids dressed as Abby Cadabby, Elmo, Oscar (trash can included), Mr Snuffleupagus and Cookie Monster. One Mum came as a very pink- faced Abby Cadabby (she looked awesome), another Mum who was pregnant came as Forgetful Jones (the 'forgetful' being very appropriate for an expectant mum) and some other parents wore clothes with Sesame Street characters on them. Elijah's grandparents even dressed up as Cookie Monster and The Count. I was so impressed by the effort guests put in to make some of the costumes. It really added to the Sesame Street first birthday party's atmosphere and was greatly appreciated!
Setting the Scene
As the little Elmo, Cookie Monsters, other sesame Street characters and their parents arrived at our Sesame Street first birthday party, they were greeted by number 1 helium balloons on the letterbox, a Sesame Street Sign on the door with Elijah written on it with a number 1 in the semi-circle at the top and a large cut out of Grover stuck to the door with a speech bubble saying "Hello Everybodeeeee" (Just like Grover does in couple of Elijah's 'Play With Me Sesame' DVDs!)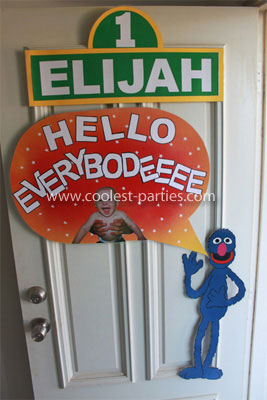 Footprints
The front door opened to reveal Elmo, Cookie Monster and Big Bird Footprints all over the floor of the passage. The younger kids in particular were so excited that Elmo and the others were already at the party, and stepped on their footprints as they excitedly made their way through the house to the party area. The toddlers and crawling babies looked curiously as the footprints and stepped and stamped on them and some even got down and slapped them with their hands!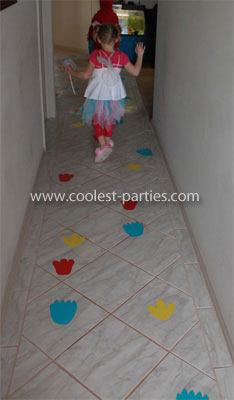 Music
Sesame Street music drifted through the house from the backyard. I had purchased a range of popular songs from each of the characters (e.g. Elmo's Song, C is for Cookie, I love trash, Rubber Duckie, etc.) and I also played Elijah's Sing Along with Elmo CD which has Elmo saying Elijah's name many times throughout the songs. Guests were very impressed by this and wanted to know where they could get an Elmo CD that would have Elmo saying their child's name!
Guests stepped under a garland of photos of Elijah with Sesame Street characters from Seaworld:

Sesame Street Wonderland
They then continued out into the backyard their eyes lit up as they became immersed in a Sesame Street wonderland. Many gasped as they commented on how amazing it all looked. One of the first things they saw was a large banner I ordered from Birthday Express with a photo of Elijah and pictures of many of the popular characters (Sunny Days Range). It read "Come and Play, It's Elijah's First Birthday!"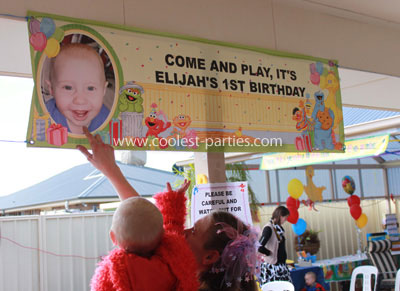 As guests cast their eyes beyond the banner they saw a jumpy castle, tunnels and tents and a sand pit.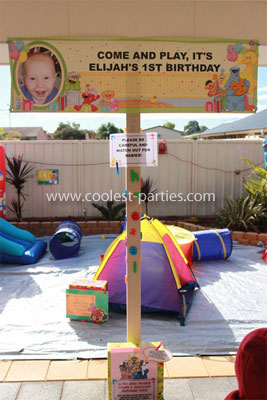 On the veranda by the backdoor were Elmo, Cookie Monster and Oscar games with large cardboard character cut outs. To the left was the marquee filled with helium balloons and a range of baby appropriate activities. The walls were covered the pictures of the Sesame Street Characters and giant letters (each with a Sesame Street Character) that I'd made up that spelled Elijah's name.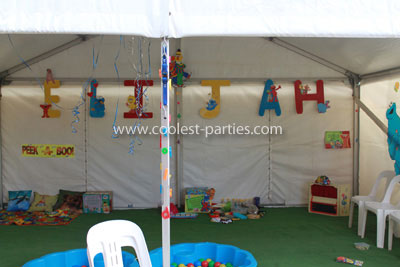 Two giant airwalker balloons, Elmo and Big Bird cruised around the marquee, mingling with their Sesame Street 'friends' and other guests.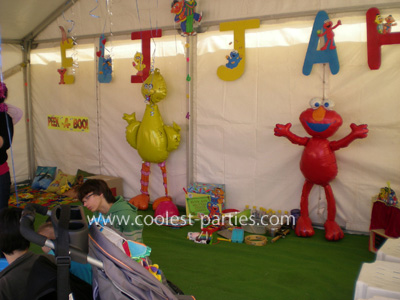 As guests stepped out the backdoor to the right, they saw a sign that said 'Brought to you by the letter E and the number 1', more Sesame Street cut outs, large Sesame Street character helium balloon bunches, ten boxes filled with prizes, a range of activities and all the food: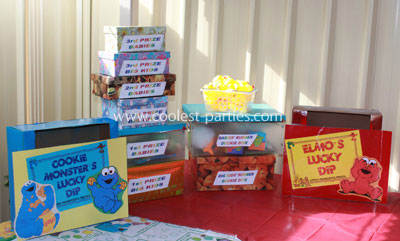 Elijah Display
There was also a gorgeous display of Elijah's life so far. It included an album titled '52 weeks of Elijah Jamie' and included photos from each week of his first year.
I also had a display titled "Look how much I've grown!" which included a tiny suit Elijah had worn when he was first born and weighed only 2.8kg. (6lb, 3oz), an outfit he'd worn around 4 months and one he wears currently. (It looked huge next to the tiny one at the start!). We also had a 12 month photo frame as part of this display. On this table we also placed the cards for guests to write their birthday wishes for Elijah on.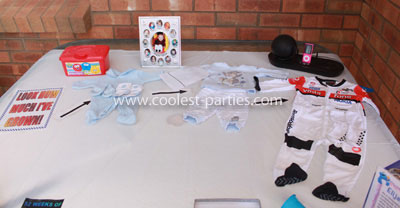 More Decoration Ideas
We also stuck colourful magnetic letters and numbers all over the poles of the veranda and the rest of the party area. There wasn't a bare spot in the backyard! Even when guests needed to use the bathroom inside, they were greeted by a large mirror covered in pictures of Sesame Street Characters in baths or washing their hands and stick on yellow duckies.
I used some purchased character decorations and mostly ones I made myself. I only purchased a couple of packs of 'Sesame Beginnings' and 'Sunny Days' plates, cups, hats, serviettes, etc. from Birthday Express and locally purchased bright blue and red plates and cups and stuck on eyes, nose and mouth to make them look like Elmo and Cookie Monster.
Initially I chose not to purchase all themed products as I needed to buy it all from the US and postage to Australia, although reasonable, added up quickly with items like packs of plates. As it turned out, the glued on eyes and mouths gave those elements of the Sesame Street first birthday party even more personality!
Sesame Street First Birthday Food
All the Little Monster guests had arrived and Sesame Street first birthday party hats were distributed – I purchased some 'Sunny Days' party hats and also transformed brightly coloured hats into character faces like these: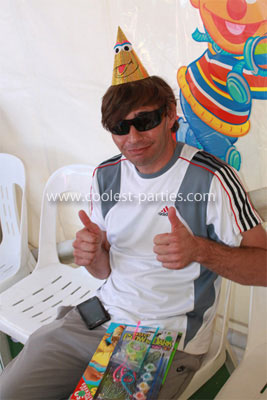 I gathered everyone together to officially welcome guests and invited them to explore all the activities that were set out. I explained that most could be enjoyed at their leisure throughout the afternoon, that we would have a few organized games we would all play together and that we had a special guest coming later as well!
Lunch was then served on Sesame beginnings and bright red and blue plates. With the large range of ages I ensured I catered to suit everyone's needs so an enjoyable time could be had by all. I made all the food myself with some help from my Mum and made Sesame Street themed labels for everything.
I researched the Sesame Street characters (and watched quite a few episodes with Elijah!) to find out all the characters favourite foods, so I could serve these. There were a number of other foods I wanted to serve so managed to tie these into different character's personalities as well. The menu included baby appropriate foods (a lot of healthy finger food options) and more traditional, less healthy party foods to satisfy the older kids too. Some of the foods included:
Healthy Options / Baby Appropriate Finger Foods
Big Bird's Banana and Pear Baby Muffins
Farmer Grover's Vegetable Pasta
Farmer Ernie's Zucchini Slice
Telly Monster's Triangle Sandwiches
Ernie's Peanut Butter and Jelly Sandwiches
Oscar's Trash Can Treats (shot glasses, covered in alfoil filled with grated cheese or sultanas)
Grover's Blueberry Muffins
Zoe's Fruit Salad
Oscar's 'Bits 'n' Pieces' Pasty Slice
Grover's Yummy Yoghurt
Cookie Monster's Cheese Cookies
Snuffy's Savoury Selections (Dip Platter)
Sesame Street First Birthday Party Foods
Elmo's Pizza
Abby Cadabby's Fairy Bread
Barkley's Meaty Rolls (sausage rolls)
Big Bird's Gummy Worms
Cookie Monsters' Cookies (So many varieties!)
Cookie Monster and Bert's Oatmeal Cookies
Abby Cadabby's Magic Mousse
Elmo's Pizza Wheels
Kermit in the Pond and Dorothy too! (Jelly with frogs or fish)
Bert and Ernie's Hot Dogs
Elmo's Friend Dorothy 'look-alike' Gingerbread Cookies
Abby's Marshmallow Cups
The labels I made with the relevant character on it were placed on or in front of each food. Items that were appropriate for babies also included a photo of Elijah on the label. I had reports after the party that some of the babies thoroughly enjoyed eating all the different 'baby-safe' foods and I had several recipe requests. The variety definitely ensured all guests – young and old – could eat to their heart's content.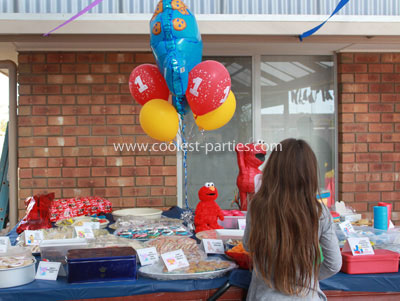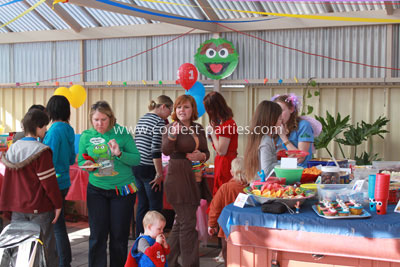 Sesame Street First Birthday Games and Activities
As guest finished their lunch, they began enjoying the range of Sesame Street first birthday activities I had set out. For the activites / games, once again a lot of thought went into ensuring all ages were catered for and everything fit the Sesame Street theme. I included a mix of both organised games and activities that could be tried at any time throughout the Sesame Street first birthday party. This suited all ages, but made it especially relaxing for the parents of the baby guests. Every activity belonged to a character and included a sign to say what it was and included a relevant picture of the character it belonged to (e.g. For Elmo, Ernie and Rubber Duckie's Bubbles of Fun station, the sign included pictures of Ernie and Elmo in bath tubs full of bubbles. The Music station sign had pictures of the characters playing musical instruments, etc.).
Kermit the Frog's Jumpy Castle
A small jumpy castle suitable for children up to 10 years old. The kids were so excited by this and the toddlers loved climbing up and down its inflatable slide. Here are Abby and Super Grover in Kermit's Jumpy Castle: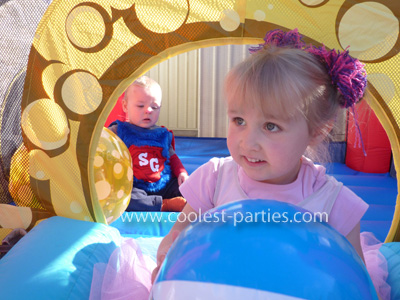 Barkley's Ball Pit
(A regular ball pit for the babies with a Sesame Street Themed name). This was extremely popular. It was the first thing many of the babies flocked towards and definitely kept them entertained. Balls went everywhere……but that was half the fun!
Big Bird's Dust Bath
(The sand pit) – Another very popular activity for kids of all ages. Here's Elijah getting crazy in Big Bird's Dust Bath: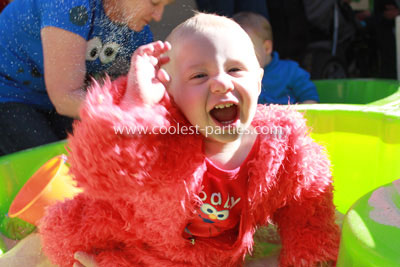 Elmo, Ernie and Rubber Duckie's Bubbles of Fun
This was a bubble blowing Sesame Street first birthday station with an automatic bubble blowing gun and a variety of other bubble blowers. The older kids loved blowing the bubbles to entertain the younger ones – it was beautiful to watch!
sesame-street-first-birthday-31
Telly Monster's Tents and Tunnels
(The name of this activity was inspired by an episode in which Telly explores Sesame Street to find the 'Golden Triangle of Destiny' – the tent and tunnel set up looked like something that needed to be explored.) Peek-a-boo was a favourite for the youngest guests in and out of the tunnels.
Bert's Reading Corner
Bert is always reading in every episode! This was a simple set up of a mat in the marquee with cushions and board books for parents and little characters to sit and relax if they needed a short rest. I also included some 'Peek-a-boo' cards I'd made up from card with rhymes about the character hiding and placed them in this area for a quiet interactive game.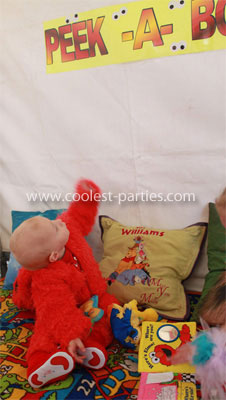 Elmo and Rosita's Music Mania
A station with Elijah's musical instruments, small instruments borrowed from the local library and shakers I made up from small water bottles and filled with coloured pasta, rice, vinegar and oil or Cheerios. I placed a Sesame Street sticker on each to match the theme – these shakers were the most popular out of all the instruments! Elijah in particular kept returning to the bottles to have a shake before moving on to another activity.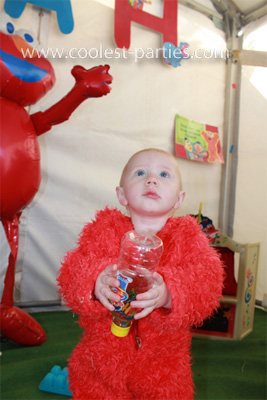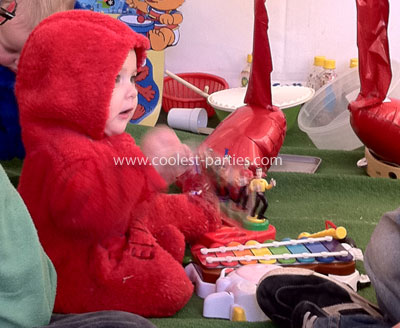 Elmo's Colouring Fun
Everyone knows Elmo loves to colour! I made up small colouring books by copying and resizing books I had purchased. Each book had a photo of Elijah with all the characters on the cover and the label, "Elijah's First Birthday. This Book Belongs to………………………….." Crayons were on the table for kids that wanted to colour at the party, or alternatively guests took a book home with them.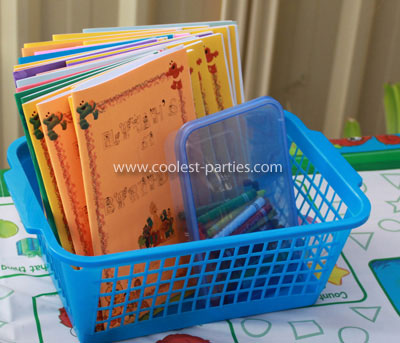 Oscar and Slimey's Slime City
A station set up with goo made from cornflour and water… very messy! :-)
Elmo's Chalk Drawings
The start of one of the Sesame Street series has children doing chalk drawings on the pavement. Our path around the house and even the house bricks were drawn on in chalk.
The Count's Bowling Challenge
A Sesame Street first birthday game of Ten-Pin Bowling to be enjoyed at the guests' leisure. Since you need to count the number of pins knocked down, it seemed appropriate to name it after The Count Von Count.
Elmo and Prairie Dawn's Amazing Alphabet Race
Inspired by the Amazing Alphabet Race episode in which Elmo needed to find all the letters in the alphabet around Sesame Street on signs or in books, etc. Children (and parents) at any stage in the party could go on a hunt around the party area reading signs and finding all the letters of the alphabet in order from A to Z. Once they found all the letters, they could go and help themselves to a Lucky Dip. (It was an honesty system that worked really well.) I had a Cookie Monster Lucky Dip – Big Monster Prizes (Chocolates, Candy, Stickers, Tattoos, etc. for the older kids) and Elmo Lucky Dip – Little Monster Prizes (Cheese Sticks, baby fruit bars, Sesame Street Stickers, Kinder Chocolates, etc. for the babies and toddlers).
Here's Abby Cadabby getting a lucky dip for completing the Amazing Alphabet Race: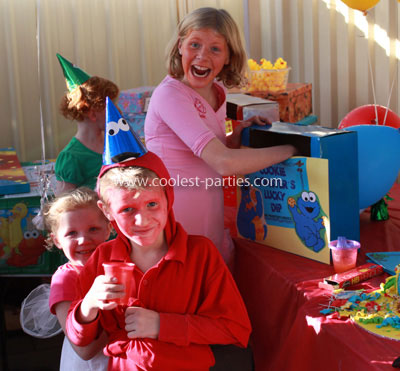 Elmo, Bert and Ernie's Puppet Theatre
This was a little puppet theatre set up in the marquee with the three Sesame Street Characters it was named after. Initially I had planned to have a puppet show for all the guests. But decided with so many toddlers and such short attention spans, they would get more fun out of having them available for the parents to talk to their child with the puppets. It was obvious the youngest guests enjoyed this as the puppets received lots of hugs! (Very cute).
The Count and Cookie Monster's Mystery Cookie Caper
This was a Cookie Jar guess. Guests simply had to guess how many cookies they thought were in the jar and write it down on the guess sheet I had prepared. Then the person closest (one of the older kids) was announced at the end of the party. The winner received the jar of cookies to take home.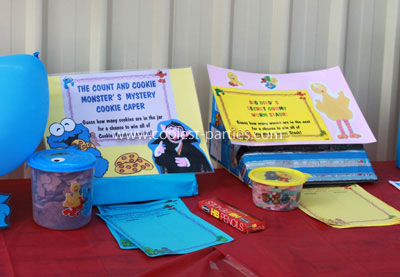 Big Bird's Secret Gummy Worm Stash
This was a jar filled with gummy worms that guests needed to guess the amount. One of the other older kids won this one too.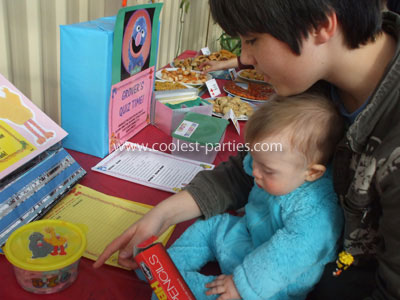 Grover's Quiz Time
A Trivia Quiz I set up that could be completed at any time throughout the Sesame Street first birthday party and was mainly for the teenagers and adults of the group. It included ten questions about Elijah (e.g. relating to birth weight, milestones, favourite things to do / eat, etc.) and ten questions about Sesame Street Characters (e.g Elmo's pet's name, the name of Big Bird's Teddy Bear, name the character with a range of jobs, etc. ) I went through the answer sheets at the end of the party, shared the answers with guests and awarded prizes of key-rings, home-made jewellery and chocolates.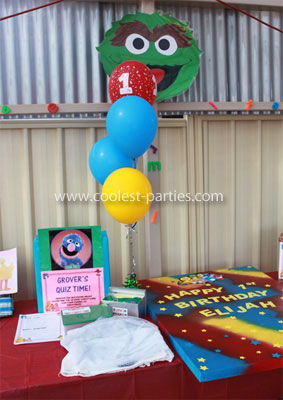 Abby's Puzzling Pegs
A game in which Abby (who is just a fairy in training after all) did a magic trick that went wrong and scattered pegs all over the party! Guests needed to collect the pegs throughout the afternoon. Then prizes were awarded to babies and children who collected the most. This activity was so simple, but very popular. The Mums of all the babies especially got into it and were covered in pegs! All of them were hanging out to see who the winner was at the end of the party.
Here are Abby Cadabby's Peg Hunt winners: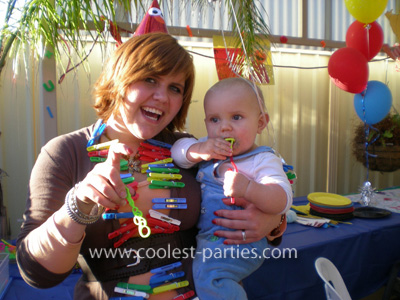 Make Elmo, Big Bird or Cookie Monster
This was a simple craft activity for the older kids (or the younger ones with parent help) that used paper plates that I'd spray painted red, blue, yellow and black prior to the party. When folded, stuck together with tape and stickers for the eyes and nose were added, the plates made a hand puppet of the Sesame Street Characters!
Ernie's Rubber Duckie Dive
This Sesame Street first birthday game was an easy one for all aged children to be involved in. I bought 40 small Rubber Duckies and numbered the bottom of each one. These were all placed in the ball pit for the game and children simply had to pick out a duckie and bring it to the prize boxes. They were then awarded the numbered prize that corresponded with their numbered Duckie.
To ensure everyone received age-appropriate prizes, I made odd numbers baby prizes and even numbers big kids' prizes. When they brought their duckie to the prize box, I simply sent them back to get another duckie if they had an odd number and they needed an even and vice versa. Prizes included books, puzzles, bath toys, craft kits, bracelets, baby spoons, baby fruit bars, candy and chocolates. The kids thoroughly enjoyed their surprise as they handed in their duckie.
Oscar's Trash Can Toss
For this game I spray painted a cheap black plastic bin silver and stuck a large Oscar cut out in the bin with a big 'Scram' sign hanging on the front. I also stuck pictures of Oscar's pet worm Slimey, his pet elephant Fluffy and Trash Gordan. I scrunched up magazine and catalogue pages and made a sign inviting players to see how many pieces of rubbish they could toss into the trash can in a row. Older kids played this game against each other at their leisure.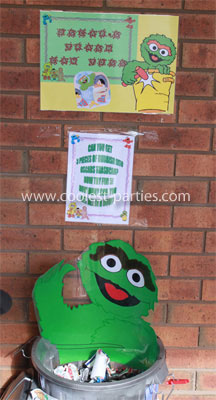 Feed Cookie Monster
This game was set up in a similar way to Oscars' Trash Can Toss. However, instead of trash, cookies needed to be tossed into a cookie bucket at Cookie Monster's feet. Since I am not a sewer, my Mum sewed little round cookies for me and filled them with rice. Weeks later, Elijah is still tossing the little 'Cookies' around. This game was quite popular among the babies that were capable of throwing the cookies, and the older kids.

Pin the Nose on Elmo
So, I made a huge Elmo Cardboard cut out and had a laminated, named nose for each guest. This was another activity I felt we simply couldn't have a party without!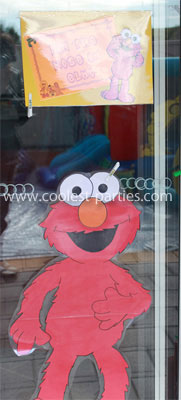 Elmo's Tickly Tummy – There's Something Hiding Inside
I couldn't host a Sesame Street first birthday without An Elmo shaped Piñata. It was filled with a variety of treats to ensure something appropriate for babies and older kids! It was a pull string piñata. So, since the party it has made a beautiful display on the top of Elijah's bookcase – such a nice keepsake.
Pass the Parcel
I organised to have two parcels travelling around the circle at once – one for the babies and one for the bigger kids. As the Sesame Street music stopped and layers were unwrapped babies / toddlers won Sesame Street stickers, baths toys, spoons and baby snacks and older kids won chocolates, candy, stickers and tattoos.  Here's a photo taken during the Pass the Parcel game: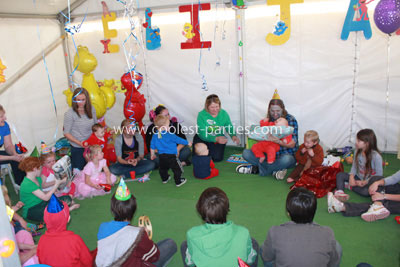 Happy Hands and Feet
Before the Sesame Street first birthday party I spray painted a large canvas red, yellow and blue. Then, I stuck on letters spelling 'Happy 1st Birthday Elijah' and included a photo of Elijah with the baby Sesame Street characters at the top. Throughout the party all children / babies were asked to put their hand print on the canvas and write their name next to it. After the party I went over the names in paint. So now the canvas hangs in Elijah's room as a beautiful party keepsake of his little friends that attended his Sesame Street first birthday party.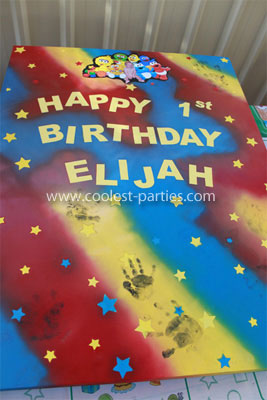 Our Special Guest – Elmo!
After guests had had an opportunity to eat and then explore the different activities. Also we'd played a few organized group games before our special guest arrived! (Elijah's Dad dressed in a big furry Elmo suit!)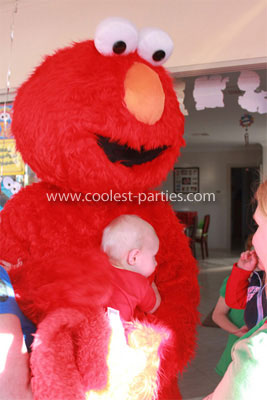 It was so cute. When he came out the door, Elijah hugged him and one of the 15 month old babies ran straight up to him and threw his arms around him! Elmo stayed with us for quite some time. Waving to babies and children, shaking hands, taking photos, clapping and having his fur squeezed and pulled by the youngest little Elmos and Cookie Monsters. Children were delighted to see him. And one of the three year olds at our Sesame Street first birthday party, who was initially scared of Elmo had a photo taken with him before he left. He was the star of the Sesame Street first birthday party and we are so glad we went to the effort to do it. The kids were just so excited to see Elmo in real life!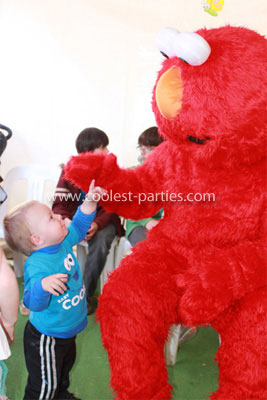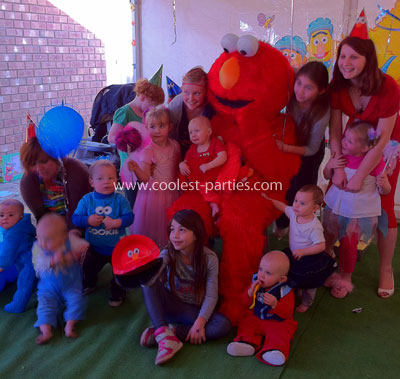 Sesame Street First Birthday Cake
After our special guest had left, it was time for the Sesame Street first birthday cake! The cake which I made myself was a two tiered vanilla cake, the bottom one filled with a chocolate mousse. Then, both layers were covered in bright coloured fondant. I placed 5 baby Sesame Street characters that I'd made from fondant on the cake. Placed at the top was Cookie Monster and a pile of cookies. At the front of the bottom tier, I made a large Sesame Street sign with Elijah's name and the number 1.
Finally, the whole cake was covered in brightly coloured fondant streamers and stars. The only thing I didn't make was the number 1 candle! I've always enjoyed having a go at cake decorating, but I'd never made anything as elaborate as this.
I was so pleased with how it turned out. Elijah was pointing to the characters and all the guests were so amazed by it. We were going to have the top tier as a smash cake for Elijah. We had actually made him a smash cake on his birthday a few days earlier and he'd become quite distressed by all the sticky icing on his fingers and through his hair and on his face. So, we decided not to subject him to this again, despite how cute it had looked.  Also, Elijah (who is rarely given any unhealthy food) thoroughly enjoyed his slice of birthday cake he was given to eat.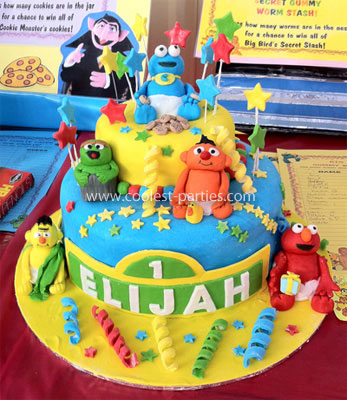 I also prepared yummy Elmo and Cookie Monster cupcakes: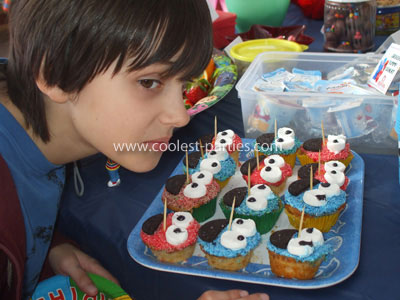 So, after the cake, I announced the winners of our Sesame Street first birthday games. They included Abby's Puzzling Pegs, The Count and Cookie Monster's Mystery Cookie Caper, Big Bird's Secret Gummy Worm Stash and Grover's Quiz Time and awarded prizes.
Sesame Street First Birthday Party Loot Bags
As very tired little Elmo and Cookie Monsters left the Sesame Street first birthday party, they were each given a helium balloon and a home-made party loot bag. There were red or blue bags with an Elmo or Cookie Monster face on it. Then, each bag was labelled with the child's name in a sesame street sign at the top of the bag. For the young children, toddlers and babies they contained a small Sesame Street book, bath toy, sand pit set, stickers, healthy baby fruit bars, cheese stick, box of sultanas, baby rusks, rice crackers and a Kinder Chocolate Bar. Older children received a book, pair of earrings and a necklace I made myself (for the girls) and Tattoos and Stickers (for the boys), glitter pens, stamps, chocolate bars and frogs, jellos, Tiny Teddies, Sherbet Bombs, a Roll Up and pack of gummy lollies.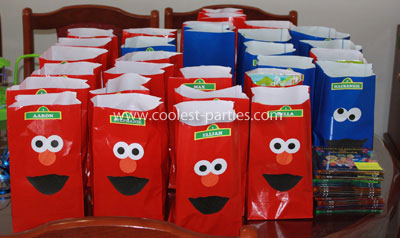 Elijah's 1st Birthday – The Soundtrack CD
In addition to the Loot Bag, Children also took home a copy of "Elijah's First Birthday – The Soundtrack". Included was a selection of the popular Sesame Street songs by each of the characters that was playing during the party. Each CD had a cover including the title and the picture of Elijah sitting with the baby Sesame Street characters. The same one that was used for the invitation. Then, the inside sleeve listed all the songs and the character singing them. Also, the actual CD had the same picture from the invitation printed on it – they looked so professional! (I love my home printer!) As guests walked out the door, they passed a large 'Thank-you' sign covered in photos of Elijah.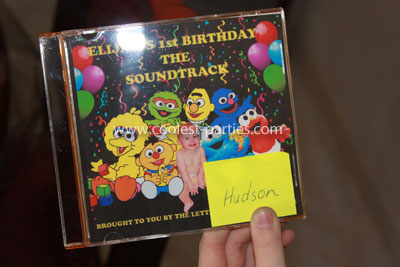 What a huge Sesame Street First Birthday Party Success!
As I looked at my precious little one year old boy, I couldn't believe the months of planning, organizing and making were over. The Sesame Street first birthday party was such a huge success. It was better than I could have hoped for and talked about by others for weeks after. Big Bird is still 'airwalking' his way around the house. And the large Cookie Monster Balloon looks as though it's just been blown up. They're such cute reminders of an awesome day.
I received so many compliments and everyone said they'd never been to such an amazing party… So, I better start planning for next year. I'm feeling a Cars Theme revving up inside of me. (Or whatever theme is taking Elijah's interest at the time – he loves animals – it could be a jungle out there!)
In conclusion, thanks for the opportunity to share my Sesame Street first birthday ideas. It's so wonderful to relive some beautiful memories – I had a blast! :-)
Sesame Street first birthday ideas and photos by: Julieanne from Whyalla, South Australia