Hi Everyone, my name is Marissa & I live in Australia. I am a Mum to 3 children, the youngest born in February 2011. Birthday parties are a HUGE deal to me & I love making my children's Birthday wishes come true! As Mothers we all have a special way of showing our children how much we love them & to me this is just 1 way I can do that :-)
I am a big fan of DIY, not only does it help save money but it also means more to your children when they know you have worked on something especially just for them! Because of this Bday Party planning always starts early for me (I already have the next 3 parties planned) the earlier I can start the better! This gives me a chance to think about every small detail of the party, grab bargains when I see them that would work in with my party theme & the time to work at a steady pace & not be rushed towards the end.
Last year for my Daughter's 7th Bday she requested a Tea Party. It was a perfect opportunity to do something extremely girly & feminine :-) This party continues to be talked about almost a year on & I've also inspired 2 of my friends to create a Tea Party for their daughters!
Homemade Teapot Invitations
I designed & created the Tea Pot invitations myself. Using an electronic die-cutting machine I cut the teapot shapes, embossed & decorated them.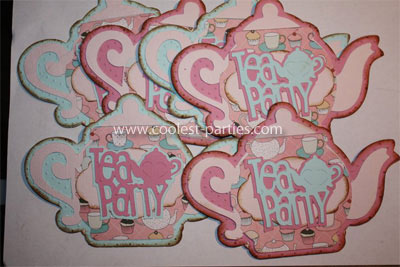 To make the invitation really interesting I made it so the recipient of the invitation had to lift the lid of the teapot to read the information inside. This was done by joining 2 teapot shapes together around the edges to create a pocket for the party info to slide into.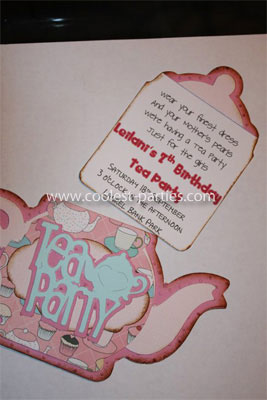 The Invitation read: "Wear your finest dress, & your Mother's pearls. We're having a tea party, just for the girls" Plus the date, location, time etc.
Location:
In my town they hold an annual flower festival in Sept. right on my Daughters Bday, the parks are full of lush gardens & gorgeous flowers. It seemed the obviously choice to have it outdoors amongst all this beauty. However its always important to have a back up plan, & I'm glad I did. The day of her party was miserable & pouring down with rain…So we ended up having the party at home. I decorated our lounge room & made it all comfy & cosy, complete with teddy bears & blankets.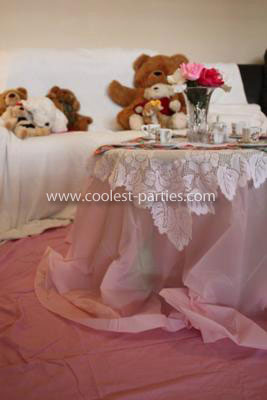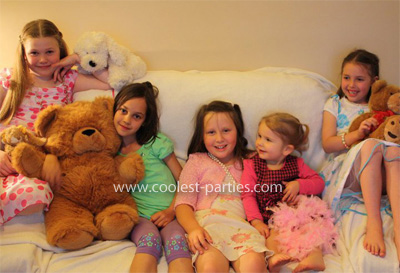 Costume:
The costume was very simple. The girls wore their prettiest dresses, pearls, feather boas, lace gloves & fancy hats, most things you would find in a dress up box at home.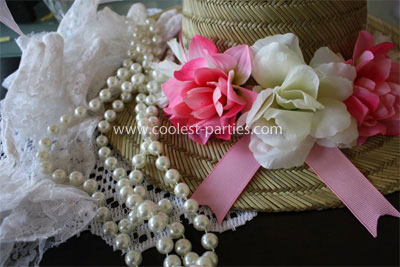 For my daughter she had everything for her costume except for a hat. I purchased a cheap straw hat from a discount store, a bunch of fake roses & some ribbon. I wrapped the ribbon around the hat & chose a few flowers then secured it all with hot glue.
Tea Kid Party Decorations
When you think of Tea Parties lace, fine china & roses come to mind. I wanted to re-create this experience for my daughter & her friends.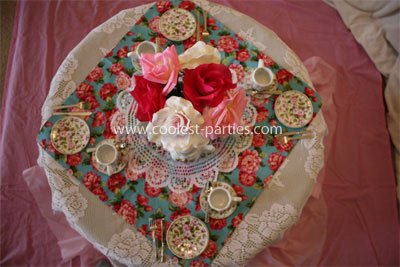 In the lounge room I layered a round table with a roses, lace & pink tablecloths & placed a glass vase in the centre with roses.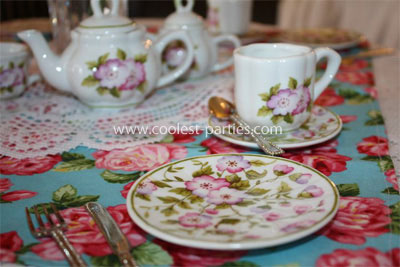 I purchased a real porcelain food safe tea set complete with plate, teacup & saucer, teapot & cutlery for each guest.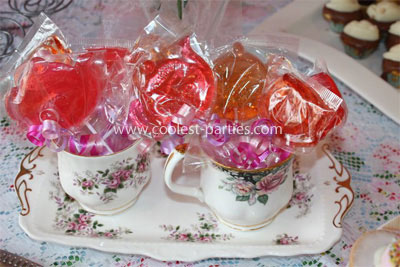 I also sewed my own fabric bunting in co-ordinating fabric & colours which was hung above the main food table. The bunting was very simple to make, I used: 4 x fat quarters of matching fabric & binding tape. I was able to cut 5 flags (back to back) out of each FQ which gave me a 4 metre bunting with 20 flags in total.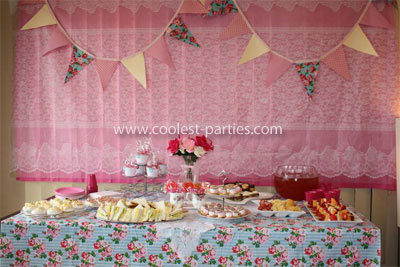 The food table was also decorated with pink & white, vases with roses & I used all my good serving dishes including my fine china tea cups. As I wanted to have the smell of fresh flowers in my house I was also burning a candle called "flower shop" which helped to give that final feminine touch!
Dainty Tea Party Food
I loved preparing the food for this party! Due to the miniature size of the tea set I made all the food bite sized to fit on the plates.
I served each of the girls as if they were having a high tea, each "course" they got to sample 1 of the treats I had made.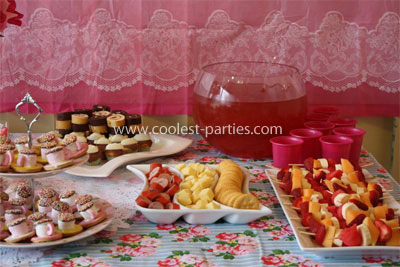 The food included Fruit punch (served in the teapot) fruit kebabs, crackers & cheese, mini jam roulettes,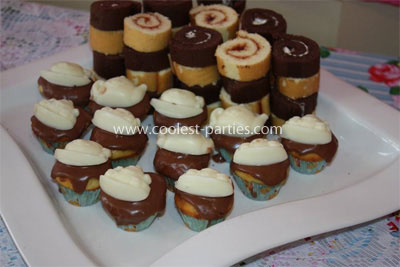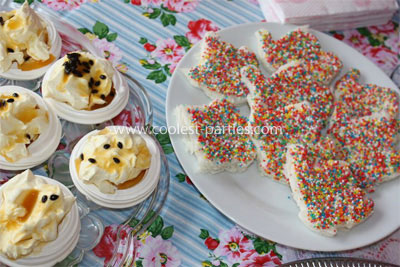 pavlovas with cream, mini cupcakes with a white choc. teapot on top (I made these using a choc. mold), sandwiches, "fairy bread" (cut in a teapot shape with a cookie cutter) & the absolute favourite of the party….teacup biscuits.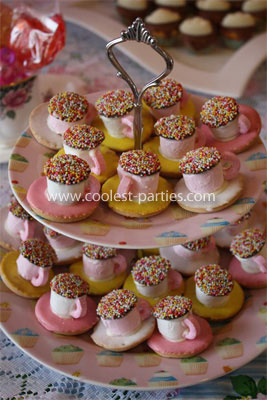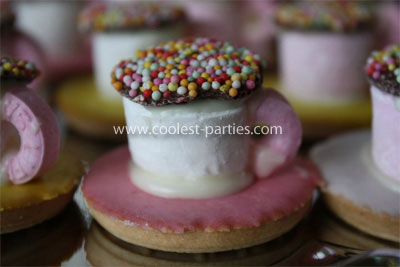 To make these you need: 1 x Packet of TicToc biscuits, 1 x Packet of Marshmallows, Lifesavers & choc. freckles. I used melted white choc. in a piping bag to "glue" them together to make a teacup :-)
Homemade Teapot Cake
I immediately knew I was going to have to make a Teapot cake. The idea evolved further when I found a 3D teacup & saucer choc. mold. I started by making 2 round choc. cakes & sandwiched them together with strawberry jam. I purchased ready-made white fondant & coloured it a light pink with powdered colouring. I laid the fondant on the top of the round cake & then placed a lace doily on top & dusted with icing sugar.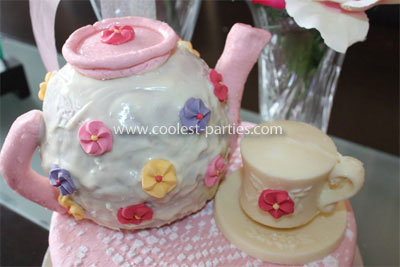 The teacup & saucer were made using a 3D mold & white choc. I didn't want to make it a solid choc. teacup so I filled the middle with marshmallows & then joined the 2 pieces of the cup together with a little extra melted choc. The teapot was made by using a small Pyrex bowl which I cooked 2 half pieces of cake& then again joined together with strawberry jam. I poured melted white choc. over the top & while it was setting decorated with sugar flowers & the fondant handle, spout & teapot lid.
Tea Party Entertainment
As it was raining all day I taught the girls a few etiquette tips while they were having their tea. They were such little ladies with their "Excuse me madam may you please pass the tea….why certainly!"
I also had the newest Tinkerbell movie playing in the background which help set a girly atmosphere. My daughter & her guests loved being waited on during the party as I brought in each plate of food, it made them feel very special, like royalty. I didn't need to play any party games as the girls were having so much fun playing with the tea set, chatting away & watching the movie.
Tea Party Favors
The possibilities were endless for Tea Party themed party favors but I decided I'd make the majority myself! I started by making a 3D teacup & saucer (again cut on my die-cutting machine & assembled).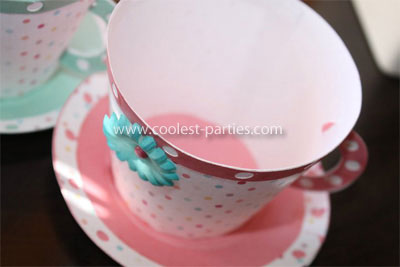 I then filled the cups with pink coloured chocolates & lollies. I finished it off with a "Tea Time" hairclip which I also made myself using themed ribbon, cupcake resins, French hairclips & a hot glue gun.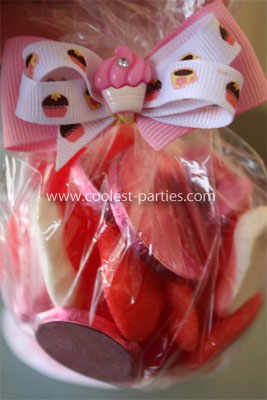 I found some very useful tutorials on youtube which I followed in order to make them. In addition to the teacup each guest got to take home a handmade lollipop. I found a recipe on the internet & decide I'd give them a go, I used a teapot mold to set the lollipops in & they turned out great!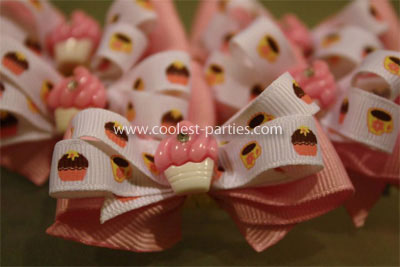 I loved this party just as much as my daughter did, I think one day I'll have to throw a grown up version for my girlfriends & I :-). Thanks for looking at my party ideas!