My daughter was turning 4; she loves having tea with her friends and playing with teddy bears and dolls. So, I thought it was a great idea to have a tea party for her birthday celebration. We called the party "Teddy Bear Tea Pawty".
Adorable Invitations
The invitations were done by taking a picture of Makenzie having tea with her stuffed animals. I bought card stock from the local office supply store and scanned that picture at the bottom. The invites read: You are invited to attend a Teddy Bear Tea Pawty to celebrate the 4th birthday of Miss Makenzie, Saturday, Date at 3 o'clock in the afternoon our home (address) *Bring you favorite stuffed animal to share. (Done in fancy print.)
Tea Party Table Decorations
For the party I decorated the table with a plastic pink table cover, doilies, and pink and white balloons. The chairs were decorated with pink tulle. In addition, there was a pink and white flower put in the middle of where the tulle was tied in the back. At every place setting there was a plastic tea cup with saucer (placed on a smaller doily), a Ty beanie baby (brown teddy bear of course), a teddy bear shaped sugar cookie with pink sprinkles (placed on a cute little plate which was sitting on a fancy paper place mat), sequined hat, boa, and a little old fashioned looking purse (purchased from a local dollar store) which we used as a goody bag for the tea party. In the purse I put plastic jewelry, candy necklaces, etc. Also, they got to take everything home that was at their place setting.
Party Food
Before the tea, we grilled hot dogs and hamburgers while the girls were playing around in the yard also enjoying the Spiderman birthday party that was going on for my 7 year-old son. We had the party and the Spiderman party on the same day because their birthdays are only 4 days apart and it's hard to get the whole family together. It's a large family. (Also, I didn't realize that all the little girls for the party would be very afraid of Spiderman when he showed up.)
Tea Time
I put ceramic teapots in the middle of the table and filled them with Gatorade. (I'm wasn't sure if all the girls would like tea even when it is a tea party.) Then the girls put on their hats, boas, jewelry they all drank their tea and ate their biscottis (teddy bear cookies). After tea, the girls that brought their favorite stuffed animals got to introduce their animals and share a story about them.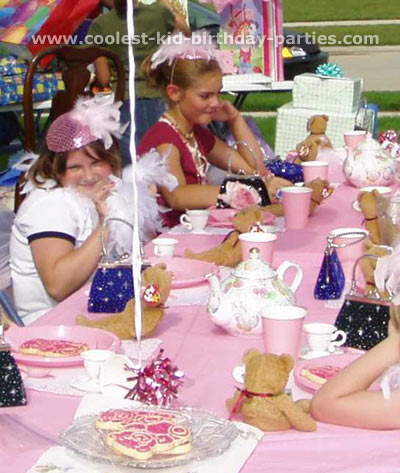 So, the girls had fun prancing around the yard dressed up.
Finally, the cake was brought from a local bakery. They put two small teddy bears on it that were dressed up having tea. And the candle was a small teacup and saucer (purchased from a cake decorating store). Everyone loved this tea party!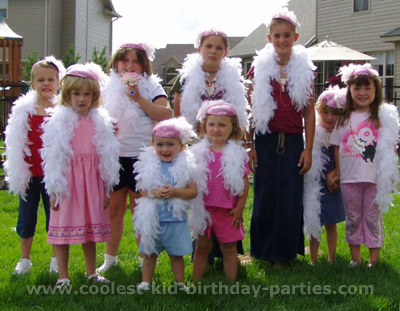 Tea party ideas and photos by: Amy from Brownstown, MI