Army birthday ideas and photos by: Jenni from Shawnee, KS
Our five year old wanted to have an army birthday this year so we set our battle plan in action.
I made up invitations with a camo background and a drill sergeant on the front, it read: "Ready Recruits? Sound off! I don't know if you've been told. . . Carter S. is five years old!" Inside it read: "Your mission, should you chose to accept it is to report to basic training at the_____ family military base ADDRESS on DATE from 1000 to 1230 HOURS (10 to noon civilian time). Dress code: Uniform is not required but would be appropriate if worn. Please be prepared to run basic training drills and get dirty! Lunch and Birthday Rations will be served. Please RSVP to Base Commmanders ____ and ___ at PHONE NUMBER no later than ___.
I put the invitations in yellow envelopes and addressed to Staff Sergeant_____. In read marker I wrote "Top Secret" on the top and MISSION SENSITIVE on the bottom. When the army birthday party day arrived we outfitted each recruit with an army helmet, dog tags, an American flag patch (printed on full size mailing label sheets and cut in to stickers) and a rate patch (also printed and cut in to stickers). The recruits then lined up to have camo face paint applied and the training began!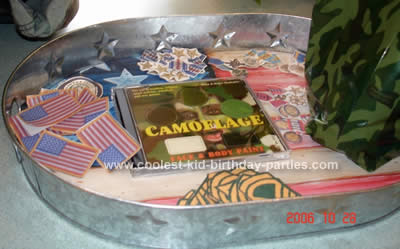 We started off with "Drill Sergeant Says" (played like Simon says) to get the recruits in to training mode.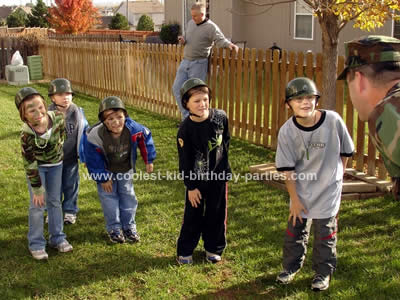 My husband (a LCDR in the Navy dressed in Camo uniform complete with dollar store whistle, acted as drill sergeant–he started off with the chant found on the front of the invitation. . ."I don't know if you've been told. .." We then moved on to the obstacle course. We enlisted the help of family members also dressed in borrowed uniforms to help run the games for our army birthday party.
For the obstacle course we tied 8 hole hoops together to act as tires, built a balance beam out of 2×4's, made a tunnel to crawl through out of old chair boxes and finished by giving each recruit a balloon to put between their knees and hop back to the start.
When the reached the start they had to pop their balloon and their time (taken with a stop watch) was recorded. The winner won a medal (a military medal printed as a sticker that read "Obstacle Course Top Honors") and got to pick out of the prize bag that included compasses, camo bouncy balls, camo pencils and army men. We then played "Carrier Quals". Each recruit was given a camo glider that we put together before the party and asked to land it on the "USS Picnic Table" I printed an X and put it on the top of the table, the pilot closed to the x won a medal that read "Carrier Quals Top Honors" and a trip to the prize bag.
We then played Airborne Mission. The object was to deploy a parachute man and land him on the X in the middle of the yard. (The kids thought it was great fun but the men got tangled in their parachutes even though we handed them out one at a time right before they began.) The winner received a sticker medal that read "airborne top honors" and a trip to the prize bag. While family members picked up pizza for lunch the recruits had a go at a tank pinata and each was given a camo bag to collect their goodies in.
At lunch in the mess hall recruits dined on misses (carrot sticks), dynamite (licorice bites), ammo( peanuts, raisins and pretzel bites), cannon balls (cheese balls) and pizza. I made table tents to go in front of each item describing what it was. I used camo table cloth napkins and plates. I bought army men and vehicles to decorate the table and cake.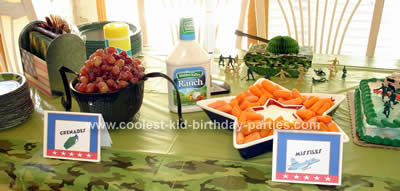 The grocery store used a GI Joe cake kit to make a camouflage cake and I supplied the army men, tank, flag pole and vehicles.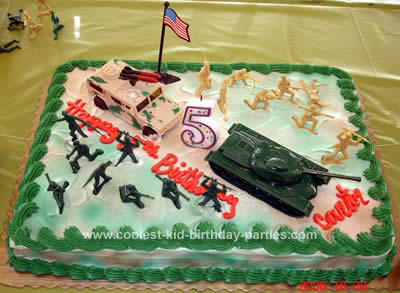 Recruit birthday boy opened gifts and the recruits ran the obstacle course several more times (and played in the boxes) until parents arrived. The recruits each received a "Basic Training Completion Medal" when the left along with goodie bag filled with army men, camo pencil and note pad and more stickers to play army at home with. I took photos under an American Flag pinned to my fence to use in my thank you notes.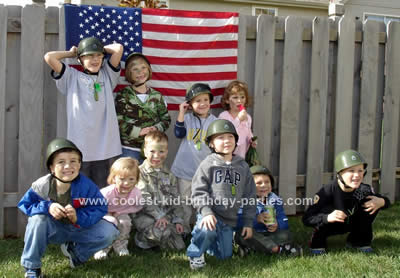 My son told us that this was the "best army birthday party in the universe". It took planning and prep work but it was great fun for all involved. The neighborhood kids were seen running the yards in face paint the rest of the day!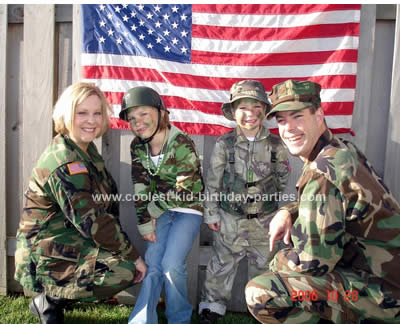 The Army birthday ideas and photos in this section have been graciously submitted by readers like yourself. If you've got some cool party ideas and photos to share, we'd love for you to send them over. You'll be taking part in creating the Web's ultimate kids birthday party ideas resource that's ALWAYS FREE for everyone to enjoy! Thanks!
Submit Your Own Army Birthday Ideas Here!