My son wanted an airplane/soldier bday party for his 4th bday. I was inspired by ideas found online & in magazines, using several of them for his special day. I love hosting parties esp. themed ones. This was so much fun to put together & execute.
Enlistment Orders for Army Invitations
American Heroes invitations were purchased on clearance from Party City as they had airplanes on the cover & were camo. They told guests that they were recruited & were to report to duty on date/time, location, etc.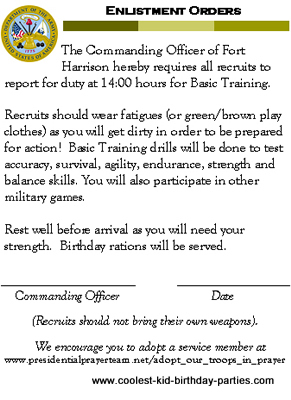 I also included inside a small slip of paper that stated "Enlistment Orders" that had written:
"The Commanding Officer of Fort Harrison hereby requires all recruits to report for duty at 14:00 hours for Basic Training. Recruits should wear fatigues (or green/brown play clothes) as you will get dirty in order to be prepared for action! Basic Training drills will be done to test accuracy, survival, agility, endurance, strength & balance skills. You will also participate in other military games. Rest well before arrival as you will need your strength. Birthday rations will be served.
On the back I provide bday gift ideas/suggestions.
Soldier Airplane Decorating Ideas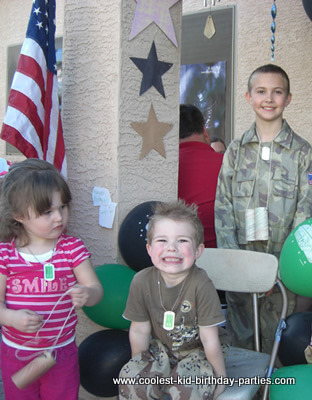 We transformed the entire backyard into a military base Fort Harrison. Guests were instructed to enter the yard from the side gate (where a camo colored sign hung stating Fort Harrison).
They were then greeted at the "Recruit Check-In" office (a small outdoor play house that had a sign stating such). We used brown, black, green & American Heroes table cloths, along with black & green balloons. I found camo rope/net (6ftx4ft) on clearance at Big Lots after Halloween & used one on the cake table & hung one behind the cake table as a backdrop for pictures. Posters from the Army, Marine, Navy & Air Force recruitment offices were hung around the patio & next to the "Recruit Check-In" office.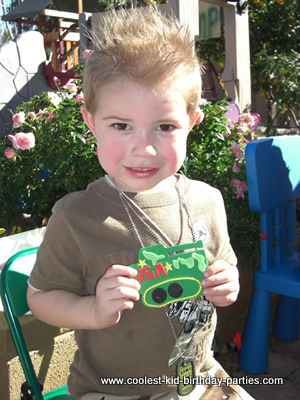 Airplanes, helicopter & parachute soldiers were hung along the patio roof by fishing wire so it appeared as if they were flying. We also hung balloons & green, brown & black stars. A special bday seat was decorated with green & black balloons & an American flag in a stand was placed next to it. We also created a "Boot Camp" in our backyard (which was a BIG hit with the kids).
As guests arrived at the "Recruit Check-In" office my sister instructed guests to sign the roster (scrap book page for my son), issued dog tags & binoculars (two toilet paper rolls wrapped in construction paper that I colored camo hot glued together with a string attached at each side for a strap). The kids then had a chance to make a tank until all the guests arrived. This was a tank kit (24 counts) I found also on clearance at Party City.
I did purchase additional glitter glue & star stickers for them to use to decorate their tanks. When all the guests arrived we told the recruits that they had to be sworn in so they had to line up by the "Recruit Check-In" office. My sister read off the kids names (adults too) from the roster. They answered "Sir, yes sir!" when their name was called. Then my husband (drill Sgt), dressed in camo, had the recruits take their Oath "Atten-hut Men! Do you promise to have fun today? Do you promise to be nice to each other? Do you promise to smile? Do you promise to wait your turn? Congratulations you have enlisted in the X Army. Now let's have fun!" They said "Sir, yes sir!" after each question. They then marched around the yard singing the following cadence – I don't know but I've been told (kids repeat) Harrison is 4 years old (kids repeat) Today's your day so sing along (kids repeat) Happy Birthday that's our song! (kids repeat). They stopped at the beginning of "Boot Camp".
Boot Camp Activity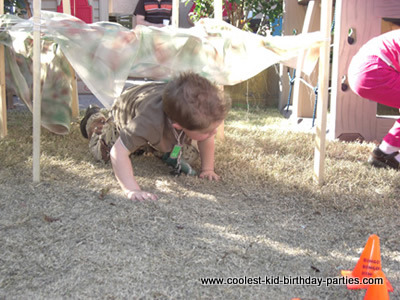 Boot camp had the recruits climb a rock wall & slide down a slide (an outside play piece we already had), run around cones, under a camo netting held up by wooden stakes, swing by rope across crocodile infested water (blue tarp under a rope hung from a swing set with two wooden alligators on the tarp), run through hula hoops (we didn't have tires), walk across a wooden balance bean with snakes (rubber) on either side, hide behind berms (cardboard boxes colored camo) to launch grenades (grenade water balloons from Walmart) at soldiers in a fox hole (outline of soldiers spray painted onto a piece of cardboard & put inside a 5 gallon bucket) or tank (tank spray painted onto a piece of cardboard), climb another rock wall & slide down another slide (this was part of the swingset) & run back to the Drill Sgt. After each kid did boot camp (they all did it at least 3 times because they had so much fun) they were sent to "war". We had the kids line up & count off "1", "2" & then divide into two groups for a game of tug-o-war.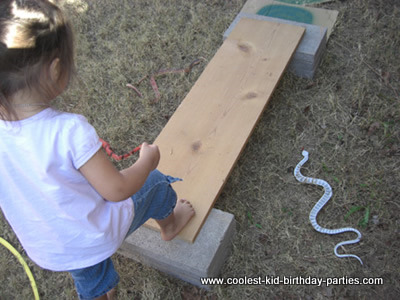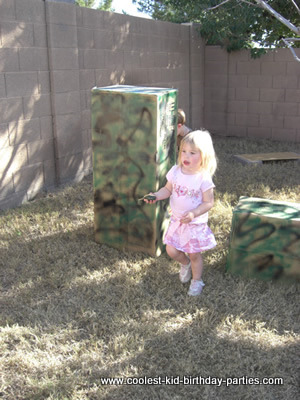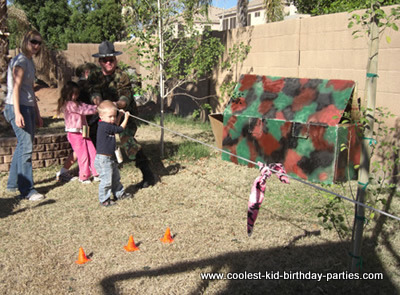 The kids then had some free play time back through boot camp &/or just running around just playing soldier (going through a camo box/fort we also had on hand).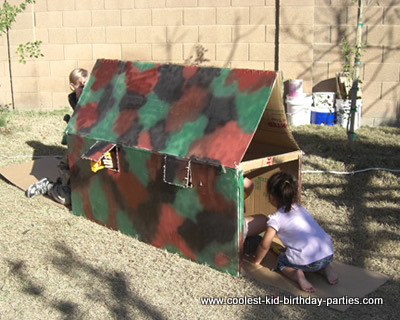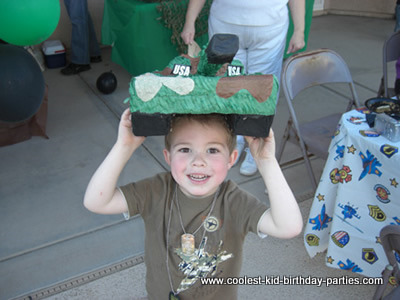 After the cake we did a tank pinata that was filled with candy & toy brown/green little army men. My son sat in his special chair to open his gifts. The child who brought the gift stood next to my son with the American flag on one side & a soldier poster on the other side. We took a picture of all the kids with my son they will be sent with thank you cards. We played solider music all day a custom made CD with my son's name in it, Yankee Doodle, etc.
Army Food Ideas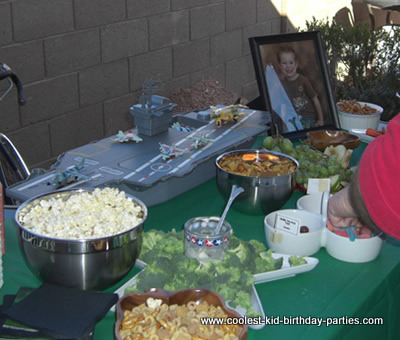 The party was mid to late afternoon so we served just munchies that my son affectionately labeled (read on): Popcorn (grenades), broccoli (parachutes), carrots (ordnance), grapes (bombs), apple rings (compass), Chex Mix (shrapnel), gummy worms (survival food – worms), whoppers (bombs) & green MM's. We offered "clean river water" (water), "swamp water" (Hawaiian Punch green apple/raspberry flavored/green in color), & "muddy river water" (ice tea).
My son loves chocolate chip cookies so we had a giant cookie instead of a cake. I made three batches of chocolate chip cookie dough & pressed them into two cookie sheets. Then I put the baked cookies onto a foil wrapped board & put a thin layer of tan colored icing on top. We used my son's army toys (Power Team Elite/World Peace Keepers " 3 _" action figures) as decoration on top of the cookie. There was a command center, jeep, humvee, motorcycles, soldiers, lookout tower, howitzer, barrels/boxes, weapons, etc.
I made rice krispie treats & used them as barricades (put some green frosting on them to help camo them). We suspended a helicopter from the ceiling fan & had a soldier climbing a rope up the side. We used camo napkins & black plates.
We gave everyone a camo goodie bag (on clearance at Party City) filled with: an Army backpack (which we received from the Army recruitment center –  it fit on your belt but looked like a backpack), brown & green army men (on clearance at KB Toys), matchbox camo or fighter jet planes (on clearance at KB Toys), camo socks ($1 section at Target), military stickers, one parachute soldier & a few pieces of candy. Total cost was about $3.50/bag. For the girls we substituted lip gloss for the plane.
The party was a bit hit! Nobody knew the army set up was sitting on top of the cookie & they were delighted to have something different to eat then cake. The kids all loved the boot camp (completing it more than 3 times each) & the pinata. Although the snacks were simple they were devoured & the 2 hour party lasted 3 _ hours. My son is still talking about his special day. We look forward to the next party!