Asian theme party ideas and photos by: Beth from Newport, RI
My daughter Hannah was turning 9 and she decided to have an Asian Theme party.
First we came up with a great Asian party invitation idea: We bought fortune cookies and printed our own "fortunes" to put inside the cookies.
The fortunes were actually the invitation! To complete the idea, we put the fortune cookie invitations in mini "Chinese take-out" boxes before handing them out to her friends. Hannah decorated the boxes with different Asian themed stickers.
I always have my girls pick out special birthday party outfits. For this Asian theme party, they chose Chinese dresses that we found online, very inexpensive but beautiful dresses that came directly from China! We also got them Chinese slippers to wear to make the special outfits complete!
On the day of the party we had many Asian crafts planned, with the help of our local art museum. First they decorated their own hats by stenciling flowers, cherry blossoms, and other cool designs onto a round piece of white paper. They then colored their stencil shapes in with pastels and crayons.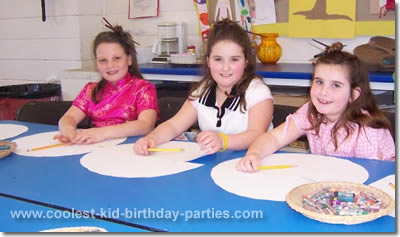 When their art was complete, we stapled the hats and tied strings so they could wear them. They also decorated their own mini Chinese Take-out boxes with feathers, beads, and tissue paper. We ordered plain white paper fans and the girls decorated them with colored pencils.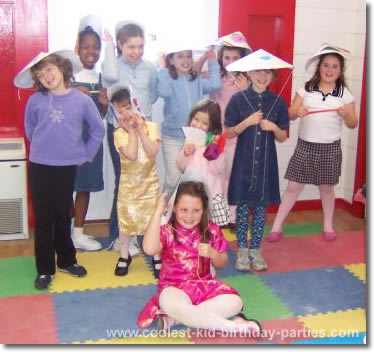 I gave the girls each a set of Chopsticks. Some girls used them to try to eat the cake, but many just put them in their hair (notice the pictures of this above.)
The girls each made a pair of Chinese "sandals" by choosing and cutting fabric scraps in the shape of the sandal and gluing it to stiff, thick cardboard. They used ribbon to make the straps to the sandals.
For the cake, Hannah wanted something simple and not too "baby-ish." I made a triple layer chocolate fudge cake and covered it with chocolate ganache. Then I took our leftover fortune cookies and dipped them in both white and dark chocolate, and placed them around the bottom of the cake to make the border. I looked on the internet to find Hannah's name in Chinese. I then piped the Chinese letters with white chocolate on the top of the cake, and dusted them with gold-colored food powder (found in cake decorating supply stores.) The result was a cake that was both in line with our theme, but not too juvenile for a big nine year old girl!!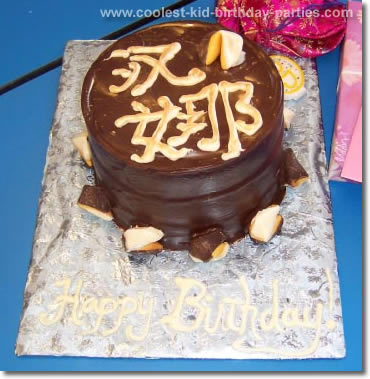 The Asian party favors were the crafts the girls each made. I also included some Chinese Yo-Yos, stickers, and mini paper lanterns in white paper bags that we decorated with Asian themed stickers.