Louw turned 3 and we had a Jungle Party.
Jungle Decoration Washing Line
We decorated the washing line with long branches from the garden, green streamers and lots of balloons. Animal face masks were hanged between the branches as if they were little animals hiding in trees. Kids had to try and find them and could then put them on.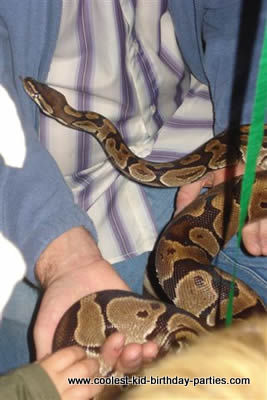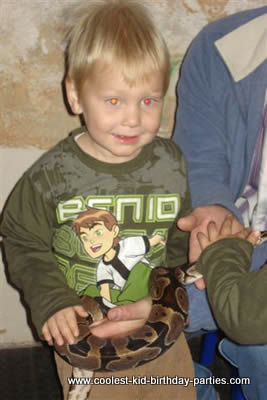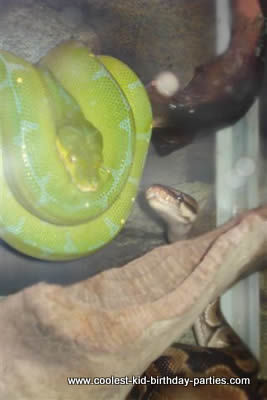 We asked the local pet shop if we could "borrow" a live snake or 2. This caused a lot of fun and excitement!
We added posters of local snakes to the wall and even hide fake snakes strategically which caused a little hysteria from the moms!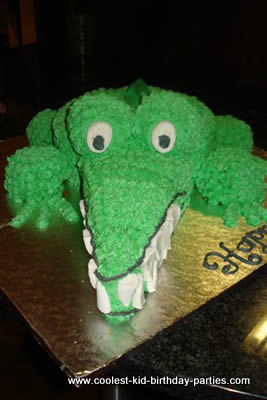 Louw had a crocodile cake with "reeds" which we made by fixing a Marie-biscuit with icing to a ice-cream cone and hiding a surprise sweetie inside.
Jungle Theme Birthday Food
The kids got hampers filled with chips, animal-shaped biscuits, jelly snakes and marshmallow fish or mice.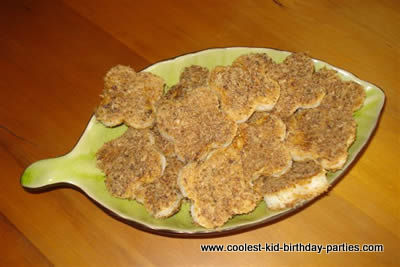 Jungle Bites on the table consisted of both sweet and savory.
Sweet: Melt margarine and marshmallows and add Froot Loops / Coco Pops and Rice Krispies. Wait to cool before slicing.
Savory: Fresh bread slices spread with margarine and Mar-mite on both sides, sprinkled with grated Biltong and shaped with a cookie cutter