Animal Safari party ideas and photos by: Rikelle from Chandler, AZ
My son is obsessed with elephants. We decided to throw him an safari party that would take him on an elephant expedition. Many of the ideas I found right here on this site.
Safari invitation: I cut a 12×12 piece of black cardstock into 4. I then printed my animal safari invites on green paper 8 1/2×11″ (four to a page) with the following in jungle font that I found free on the web:
"Come Monkey Around With Me! Lucas is turning 5 and will be leading an expedition through the our jungle on Saturday, March 26. Your trip begins at 11:30 with lunch along the way. Please call xxx to save your seat on the jungle safari".
I then attached the light green paper to the black paper. I found some textured dark green paper that I tore and put on the bottom of the invitation it looked like grass. I then placed an elephant that we made out of Sculpey clay on the grass. The animal safari invites were a huge hit.
Animal safari decorations: My son has quite a stuffed elephant collection so we put those and all his jungle animals around. I had a friend paint a few animals and a jeep on presentation board and I put those around the yard and house.
An elephant with a cutout hole for a face.
Two snakes with cutout holes for faces.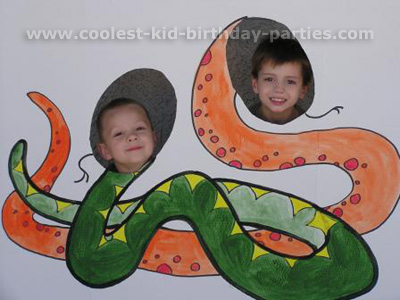 I cut out construction leaves and made vines by twisting brown paper bags. I also made bushes by taking green poster board and rolling it in a tube and then stapling it together. I then cut strips all around and it opened out to a bush.
I also ordered zebra print gossamer off of this site and put it all throughout the house.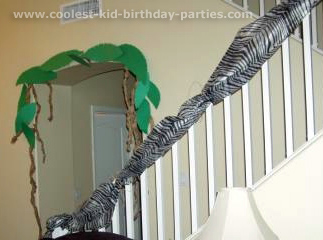 I also made a waterfall by using metallic shred and some blue tarp.
Animal safari party activities: As the kids arrived I had a welcome to (Our Family's Name) Country station set up. There were safari brochures and posters.
I used manila mailing tags and had the kids make their own passports. They decorated them with stickers and then I took their picture with an i-zone camera (a mini Polaroid camera) and put it on their passport.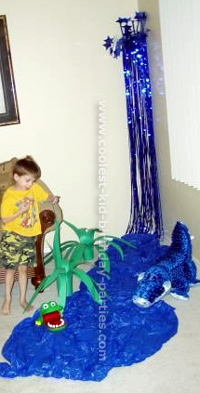 We then got dressed in animal safari hats. We played animal charades. I had pictures of animals from a baby Einstein animal flashcard set.
The kids had to act out the animal and then when they guessed they had to answer with the animal sound.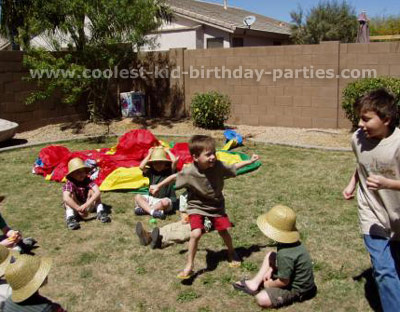 We then played feed the elephant. I set up an obstacle course. I had them jump over crocodile lake, go around the poisonous bushes, under the venomous snake and through the bat cave until they arrived where the elephant herd was. All the while they had to carry a circus peanut on a plastic spoon and not drop it.
We then went bobbing for jungle frogs. I found some floating plastic water squirting frogs at the dollar store. The kids got to keep their frog and then got magnifying glasses so they could go on a bug hunt. I put big plastic bugs all over my backyard for them to find.
We then made jungle snakes. I found some Sculpey clay at Target that stays bendy after you cook it. I gave each kid some clay and they made them into snakes and I put the eyes on them. We then ate lunch while their snakes baked.
Cake: I baked a round 8 inch cakes and frosted it light green. I then downloaded some clip art of jungle animals off the web. I then used melting chocolate found at my local craft store. I just put my clipart under some wax paper and traced the animals with various colors of chocolate. Once they set up I added them to the cake.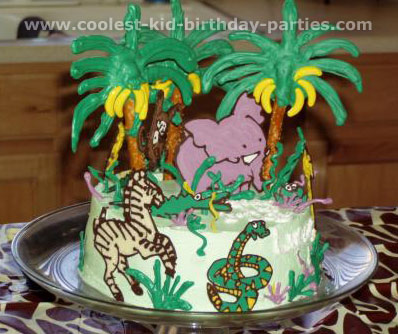 Favors: Matchbox makes a jungle safari jeep that comes with a little camera and a passport sticker. I put those and a bag of gummy snakes and a lion king mini flashlight in a large square of giraffe print tissue paper and tied it up with raffia.
I hope these animal safari party ideas help you!