Looks like a bunch of untamed kids are about to have a wild time at your safari theme party!!
Get ready for some ROARING fun!
First off, there's an overwhelming selection of Safari theme party supplies.But don't worry… You won't need to go out on a wild expedition trying to find the best deal. Just compare between the packs below which cover pretty much all the Safari party items on the market:
Safari Invitations
Here's a cool do-it-yourself idea for passport invitations. Write something like:
"This is your passport for a birthday safari filled with fun and excitement. (Birthday Kid) will be leading an expedition through (your address- adding "Africa"). The safari theme party adventure starts at (time). All explorers should bring their completed passports. Explorers may want to practice their wild animal sounds, especially roaring like a lion!!"
Ask the kids to dress up in khaki clothes and whatever safari-ware (or animals) they like.
Safari Decorations
Deck your safari theme party area with safari-colored balloons (brown, tan, green, yellow etc.) and same color streamers.
At the entrance to the safari theme party, you can also put up your own homemade sign post with lots of arrows pointing in different directions, such as "Zimbabwe —> 3000 miles" and "Ngorogoro Crater—> 899 miles", etc…
Inside you can put construction paper animal prints that can guide the kids to the party area. If you're having the safari theme party in the evening, you can place tiki torches all around your yard and everyone will feel as if they're in Africa!
Use chalk to draw big animal footprints on your driveway and leading to your front door. Here are some animal footprints you can print out:
This is fun activity to do with your kid/s before the party. Go out to nature and collect all kinds of natural decor: all kinds of acorns, rocks, beautiful leaves, old branches, etc. and use them to decorate your Safari party area (easy, fun and doesn't cost a thing!!). Also ask each guest to bring a favorite stuffed animal. Put them in a "corral" as the kids arrive. You have a free and SAFE petting zoo and adds to decoration.
You can also create animal stands that the kids can put their heads in the hole and take a picture as animals (send out these pictures when sending thank-you cards):
Unless you live in Africa, the only wild animals you'll have at your safari theme party are the guests. And they sure can make a ruckus. But to get everyone into the safari theme party mood, you can download and play in the background animal sounds of leopards, hippos, rhinos, monkeys and other animals sounding their call of the wild!
Costumes
The kids can wear safari pith helmets, animal headbands or ears out of construction paper, fake fur (glue or sew onto inexpensive headbands or barrette clips). If you decide to turn the children into animals instead of safari hunters, be sure to paint their faces accordingly!
Take a look at all the coolest homemade Safari costumes.
Safari Icebreaker Activities
When the kids arrive at your safari theme party, take their "passports" and send them to the Med booth where they receive a malaria pill (jelly bean in a glass bottle with a big red cross sticker on it – and explain to them what malaria is) and a typhoid shot (a toy needle) and can be warned about yellow fever, don't drink the water, etc.
Charade Cards
One of the games described in the safari theme party games section is animal charades. To prepare for the game, put out a bunch of magazines and have the kids find animals, cut them out, and paste them on index cards. These'll serve as the charade cards later on.
Binocular Craft
Have the kids take two toilet paper rolls, styrofoam cups, etc., and glue or tape them together. They can decorate their binoculars with all kinds of stickers, glitter, stamps etc. Next they can cut out cellophane circles (or colored saran wrap) and attach to the carton rolls with rubber bands or glue. You can then attach yarn for a nice neck strap.
We had the binocular craft at my daughter Maya's 3rd birthday and it was a hit. I photographed the entire process and put together this page with all the info (and a few pictures from the party) to help you create your own Styrofoam cup binoculars.
Slithering Snakes
Not all snakes are scary! The kids will love making their own boas and rattlesnakes that they can wear around their necks. You can ask each kid to bring their own necktie, or purchase some from a thrift store. Let them open the large end of the tie and carefully cut the threads apart. Have them stuff each tie with cotton balls (or any other materials you may have), making sure to push it all the way up to the skinny end. Afterwards, sew the end up or glue it shut with a hot glue gun. Have the kids decorate their snakes with felt, glitter, wiggly eyes, buttons, etc.
Animal Masks
Check out these free printable animal masks (print them out and let the kids color in the black and white masks, later they can wear them!):
Make-a-Critter
This is a great activity that let's the kids make up a whole new animal. Take a large sheet of white construction paper and hold it so that the shorter side is towards you. Then fold it in half (short side to short side) and then in half again (again short side to short side). Unfold the paper, and spread it out on the table, then give the kids crayons or markers and have one kid draw an animal head in the top rectangle of the paper.
When the kid finishes, fold back the top rectangle so it's hidden from view, and only the three remaining rectangles are showing. Then pass the paper to the next kid to draw the body and arms of an animal in the next rectangle. Repeat, having the next kids draw legs in the third rectangle, and feet in the fourth rectangle. When they've finished, unfold the paper to see what new animal the kids have created. You can pass around more than one piece of paper at the same time, so the kids can create a whole bunch of new animals.
Homemade Safari Cakes
Take a look at all the coolest homemade Safari birthday cakes.
Safari Theme Party Food and Drink
Here are some cool safari theme party food ideas. (You can create a signpost with all the sorts of arrows pointing to the foods and describing what they are…)
Animal-Striped Pizzas (you can be very creative with this one by making your own pizzas using alternates of white, yellow and orange cheese strips to look like animal print. You can also add toppings in alternates, like a row of olives in a diagonal, then a row of cheese, another row of olives, etc. for tasty animal stripes.)
Pigs in blankets (hot dogs)
French Flies (fries)
Peanut Butter and Jellyphant sandwiches (Cut these out with an elephant cookie cutter)
Toad-slaw (coleslaw)
Crocodile eye balls and guts (yes, I know this sounds gross, but the kids love this spaghetti with meatballs.)
Monkey Meal (Peel a banana and put it in a hot dog roll…. Then spread peanut butter and maybe a bit of honey and you'll be amazed at how tasty the monkey sandwich is!)
Snake dogs (Make multiple diagonal cuts into each hot dogs, not quite all the way through, and fill the slits with ketchup, mustard and relish. The kids love eating these "snakes".)
Safari Theme Party Drinks
Alligator-ade (green Gatorade!!)
Swamp Juice – Kids will be mystified when they witness your power to turn ordinary green Gatorade into a steamy swamp! Start with green punch and after you've placed a filled glass in front of each kid, add a few Pop Rocks candies to each one. Since this candy is processed with carbon dioxide, it will crackle, pop, and split when it comes into contact with the green punch. AWESOME!
Tip: Make frozen ice cubes with raisins in them so it looks like flies are floating in their safari juices. Kids just love this!
Safari Theme Party Treats
Unshelled peanuts
Gummy worms
Animal crackers
Animal fruit snacks
Any kind of animal-shaped foods
Fire Ants (plain or chocolate covered raisins)
Bugs on a Log – Take a celery stick, smother with peanut butter, and add little ants (raisins). Another variation is to dip a pretzel rod halfway into peanut butter and roll in chocolate chips. This is a fun activity for little children and a treat that can be instantly consumed. And, it's even HEALTHY!
Worms in Dirt – crumbled Oreo cookies topped with gummy snakes.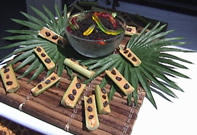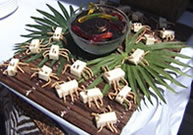 Cheese Bugs – Slice cubes of cheese and add thin, curling snacks (like the type seen in the photo).
Tip: you can serve many of these things in pith helmets.
Safari Party Favors
A great safari theme party absolutely needs cool favors that'll have the kids going wild! Use miniature safari trinkets as favors (such as little compasses, little flashlights, mini cameras, wild animal bouncing balls, gummy worms, animal crackers, plastic sunglasses, animal tattoos, and much more).
Safari Games and Activities
Take a look at this complete page filled with the coolest Safari birthday game ideas, such as:
Monkey See Monkey Do
Elephant Peanut Race
Animal Charades
Giraffe Stretch
and many more (including visitor-submitted game ideas)…
You'll also find several VERY important tips to help you survive (and enjoy) party time.
Your Safari Parties and Ideas
Some of our visitors have gone the extra mile and written up their complete Safari party story with photos and everything they did. We call these stories "Party Tales" and they serve as a great inspiration! Take a peek at other people's Safari theme Party Tales and you're sure to find lots more outstanding Safari party ideas:
Share your kid birthday party ideas here…
Now you're all set to have a ROARING safari theme party!
---
Kid Birthday Parties › Kid Birthday Party Ideas › Safari Theme Party