Wild wild west party ideas and photos by: Araceli from Ontario, CA
I celebrated my son Aidan's 2nd Birthday this month-the Wild West party! To date, this is the best one yet. The wild wild west party wasn't as elaborate as others I've had, but I consider this the best because both my husband and I were able to enjoy ourselves with our son. Usually, I get stressed about things coming out perfectly as planned and lose sight of the real important thing- having fun. This time I was more laid back, more open minded, and more considerate of my husband. I must give credit to the tons of help I got from my husband, sister, and my son's godmother for helping out so much during the party.
I also asked my husband to allow me to hire someone to clean my house before the wild wild west party so I wouldn't stress over that. I highly recommend, if possible, hiring someone to clean your house just before any event. This will free up lots of time so you can dedicate more too all the extra little details such as wild wild west decorations, food and entertainment.
I also suggest having a reliable assistant (or as many as will offer to help) to assist you with the set-up and making sure that the food is all served and refilled. During the wild wild west party, since my son is a toddler, I had to be available not only to feed him, but also to make sure he too participated in the wild wild west activities and enjoyed himself. So the extra help sure came in handy so I could spend time with him. After all, it was HIS party. And let me tell you, he sure did enjoy himself.
Aidan loves horses. So I decided to do a wild west party and I hired a pony and petting zoo (I live in California near the dairy farms so a petting zoo is easy to come by).
All the children loved the animals.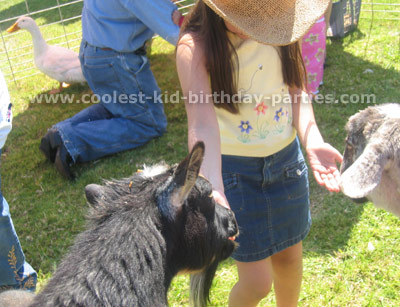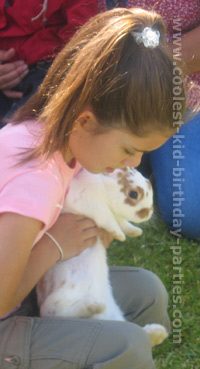 I also had two jumpers; a small one I had previously purchased for the smaller kids and a larger one I rented for the bigger kids. I did the same for his 1st birthday and I noticed that it was a good idea so the smaller children wouldn't risk getting hurt from the rough playing the older kids do.
For the wild west games I "stole" some of the ideas from this website and tweaked them a bit to work with the wild wild west theme and small backyard space that I have. Since I only had a small grassy area to work with for the games in the back, instead of doing a traditional potato sack race, I had each child do a timed wild wild west obstacle race while still using the burlap sacks I had made. The child with the quickest time won.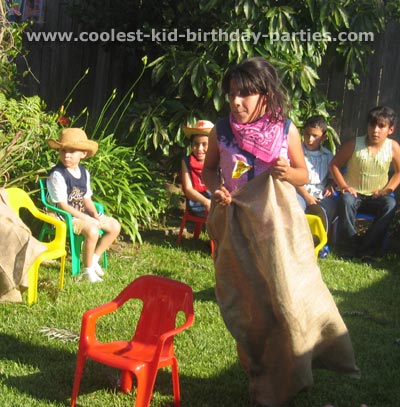 I explained to the children why the wild west came about and had them pan for gold. Again, I tweaked the wild wild west game to accommodate the fact that I did not want the children to get wet, so I placed moist pre-cleaned sand (which we purchased at the local hardware store) in a plastic square tub and placed river pebbles that were previously painted with gold paint. I blindfolded the kids and had them search for the pebbles with their hands and place them in pie tins that had holes in them. In exchange for their gold, I had them trade in their nuggets for candy gold coins that I had placed in drawstring sacks and put a "$" sign on them.
My favorite wild wild west game was "Roping the pony". I took a hula-hoop and used rope to twist all around it until the hoop was completely covered and tied a rope at the end of it. I had each child stand in a designated area and attempt to lasso the pony by throwing the hoop at Aidan's rocking horse. Even the smallest child there (19 months) attempted to do it, and came close to succeeding.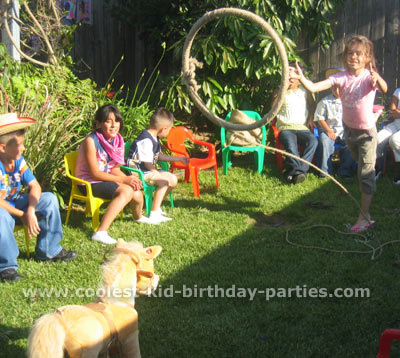 Everyone is always a winner at our parties. We encourage all the children to participate in the games so they can win a prize.
I made a wild west "General Store" out of cardboard boxes and wood-looking contact paper and placed it at the end of the yard. I cut out a large window and stapled prizes that I had bought at the local dollar store against the fence. At the end of the games and the pinatas I had each child go the wild wild west "Store" and pick out a prize and additionally gave them a goodie bag at the same time.
Ideally, I wanted to buy galvanized pails to give as goodie bags, but with 30 children expected (and that's just a small percentage of friends and family) the cost would really add up. So for the wild wild west goodie bags, I stuffed bandanas with a pony pen, a sheriff pencil, and other goodies I bought online and tied off the bandana with rope to give it a more authentic look.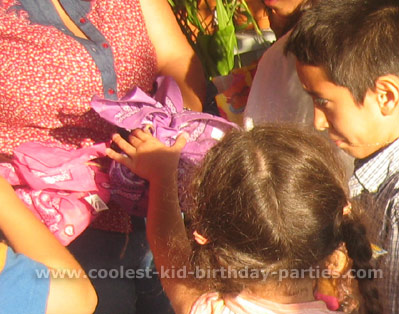 I also bought some cowboy hats (and other party supplies) from ShindigZ to give to the kids that weren't already wearing wild west wear.
For years I have been painting banners for the parties I have, usually I copy the pattern from the themed napkin or cake plates. This time, I was short on time, so all I did was draw a barn scene and placed barn animal cut outs that I purchased from a teacher supply store. This saved me lots of time. Of course, it wasn't as nice as my previous posters, but it made do.
For the wild west invitation, again, I took suggestions from this website and tweaked them a bit. I liked the idea of the Wanted poster but did not want to portray my son as a "villain" even if just for fun, since I have been blessed with a great kid. So I still did the poster, but instead I titled it "There's a New Sheriff in Town" and put a picture of Aidan dressed in wild wild west gear with a hat, guns and sheriff badge. I also had his rocking horse pony on the side. I used most of the wording you suggested on your site and used western fonts I downloaded from the internet.
I printed the wild west invitation on ivory executive resume paper (I bought a 500 sheet pack from Costco for less than $10.00), which looks a bit dingy and burned the edges so they would look authentic. For the wild wild west invitations that could be hand delivered I rolled and tied with rope. I got lots of compliments on the invite. I also added "no city slickers" and to dress for the West (Some guests did).
For wild wild west food we served fried chicken, pork BBQ ribs, BBQ shredded beef, mashed potatoes, corn on the cob, homemade chili beans, potato salad, coleslaw, cornbread, hot dogs and rolls. We also had nachos, chips and salsa, and veggie tray as appetizers. For the sweet tooth we had apple pie, berry pie, watermelon, ambrosia salad, and two different wild wild west birthday cakes (one was courtesy of my aunt).
To quench the thirst we served lemonade, punch, cactus cooler sodas and beer for the adults (yeah, I know, it's a kids party- why was beer served? Well, Mexican's can't have a party without beer hehehe – otherwise, the parent's won't come :-) ).
For wild wild west props I got lots of ideas from Shindigz.com. I made a saloon door for a fraction of the cost. I used a clear shower curtain and a roll of wood-looking contact paper (both form the dollar store). Since I was placing it in an entryway, I cut four identical panes, drew the lines and stuck them to the shower curtain on each side so you wouldn't see the white sticker backing. I also placed a wild wild west sign I printed on the same paper I used for the invites with "Aidan's Corral" to set the mood as people entered the house.
In the backyard, I set up tables with fabric red and white-checkered tablecloths. For centerpieces I borrowed old fashioned glass milk containers from a relative and tied bandana fabric ribbon and raffia and placed a couple of fresh sunflowers in them.
Next to the wild wild west "General Store" I made a jail, also for a fraction of the cost that Shindigz offers them for. I got the rock-looking corrugated paper from a teacher supply store and made a window with bars made of cardboard and covered with foil. I framed the window with a wood-looking border. I think it turned out pretty good, and most importantly, I saved money. Besides, it's always satisfying to say you did it, even if you have to give credit of the idea to the World Wide Web.
I also placed a couple of bails of hay/straw, a barrel, and a small wheel barrel planter filled with silk flowers. This added a real wild wild west feel to the party and gave a nice background for the guests to take pictures. For the cake, once again, I used the idea from one of your cake submission contributors. I purchased the Little People Farm Animal Set that has a barn, animals, and tractor and decorated the wild wild west cake with it. I would have loved to make the decorations from fondue or frosting on my own, but I figured I would run out of time. Besides, my son loves Little People.
I also was planning on making a guitar chocolate cake since I have the pan, but realized there were already too many sweets. I was still able to incorporate the guitar pan to make the cornbread in and that way I didn't have to worry about frosting and decorating another wild wild west cake.
For the ice cream, I found it useful to scoop out the ice cream a few days in advance. I placed the ice cream in disposable cups, clear plastic or printed to match the theme, put the filled cups in a covered plastic container and stored in the freezer until ready to serve (this way you don't have the mess of scooping the ice-cream out as you serve the cake, not only is it less messy, but you save time, especially when you have eager kids waiting for their cake and ice cream).
Just a note of the other wild wild west activities I ran out of time to do, but someone might find useful. I bought plastic Alta Dena individual milk containers and removed the labels and began painting them with black spots like a cow print. I purchased a toy riffle that shoots out plastic darts to shoot at the milk bottles. Unfortunately, I did not have time to finish the bottles. I also planned for the guests to do some line dancing and square dancing, but we didn't get organized enough to fit it in the schedule. In fact, I didn't even get a change to play the country music my son's godmother downloaded from the internet.
Also as a good wild wild west icebreaker I had the children work on last year was to give them brown paper lunch bags to decorate and personalize (with markers, glitter, stickers, etc.) as they arrived and for them to use to place the candy they collected from the pinatas. This too prevents any confusion as to whose bag belongs to whom. Sadly, for this wild wild west party I misplaced them and did not find them until a few days later.
Oh, and I almost forgot, to hang the wild wild west pinatas, my husband tied a rope from one tree across to another tree and placed a bungee/pulley in the center, which made it really easy for someone to pull the rope to raise the pinatas up and down without the need to climb a tree or roof.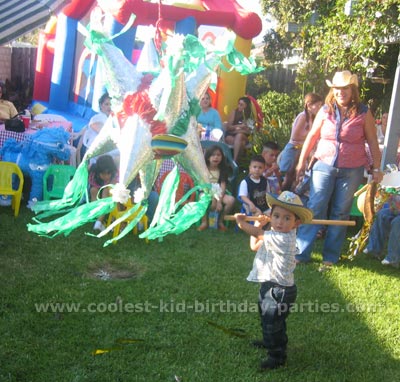 The kids loved picking up the goodies from the pinatas.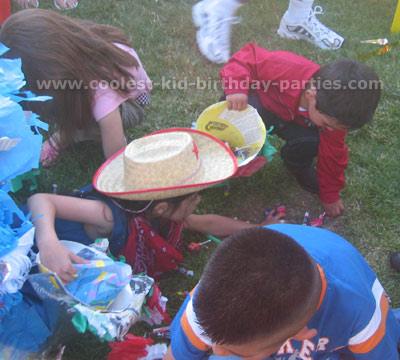 Most of the kids told me they had a great time. That, and the fact that my son enjoyed his wild wild west party, was worth all the effort and lack of sleep – and not to mention expense to pull it off.
Well if you still aren't tired (bet you wish you would have put a MAXIMUM word count in addition to the minimum after this) of reading my "party tale" ;-), THANK YOU, and your contributors for sharing all the stories, pictures, and ideas.