For Justin's 3rd birthday we had a Wild Wild West birthday party.
So, let me first say, I got a lot of my ideas from this website. Thanks!
Invitations
Our invitation was a boot, which I made with a spur that moved. It read: "Howdy Partners! Justin is turning 3 and we're gathering up all of our favorite buckaroos to help us celebrate! Y'all come on over for the hoedown y'hear? We're rounding 'em up at Justin's Ranch on September 25th when the big hand strikes 3pm. Give us a holler at (telephone number) by September 18th. Now jump on your horse and head on over for some boot stompin' fun! Hee-Haw!"


So, the party was held in our backyard. As the children arrived to Justin's Ranch, each chose a cowboy hat and bandanna of their choice (either blue or red). Additionally, they each got a Sheriff's badge with their name on it. I purchased the hats, bandannas and badges online.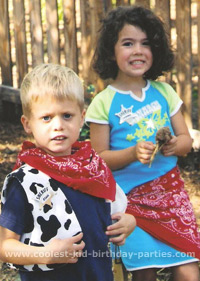 Photos
My mother-in-law made cute cowhide vests for the birthday boy and his brother. Once each of the children was transformed into a cowboys or cowgirl, I took their picture on a toy horse in front of a Wild West backdrop that I painted.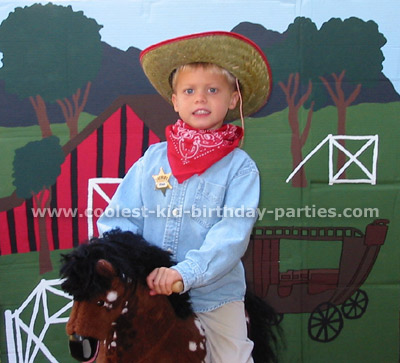 After all photos were taken, I snuck away and printed out each photo on the computer and placed them all up on a Wild West "Wanted" poster that I had on the fence near the party entrance.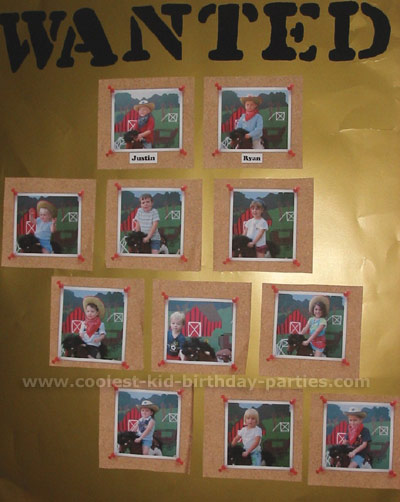 Party Crafts
I made a large version of the invite to have the children decorate. So, they glued pom-poms and other sparkly gems to their brown poster board boots.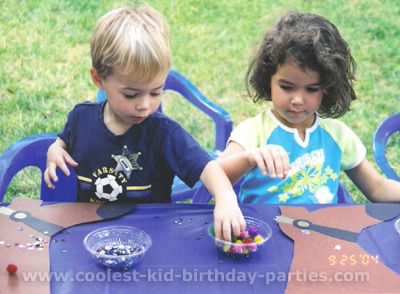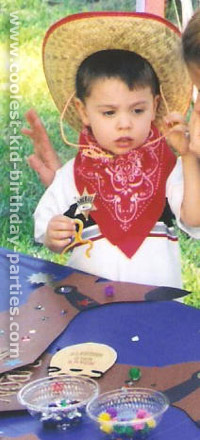 On each boot, I used glue and twine to write each child's name to the top of the boot and had glue-on spurs made of gold colored poster board.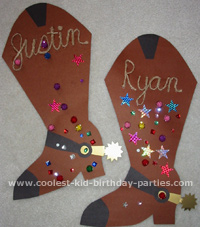 Wild West Games
I set up different games lining our fence on the far side of the yard.
"Knock 'em down"
I used a bail of hay and placed 10 empty plastic juice barrels on top (found these at a grocery store). Online, I purchased little plastic guns that shot little Nerf balls, attached to the gun by a string. They used these guns to knock down the barrels.
"There's a Snake in my Boot"
Using a bail of hay for the children to stand upon, I placed a cowboy boot next to the hay and purchased vinyl snakes for the children to drop into the boot.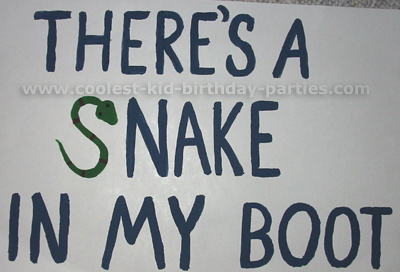 "Strike it Rich"
I used a tin bucket and put some sand and shells inside. Also, I purchased little "Gold Nuggets" sacks and gold nuggets online. I mixed all of the nuggets into the sand and gave each child a sack to which I added their name to the top to read: "Justin's Gold Nuggets", etc. Then, I put a sand strainer and sand shovels into the bucket and allowed children to pan for gold and fill their sacks with the gold nuggets.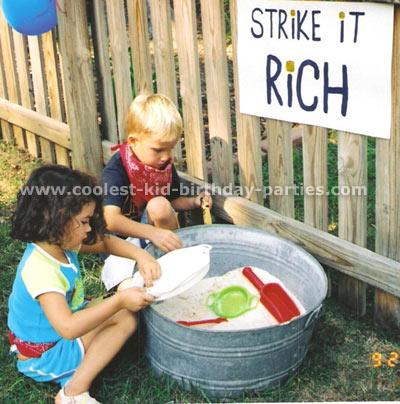 "It's a Roundup"
I purchased a couple of bails of hay and made a large pile with loose hay. Also, I purchased a good deal of small plastic farm animals from Walmart and mixed those into the hay.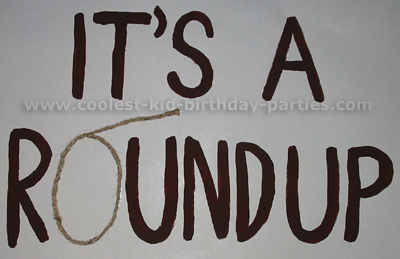 I made little corrals for each child with their name on top: "Justin's corral" etc. These were small boxes I purchased at a party store. I painted them green and then added wood crafts sticks all around the outsides to resemble a fence and then glued a little hay on the inside.
Each child was then told that the farm animals needed to be rounded up. The children collected the animals and placed them in their Wild West corrals.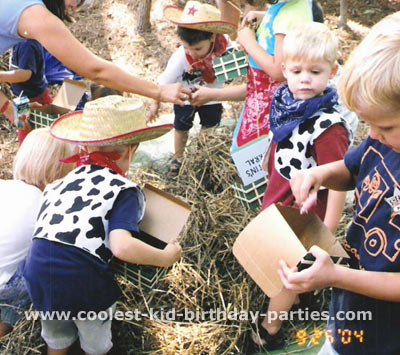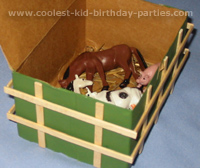 Wild West Cake
The wild west cake was purchased at BJ's where I had them make a wild west desert scene with a dirt road on which I placed a horse-drawn carriage that purchased from Walmart. For the candles, I used 3 cowboy boots, which I purchased online. We served vanilla ice cream cups with the Wild West cake.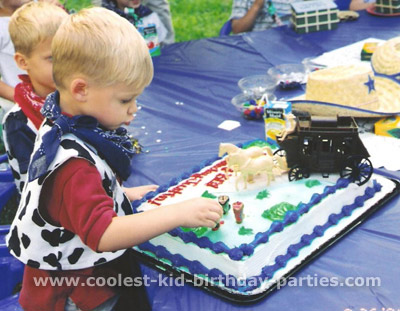 We also had a snack table with sugar cookies in the shapes of cowboys, cacti and boots. I also made a trail mix and had chips and pretzels.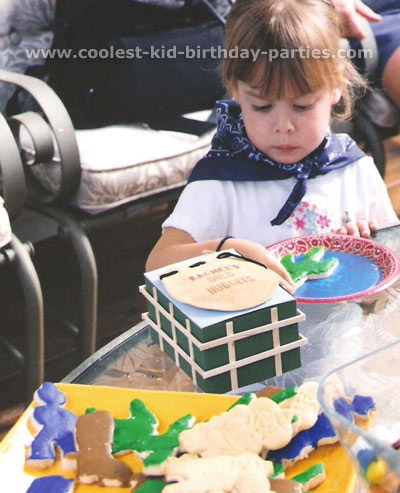 Activities
Other than the Wild West games, I had a plastic slide for the children to slide on and I had my husband take the children on "hayrides". In order to do this, we used a wagon and put hay on the inside. The kids loved taking a ride around the house.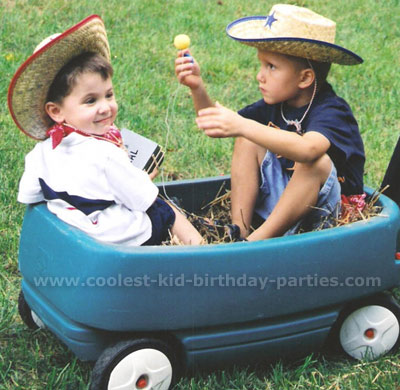 At the end of the party, Justin opened his gifts.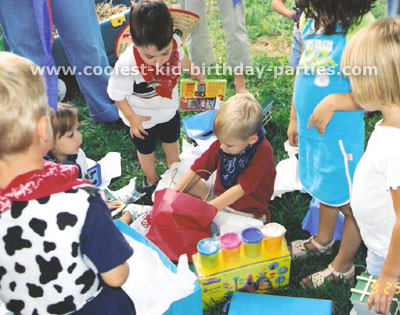 Goodie Bags
I used cowhide fabric and red string ties to hold the goodies. The bags were filled with a mini stuffed horse, bandanna print kick balls, a Cowboy and Indian bendable, a harmonica, red white and blue star stickers, and some candy.
Decorations
In order to decorate, I used blue and red streamers and blue, red and cow-print balloons. I purchased the cowhide balloons at Shindigz. Also, I made a sign at the entrance, which read: "Welcome to Justin's Ranch". This sign was on red poster board and I used craft sticks glued on the bottom to resemble a fence and glued on twine for my lettering.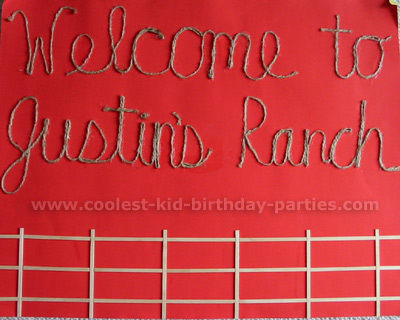 By the cooler that held water and juice boxes, I hung a sign that read: "Watering Hole". I also made signs for each of the wild west games, along with the large "Wanted" sign. I had cowboy/bandana plates and red bandana napkins. The utensils were red and the table was covered with a blue plastic tablecloth.
Thank You Notes
I made these with blank white cards. On the front, I used a photo of the birthday boy on the horse with the western backdrop and the sentiment, "Thanks Partner!" The inside was left blank for the note to each child.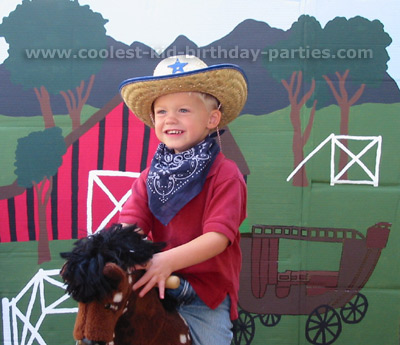 Wild West party ideas and photos by: Janine from Raleigh, NC