Invitations
So, Matthew's Wild West birthday party started with a hand made invite that read: "Howdy Pardners, You're invited! So mosey on down to celebrate Matthew's 5th Birthday!" The invites were swinging saloon doors on the outside that opened to reveal the message.
As everyone arrived, they received cowboy hats and sheriff badges. I have a deck that underneath there is about 4ft of room so we made a barn using scene setters bought at a party supply store. So, I purchased hay for the kids to sit on and eat in the "barn."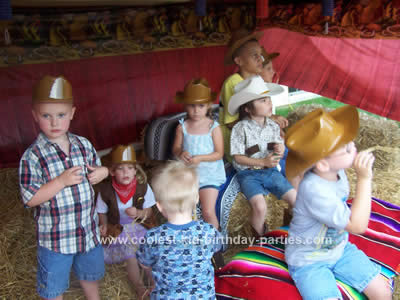 Wild West Birthday Games
We played "round up". I put small plastic farm animals in a pile of loose hay and all the children got a coral made from Chinese take out boxes, little wood fences and wood animals on the sides with Round up written on the top with rope.
We played "gold rush". So, I got fools gold from a party supply store and buried it in sand inside two buckets. I handed the kids drawstring bags also purchased at party supply store and they dug for gold.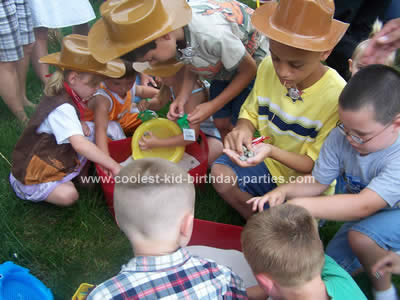 We also had a shoot out using plastic cans stacked on hay bales and a shoot gun with rubber suction cup bullets.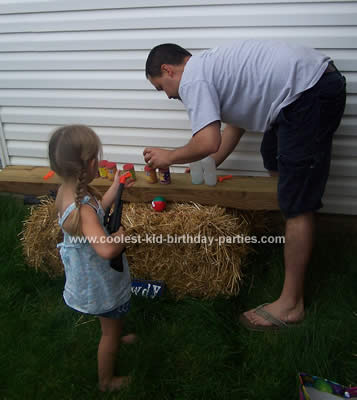 Also, I used a hula hoop and a rocking horse for the kids to robe the pony.
In addition, we set up a Sheriff tent and a wanted poster for the kids to play and take pictures.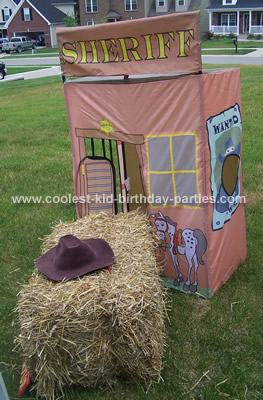 Refreshments
At our Wild West birthday party we served bronco burgers and dogs, cactus chips, BBQ Beans, Gold Nugget, and Corn on the Cop, Corn Bread and Root Beer.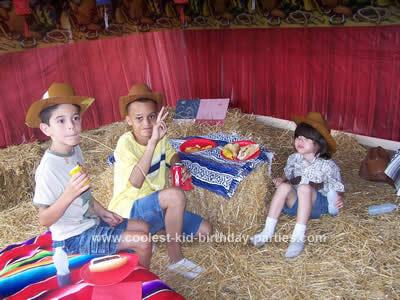 Cowboy Cake
The cake was made to look like two old worn-out cowboy boots.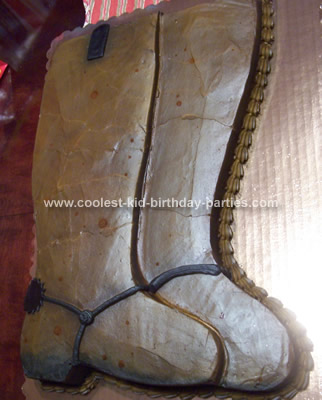 Finally, I gave goodie bags filled with western things and tied it in a bandanna. The party was a success.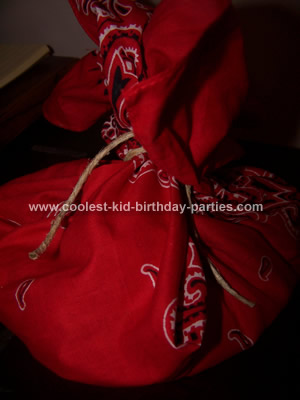 Wild West birthday ideas and photos by: Aimee P. from Louisville, KY