WANTED: Pioneers, prospectors, cowboys, outlaws and even in-laws!!
Howdy there partner!!! Lookin' to have a Rootin' Tootin' HOOT of a Western birthday theme party?! Well, you've come to the right place…
First off, make sure you get the best darn bargain on supplies by comparing between these Wild West party packages. You'll find all the Western party supplies you've ever imagined:
Wild West Invitations
With just a bit of creativity mixed together with colored papers, markers, a good photo of the birthday kid, and a touch of glue, you can put together one heck of a WANTED poster invitation for your Western birthday theme party. You can also use these free printable Wild West invitations that we've created.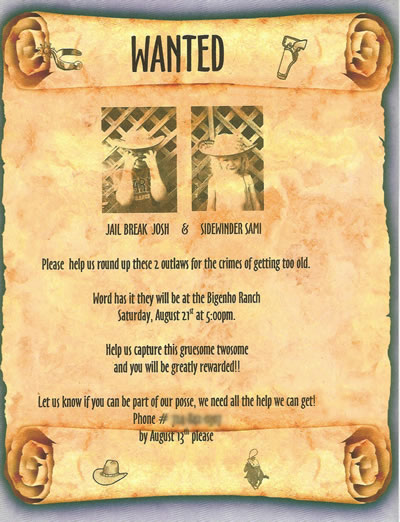 Take a black and white picture of your child (possibly wearing a cowboy/cowgirl costume) and print it out (or glue it on) brownish or yellowish paper.
Write something like: "Outlaw (kid's name with a Western twist, for instance Bronco Bill) WANTED for eating too much candy, having a messy room, etc"
Continue by writing:
"Howdy partners, we be needin' you towns people buckaroos to help celebrate Outlaw (kid's name) *th Birthday; Y'all get ready for the hoe-down at (address) on the (party date) at (party time); So jump on your horse and mosey on over for some tasty grub and boot stompin' fun!! Yee-Haw!!! Give us a holler at (phone #) to RSVP. Don't forget to dress for the West…. y'hear?!?!"
Feel free to spill some coffee or tea on the invitations and burn the edges a bit to give them that authentic Western look.
If you don't want to use a Wanted poster, you can always have your kid dressed up as the Sheriff inviting everyone to come. Or, you can make cowboy, boot, horseshoe, or hat-shaped birthday theme party invitations. Let your creative spirits loose!
Wild West Decorations
An excellent way to start is to find some pictures and clipart that'll give your imagination an artistic boost.
In the entrance to the party area, create your own Saloon door (cut out of cardboard), or use saloon door decoration.
No matter where you're having the Western birthday theme party (home, park, nearby stable or farm), you can construct a cool Old West town out of refrigerator boxes and other big boxes (best bet is to go to a nearby furniture or appliance store).
Place the different-sized boxes one beside the other and connect them with duct tape. This'll be your Western town – just like they're built on the movie sets. To transform it into a "real" town, cut out windows and doors and write stuff like: "Best Western Hotel", "First Bank of the West", etc. To create "Stinky Pete's Saloon", cut out two doors opening saloon-style. And, what's a Western town without a "City Jail"? Wrap paper towel rolls with aluminum foil and tape them on the inside of the window to look like bars for the jail.
You can also cut out people-shaped characters (wearing cowboy clothes) and cut holes for the face so that kids can put their faces in and be photographed.
To top it off, cut out cardboard cacti, spray paint them green, draw the cactus needles with a black marker, and attach them to a fence, gate or any other suitable place. Put a sign on the front door saying something like: "By order of the Sheriff, NO GUNS ALLOWED. Leave all weapons here!" Or "No Spittin', Chewin' or Drinkin'".
Post all kinds of other Western-slang signs around the birthday theme party area. You can also have a sign for every area, for instance near the food a sign saying "Grub"; near the drinks "Waterin' Hole"; where the bathroom is "Outhouse", etc. Post WANTED-type posters of your kid or other family members and friends (each with a crime and bounty; also give them names such as "Wild Bobby Smith" or the "Coyote Kid").
Decorate the house or yard with ropes, old cowboy boots, old wagon-wheels, horseshoes, bandanas, haystacks to sit on (which you can find at a local or neighboring farm) and place stuffed farm animals around the party area.
Put up lots of balloons and streamers all around the birthday theme party area and try to rummage around for camping or storm equipment such as oil lamps, lanterns and cooking pots to add to the theme's atmosphere. Decorate the tables with red and white-checkered tablecloths, fill old cowboy boots with eucalyptus or cacti for table centerpieces and use bandannas as place mats and napkins. You can also soak the labels off root beer bottles and use the bottles as candleholders.
Costumes
Dress up the birthday kid in a cool cowboy/cowgirl costume. And, have all the family join in with blue jeans, a vest, boots, cowboy hats bandanas, etc…
You can also take a look at these cool homemade Wild West costumes submitted to us by visitors to this site with photos and detailed instructions:
Take a look at all the coolest homemade Wild West costumes.
Wild West Icebreaker Activities
First, to warm them up as they arrive, hand out Sheriff Badges, bandanas, cowboy hats and vests. You can also hand out "edible" badges in the form of star cookies and have the kids decorate them.
Coloring Pages
A great ice-breaker for all parties are Wild West coloring pages! You set a table with markers, crayons, or anything else the kids can paint with and let everyone color in the coloring pages until all the guests arrive.
We've created a bunch of free and original printable Wild West coloring pages, check them out!
See All Wild West Coloring Pages
Vests
Have them create their own vests for loads of fun! Beforehand, prepare a bunch of brown Supermarket bags cut as follows: Cut down the center of one side of the bag. This is the vest's front opening. Then cut out a circle in the center of the bottom of the bag (necks aren't as big as you think, so watch out or you will make the hole too big) and trim the front edge of the neckline out a little (the neck front is always lower than the back). You can taper the neckline into the front opening in a v-shape if you want. Cut armholes in each side. Fringe the top of the bag (bottom of the vest). Give the kids markers or paper and paste to decorate their vests.
Gold-Making
Give each kid a cup-full of pebbles and have them paint the pebbles with a gold color and glitter. Use these golden nuggets for the "panning for gold" activity as described in the Wild West games section. Another idea is to spray-paint old horseshoes and other cowboy items with gold and have a gold hunt later on in the Western theme birthday party.
Homemade Wild West Cakes
Take a look at all the coolest homemade Wild West birthday cakes.
Wild West Party Grub
Birthday Theme Party Food
Tip: have a good ol' barbeque and use cowboy hats or straw baskets with a gingham napkin or bandanna to serve corn, potato chips, trail mix, popcorn etc.
And now to the "real" stuff:
Buffalo wings
Bronco beans
Horse Feed (shredded lettuce)
Barbeque chicken, beef, ribs etc.
Haystacks (shoestring potatoes)
Cornbread
Chili n' chips
Weiner roast (hot dogs)
Potato, Coleslaw and green salads
Sausages
Corn on the cob
Wagon-wheel pasta
Roast foil-wrapped potatoes on an open fire (if you can have one)
Mashed potatoes and gravy
Watermelon (and you can have a watermelon seed spitting contest-this can be great fun!!)
Birthday Theme Party Drinks
Root beer
Ginger ale
Cactus juice (Lemon-lime soda. When you're about to serve it add scoops of lime sherbet and watch it bubble! You can also make green ice cubes with green food coloring to add to the whole cactus effect.)
Sarsaparilla (Before the party, drop cherries in each ice cube slot and freeze. Then, at the party, put one tablespoon of grenadine syrup into each glass, drop a frozen ice cube, then pour cream soda over the ice and watch a pinkish foamy drink appear).
Rocky Mountain Dew – Ingredients: Pop Rocks, Mountain Dew, Cups. Pour some Mountain Dew in a cup, drop 14 pop rocks into the Mountain Dew, stir up with a spoon, seve and enjoy.
Tip: Put up a beverage outpost (could be your kitchen counter). You can call it the Birthday Saloon. Have a dressed-up parent or sibling be the saloon keeper and serve soda pop in tall mugs.
Birthday Theme Party Treats
Golden nuggets (chocolate ones)
Sugar cubes
Bugs – chocolate covered raisins.
Golden goblets (caramel popcorn)
Smores (marshmallows, chocolate and graham crackers)
Trail mix
All kinds of potato chips (maybe with barbeque flavors) with salsa
Rattlesnake eggs (jelly beans with spots on them)
Shelled peanuts
Jell-O Jigglers (cut with cookie cutters) in the shapes of cowboy hats, boots, horse shoes, ponies, etc.
Tip: You can put many of these treats in cowboy hats.
Wild West Party Favors
After throwing such a great Western birthday theme party, you'll want to send the kids back with a bunch of cool favors which can include Jolly Ranchers, water guns, sheriffs' badge, a whistle, rubber snake, harmonica, wild-west stickers, chocolate golden nuggets, fake handcuffs, and more and more!
You can put all of your birthday theme party favors inside bandanas or in cowboy hats. Tie them with twine or raffia and add a cowbell for that real Western feel. Also check out these printable Wild West certificates, awarding the kids after a hard task has been completed (whether a game, obstacle course, contest etc.) or used as a favor and put inside favor bags, as well as these printable Wild West thank you cards:
Wild West Games and Activities
Here's an entire page with the coolest ideas for Wild West birthday party games, such as: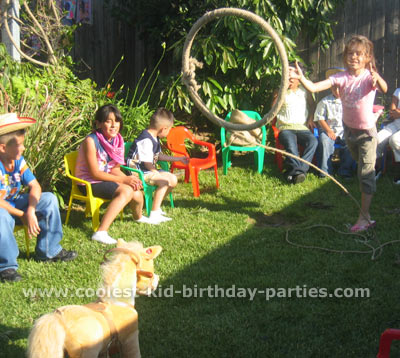 Rope the Pony
Milk the Cow
Watermelon Seed Spitting
Rattlesnake Stomp
Shooting Gallery
and many more (including visitor-submitted game ideas)…
If you're having a party at night for older kids, and if you'll be close to nature, at the beach, or any other outdoor situation – it could be a great idea to make a small campfire. Maybe you know someone who can play the guitar and sing some western songs around the campfire and create Smores :-) Unforgettable fun!
You should also read these VERY important tips to help you survive (and enjoy) game time!
Your Wild West Parties and Ideas
Some of our visitors have gone the extra mile and written up their complete Wild West party story with photos and everything they did. We call these stories "Party Tales" and they serve as a great inspiration! Take a peek at other people's Wild West theme Party Tales and you're sure to find lots more outstanding Wild West party ideas:
Share your kid birthday party ideas here…
"Oh give me a home, where the buffalo roam. And the deer and the antelope play"… And to that I say YEEEEEE—HAAAWWWW!
Have fun!
---
Kid Birthday Parties › Kid Birthday Party Ideas › Wild West Birthday Theme Party