Invitations for this safari birthday consisted of 'SAFARI PASSPORTS'. I bought blank cards from a stationery store and printed personal passports for all the kids. We used funny monkey photos as the passport photos.
They were all asked to wear green. When they arrived they were greeted by a 'WELCOME TO MAX'S SAFARI SIGN'.
Inside they all received a name tag, a pair of binoculars and a pith helmet each. They
decorated with vines (twisted brown paper) and green leaves (cut from cardboard).
Safari Birthday Party Animal Entertainment
At the safari birthday they were entertained by a company called 'WILD ACTION' whereby a presenter comes to our home with lots of real animals – Lizard, frog, kookaburra, and snakes etc. but best of all a real crocodile!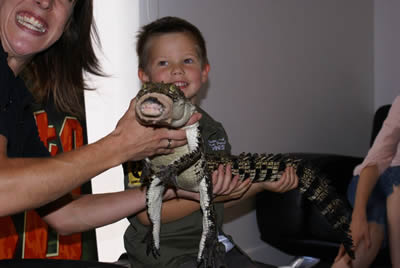 After the entertainment all the kids went on an animal hunt in the backyard. Once they had found an animal each (just little plastic animals from a $2 shop) they came into the party room and got their photo taken with a Hippo in a Jeep (a photo board we created).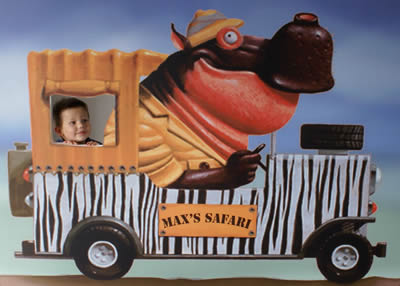 Once all kids had their photos taken they sat on the grass (inside) for lunch. To keep this safari party as simple for me as possible I hired a strip of fake grass to use as a picnic rug (no table or table decorations required).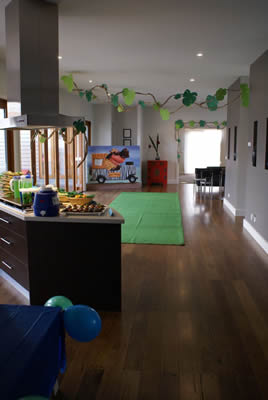 Food was all cold (no cooking in the kitchen) and was served on bamboo plates with big green leaves (cut out of paper).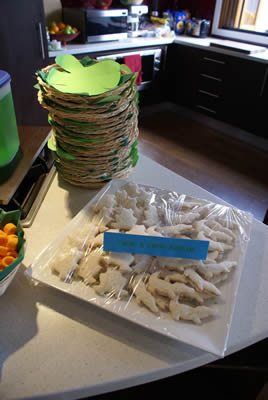 Refreshments
Food consisted of 'Muddy bugs' (Chocolate Royal biscuits, licorice legs and smartie eyes all stuck with icing) 'Lizard Holes' (Cheezels), Beetle Wings (Chips), 'Cheesy Worms' (Twisties), Croc and Frog bread (Fairy Bread cut with cookie cutters) and Jungle Juice (green cordial). Cake was a crocodile of course.
All the kids went home with a pith helmet binoculars animal and a brown paper bag tied with string full of animal lollies – Crocodile chocolates, jelly snakes and frogs, mint leaf lollies and lolly bananas.
As a thank you to all the kids we printed the photos of each of them riding in the jeep. We wrote our thanks on the back.
Extra Party Touches
Little extras included: Paper cups with lids and straws (no spilling!) that we painted green and blue and stuck animal stickers all over. Also, 'DO NOT CROSS'/'WILD ANIMAL'/'DANGER' signs across doorways of rooms I didn't want kids to go into. I cut circles out of felt so kids could sit on a spot for the animal entertainment (kept them still). Another one is putting labels on everything from Water to Restroom in a Safari style font.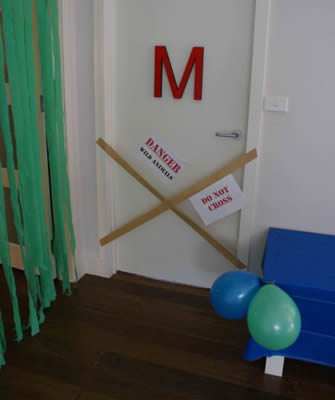 I kept the colors of the theme simple – Dark green, light green and blue. Everything was based on these colors and really helped tie it all together. I used bamboo bowls and wooden trays from a craft store for food. We used a piece of hessian over a kids play tunnel as a place to hide some of the animals. Consequently, all of our safari rangers had a roaring good time at our safari birthday party.
Safari birthday party ideas and photos by: Prue from Melbourne, Australia