If you are on a budget, yet you still want to go all out for your child, then this Safari party is THE party for you!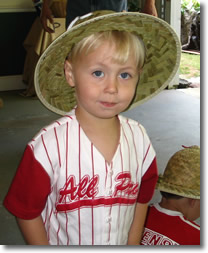 I used the Safari theme party because animals are so easy to find at almost every store. I even used old stuffed animals and hung them from the ceiling.
The Safari theme party invitation was made on my printer. I glued the kangaroo on the front and glued the front diamond and back diamond together.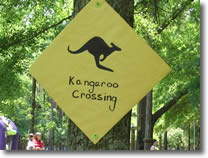 Then I taped a tooth pick on the bottom, so it would look like a sign.
Decorations
I even got a yellow poster board and made a large version of the invitation to put on a tree as guests were coming in the driveway.
I used a transparency machine to enlarge pictures of animals (I got these from story books at my home), and posted them all around the carport. Then I used a giraffe, tiger, zebra, and colored them with crayons. For even more Safari party decorations I made vines out of paper bags (free from grocery stores).
I just broke leaves off of a tree in my yard and taped them all around the vines for leaves.
I used dye cuts to make extra leaves and I posted each child's name on a leaf and I used construction paper to make the tree branches, the children loved seeing their name on the leaves.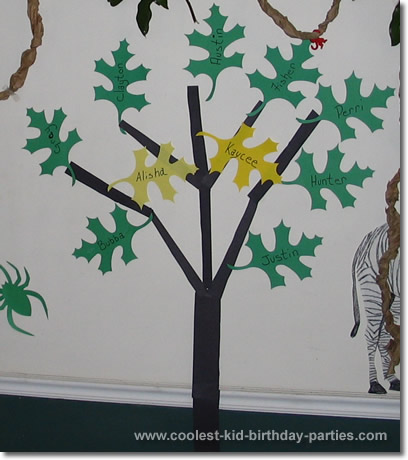 In addition, I purchased animal sounds from ITUNES (99 cents a piece) to play at the party. The kids loved the monkeys best.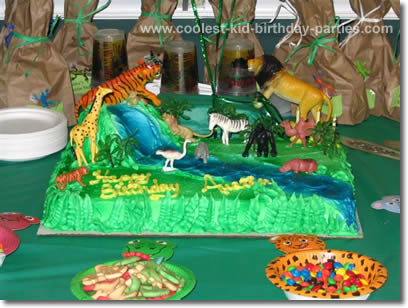 Safari Cake Shortcut
I purchased a sheet cake, and went and purchased a little bag of animals from Wal-mart for 88 cents. This helped reduce the price of the cake. We used zoo pal plates, and hefty brand animal spoons and forks. They were approximately 2 dollars a pack.
Adorable Safari Themed Cups
I went to a local chili's restaurant and they gave me some safari cups with lids. I purchased bendy straws and I cut out little dragon flies out of construction paper and I cut 2 holes in the dragon fly so it would look like it was sitting on the straw.


We had a Safari party table set up with safari hats (1.50 a piece online), and plastic bugs. I bought 4 bags of bugs from Wal-Mart (88 cents) and each child got to pick out 5 bugs each to glue on their hat. Then I used a hot glue gun, and got an adult to help each child make their hat.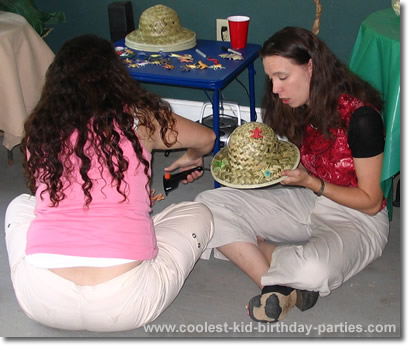 I set up a prize table to show off the prizes, the kids loved looking at the little prizes, and they all guessed which one they would win!
Safari Party Games
Safari party games included "find the peanuts": I bought little buckets for each child (wrote names on hats and buckets), and they went around and found peanuts, the most wins.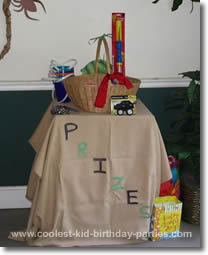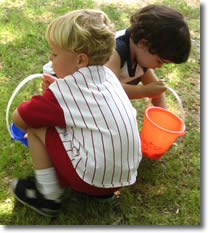 Game 2 was Lion Toss:
We made a box and colored a lion face on it, who ever rung his mouth won a prize.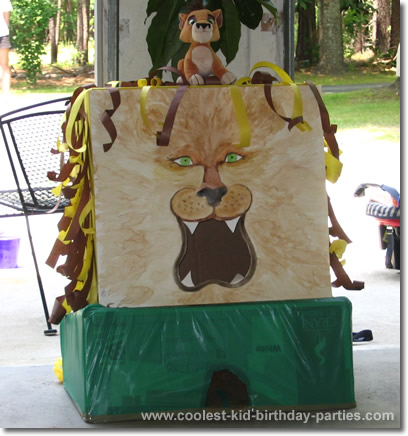 We also played Blinds Man Bluff, (the kids loved this one!!! a better version of hide and seek. Another game was find the matching sock, It was a race to your sock, The game was over in 45 seconds it was so fun!
The Amazing Cave
The BIGGEST HIT at our Safari party was the cheapest thing yet, THE CAVE!!! I went to my local furniture store and I got recliner boxes and 2 couch boxes, I taped the boxes together and cut doorways to each box inside. I didn't get a picture from the inside, but I purchased crate paper and hung it from the top of the boxes to give a spooky effect, I taped glow sticks to add light, The kids would not stay out of the cave, it was the favorite activity by far, we stuck tree branches on top of the boxes, and we used an old tarp to cover the entrance to the cave. It hardly cost us anything.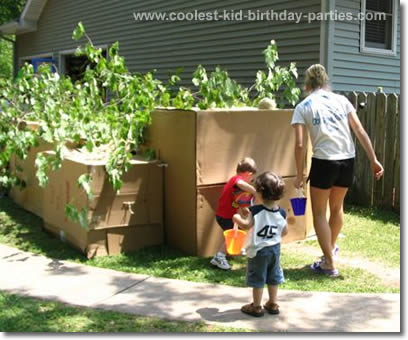 Candy Guessing Game
Another Safari party activity I picked was one that included all guests at the party. I made a table and on it I put a cheap jar, and filled it with candy. (It was 2.95 a bag at Wal-Mart. I love Wal-Mart!) I placed green paper around a coffee can and cut a slit in it and I told everyone to make a guess of how many pieces of candy were in the jar. Since I was the only one who knew the amount, everyone could guess. I read the guesses aloud (that itself was funny) the person closest to the real amount won!
Goody Bags
For Safari party goody bags I used brown paper bags and printed off a green label that had the kids' name on it. I went to the dollar store and purchased whatever was 10 to a pack for a dollar. Each child got a little container of play dough, a bubble bottle, gum, a flute, a wacky straw, and a debbie cake.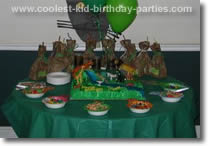 So, they went home with lots of goodies, a hat, a bucket, prizes, a goodie bag, their cup, and each got a balloon (I purchased balloons from Wal-Mart for 2.50 and the florist charged 28 cents to fill up each balloon.
This Safari party was more work than money, but it was a great day, I suggest anyone who has a little time and not a lot of cash to do this. It was lots of fun!
Safari party ideas and photos by: Angela from Thomaston