When I gear up to plan my children's birthday parties, I like to start really early. I'm a planner and enjoy getting all my plans/thoughts on paper and as time goes on I can pick up things that I know I will need. I always start with the theme and build from there. For my daughter's 4th Birthday, she wanted a Princess party. For her 2nd birthday, I did a Tea party and I had a lot of items that I knew I could reuse. For instance: pink tablecloths and personalized napkins from Pottery Barn Kids, personalized.
Princess Tea Party Invitations and Wording
Pink Scroll with think pink ribbon tied. I placed a mini-star wand in the ribbon and ordered small "glass slippers" and placed the scroll inside the shoe. I found small Disney Princess treat boxes and placed the shoe/scroll inside the box, put pink tissue paper and tied the box handle up with Pink Princess ribbon.
Invitation wording:
Hear Ye, Hear Ye By Order of the King and Queen Calling All Princesses for Tea! You are cordially invited to a special Tea Party at the Our Last Name Castle to celebrate Princess Brooke's 4th Birthday. The royal celebration will begin at
11:00 A.M. on the 20th of June. The Royalty has asked that you come dressed
in your most royal attire as your favorite princess! Upon your carriage's arrival,
princesses will be greeted in a true royal manner. The royal cook will prepare a feast of goodies for the celebration! There shall also be festivities including a royal ball, games, crafts and fun for all. This is a magical celebration not to be missed!
Please say you"ll join us for the royal gala! The castle needs to plan for your arrival!
Please respond by June 13th to the Queen Mom at (XXX) XXX-XXX.
ENTRANCE:
In our courtyard – Blow Up Princess Castle
Princess Music Playing
SIGN on the front door: Happy Birthday Brooke banner
Upon arrival, each princess was given a wand and a tiara. My son, being the only boy was dressed up with a tie and all; he greeted the Princesses and escorted them in.
COLOR PRINCESS COLORING BOOKS:
I had crayons and a princess coloring book for each party attender. Coloring books found at The .99 Cent store. The girls colored when they first arrived, waiting for everyone.
LUNCH: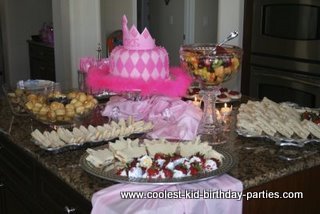 Sandwiches shaped with cookie cutters in Princess themes.
Peanut Butter & Jelly Crowns
Ham & Cheese – Shoes
Chicken Salad Dress
Raspberry Sandwiches – Heart
Fruit & Muffins
Cream Puffs
Petit Fours
Dream Dip Strawberries
Veggie Tray
Strawberry Lemonade
SNOW WHITE'S ARRIVAL: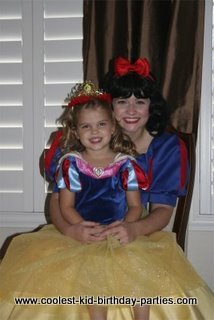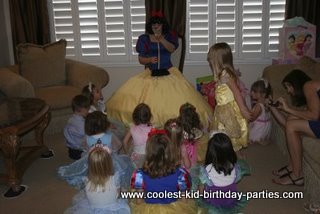 Snow White surprised the girls, sang a song, took a photo with each girl and read a story and a game.
PASS Cinderella's Slipper
I used one of the invitation high heels and played princess music and the girls passed the high heel. (Like Hot Potato)
THE ROYAL BALL:
I lined the girls down the hall and formally announced each one into the "Ball." Then we played Disney Princess music and let them dance.
PIN THE TIARA ON THE PRINCESS:
I blew up a photo of my daughter in a pretty dress and laminated it. It was a large poster size. I found a tiara online and printed it on a color printer, laminated it and cut it out. The kids played the normal. The kids took turns trying to get the tiara on the right spot on her head.
CAKE:
Was fantastic, pink, a crown and a boa!
GOODY BAG:
Plastic Disney Princess trick or treat bags Disney Princess 24 piece puzzle, Princess Pez dispenser, Princess barretts, all sorts of other princess goodies all from the .99 store. Totally loaded!
I created her Thank You note cards with photos from the party – using several photos of my daughter blowing out her candles, with Snow White, etc. On the Front of the card it said – Thank you for Celebrating with Me!
Inside – photo of her blowing out her candles read – Wishes Do Come True.
On the back of the card said, "Hope you had a Princesserific Time!"
The party turned out great!