Fire Fighter party ideas and photos by: Teresa from Malden, MA
Since every time the engines leave the firehouse my son goes crazy, we decided to have a fire fighter party for his 2nd birthday.
For invitations we sent out postcards, on the front we took pictures of a small fireman statue and sign, then on the back we put all the party info.
To decorate our party area I cut out flames from cellophane and put it in all the windows so that it looked like the house was on fire. I found fire themed tablecloths, plates and cups and used the colors from them for the other necessities (utensils, extra napkins and cups) "Happy Birthday" banner and balloons.
I also got 4 red and yellow sand pails that I decorated with fire themed stickers and filled one pail with chips, one pail with crackers, one red one with Ketchup packages and one yellow pail with mustard packages.
On 8X10 poster boards I printed different firefighter themed coloring pages that I hung up on doors and the walls for extra fireman decor. I purchased red siren lights and placed one in each room of the house plus put out all of my sons fire tucks that I could find.
I found fireman goodie bags with the firefighter theme that I cut down the seams and taped to the kitchen cabinets. As the guests arrived I gave each one a plastic fire hat. For food we had "Hot"-dogs, "5-Alarm" Chili (not really spicy I just used the name), "Flame" broiled chicken with "911" dipping sauce (this was very spicy) and "Water"-melon. (All served buffet style.)
Instead of a cake I opted for fireman cupcakes, that way everyone could help themselves and I wasn't stuck cutting a cake for 30 minutes. They were frosted in Redy and Yellow and I used the same mini fireman statues and fire signs from the fire fighter invitations to put on each cupcake. At a local bakery I purchased a cardboard 3-tier cupcake holder that I put more of the stickers on and placed all the cupcakes on it.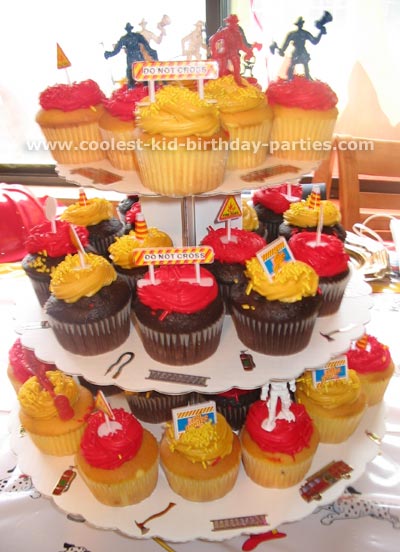 For firefighter activities I made sugar cookies in the shapes of fire engines, hydrants and fire hats and got the frosting that comes pre-colored and each guest got to decorate their own cookie.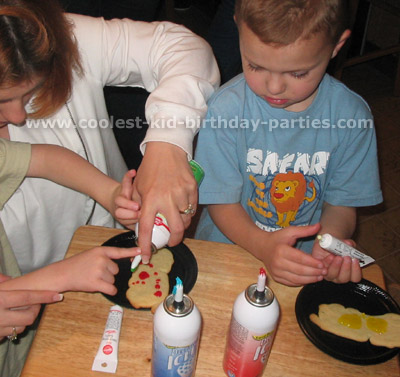 FINALLY the best part of the fire fighter party – our local fire department brought one of the fire trucks and 3 of their finest right to the house!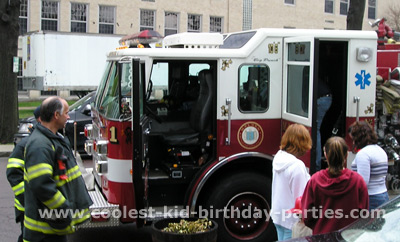 The kids got to climb all over the truck and have pictures taken and the firemen were happy to answer any questions.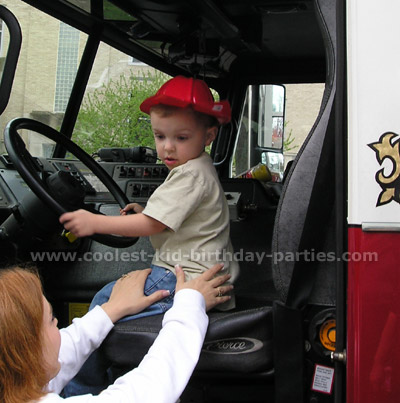 They even let the birthday boy wear the firefighter suit.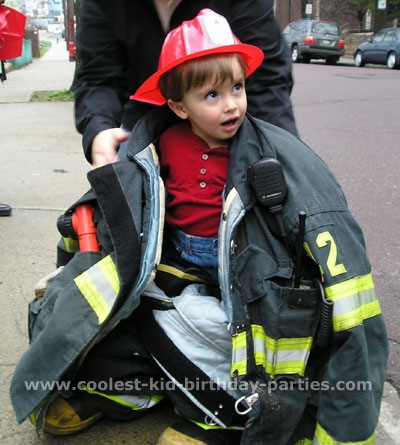 For firefighter thank-yous I had Logan 's picture taken in a fireman costume and wrote on the back a little note to each guest.