First birthday parties are lots of fun to arrange, especially because it's a party for yourself even more than it is for your baby.
Below are general ideas that don't belong to a specific theme. They can be used to create a self-standing general theme or in conjunction with any of the themes listed in the First Birthday Parties Section.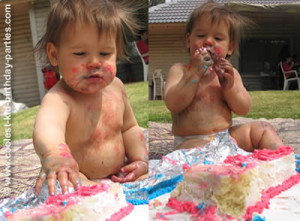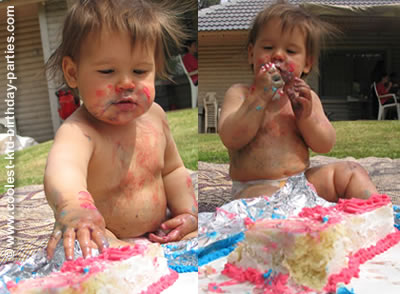 To start off, check out and compare between this excellent selection of supplies for First birthday parties:<
First Birthday Invitations
Here are some printable first birthday invitations you can print out for free:
See All Printable 1st Birthday Invitations
A diaper invitation is a great invitation idea for 1st birthday parties, you can add a real safety pin to hold the triangles. Here's a free printable one:
Write the invitation inside, possibly writing it like newspaper headlines:
" ______ Just Turned One!!" You can also print on them a little story, for example: "One year ago, on (date of birth) a little angel blessed our lives. We named her (baby's name). In the past year she has learned so much, how to drink from a cup, feed herself, crawl, almost walk, talk, laugh, and love. Now she is calling on all her favorite friends and family to help celebrate a wonderful past year and a big kick off for the next. Your presence is requested at the very First birthday party for (baby's name)".
Add the location and the time. You can also photocopy, or scan and print your baby's picture and glue it to the back of the invitation.
More ideas – cut out the number "1" from colorful construction paper. On the front write your baby's name and on the back write all the party information.
First Birthday Decorations
Here are some free 1st birthday printable decorations to check out:
See All Printable 1st Birthday Decorations
Select a number of pictures and mementos from your baby's past year (also pictures signifying your baby's milestones), which are excellent to use, especially at First birthday parties. Tape them onto sheets of colored construction paper to frame them; then tape the pictures on the walls in chronological sequence (but without dates, this will be used for an activity later).
Also, you can set your baby's favorite toys in the middle of the party table as a centerpiece. To incorporate the 1st birthday into any theme, cut out some large number 1's from bright colored paper and tape them to walls & curtains. You can also have a "Happy 1st birthday" banner or poster for guests to sign and add their best wishes.
The party area can be decorated with balloons and streamers to match the party theme, although be extremely careful with balloons around little children and be sure to remove all pieces of popped or deflated balloons immediately.
Costumes
Baby costumes are just so irresistible, especially at First birthday parties, and add so much to the special party atmosphere.
Take a look at all the coolest homemade Baby costumes.
First Birthday Icebreaker Activities
There are usually kids of many ages – especially at First birthday parties – where mostly family and close friends are invited. So here are some activities to get everyone – old and young – into the party mood.
Coloring Pages for Younger Kids & Adults
If there are younger kids coming, a great activity is to hand out coloring pages and let them color them in. Designate a table for this, have markers, crayons, glue & glitter, pastels, etc. and print out these free coloring pages:
See All Printable Coloring Pages
Magic Playdough
Playdough is an excellent activity for First birthday parties, especially for the young ones who are still developing their coordination skills. Simply prepare your own Playdough (take a look at these cool Playdough recipes – the edible playdough recipes are best for little ones…), or buy a few containers of Playdough and all kinds of cookie cutters (enough for each guest to have one).
Before you begin, be sure to put a protective covering on your play surface so it doesn't get damaged. Then, place a small amount of Playdough and one cookie cutter in front of each guest. This activity is sure to keep their hands and imaginations busy for a while. Later your guests can take their cookie cutter home as a reminder of your wonderful party!
Baby-and-You Memento
Take cardboard and make small frames from it. Give each guest one and let them decorate the frames with stickers, glitter, wrapping paper, colored foil, etc. Then take a digital photo of each guest holding your baby, print it out, and let each guest place the photo inside the frame to keep as a memento. This can be given as a party favor.
Homemade First Birthday Cakes
Take a look at all the coolest homemade Baby cakes.
1st Birthday Thank-You Cards
See All Printable 1st Birthday Thank-You's
First Birthday Games and Activities
Here's a complete page with the coolest ideas for first birthday games, such as:
What Will Baby Choose?
Time Capsule
How Well Do You Know My Baby?
Baby Can, Baby Can't
and many more (including visitor-submitted game ideas)…
You should also read these VERY important tips to help you survive (and enjoy) birthday games time!
---
Kid Birthday Parties › Kid Birthday Party Ideas › First Birthday Parties